Digital Graffiti 2015 Recap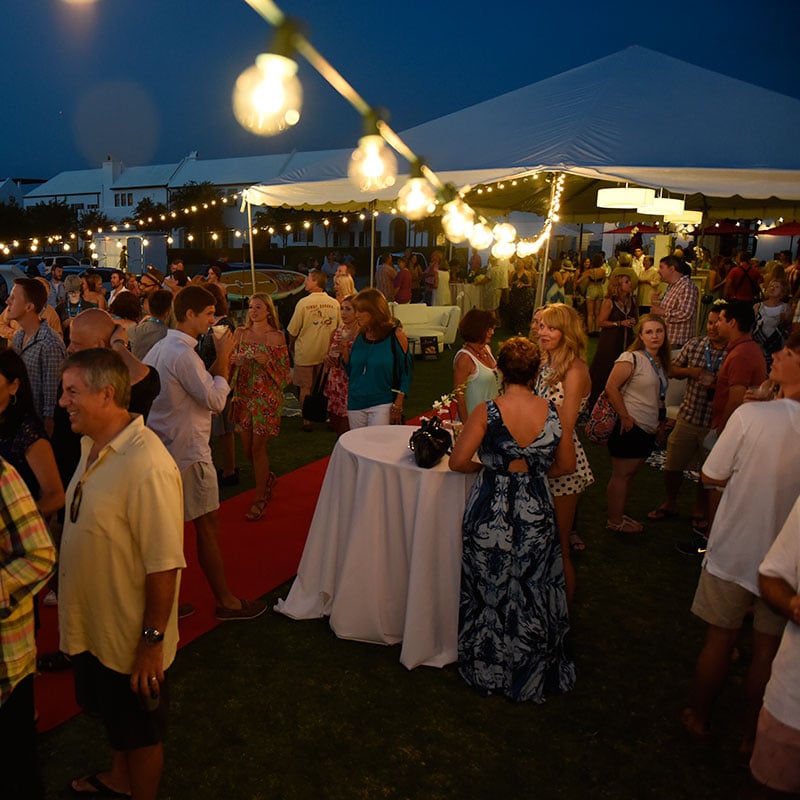 Vibrant beams of light danced and dashed across the white walls of Alys Beach whose buildings provided a canvas for illuminated illustrations. Digital artists, filmmakers, musicians, interactive designers, photographers and art fans gathered as creativity, art and architecture got together at the eighth annual Digital Graffiti festival.
The festival, held June 4-6, turned Alys Beach into a village of art as seasoned and up-and-coming digital artists from around the world displayed works of art projected by the latest technology. EC magazine hosted the EC Lounge, where festival-goers mixed and mingled, sipped and lingered, and were entertained.
The EC Lounge brought South Beach flair to the Emerald Coast tent, which was designed and furnished by Fishers Flowers. Models circulated in fashions from the Alys Shoppe that flirted with a fine line between swimwear and everyday wear. Artwork wasn't just on the walls, as attendees lined up to have intricate and stylish designs painted on their hands, arms or faces.
Rowland Publishing employees served up EC Magazine's signature cocktail, which combined the flavors of Cathead Honeysuckle vodka, lemonade and hints of lavender. If the drinks hadn't already enhanced the mood, DJ Lady Muse spun smooth dance tracks to keep the crowd pumped. Performers from U.S. Gold gymnastics and cheerleading awed the crowd with their acrobatic talent and flexibility.
Guests posed for photographer Chase Yakaboski in front of a background made up of colorful Bote Boards and bohemian style furniture. Ryan Manthey of Pure 7 photo studio captured candid shots as folks circulated about the Lounge.
At the conclusion of the night, the highly anticipated announcement of the winner of Digital Graffiti 2015 was made from the EC Lounge stage. Yandell Walton received the prestigious honor of Best in Show for her piece entitled "Human Effect", which depicted the destructive result of human touch to mother nature.
The sun's last rays faded, but the energy did not as the stimulating artwork beamed brighter into the night.