Delicious Holiday Brunch Dishes
EC readers share favorite recipes guaranteed to warm up any gathering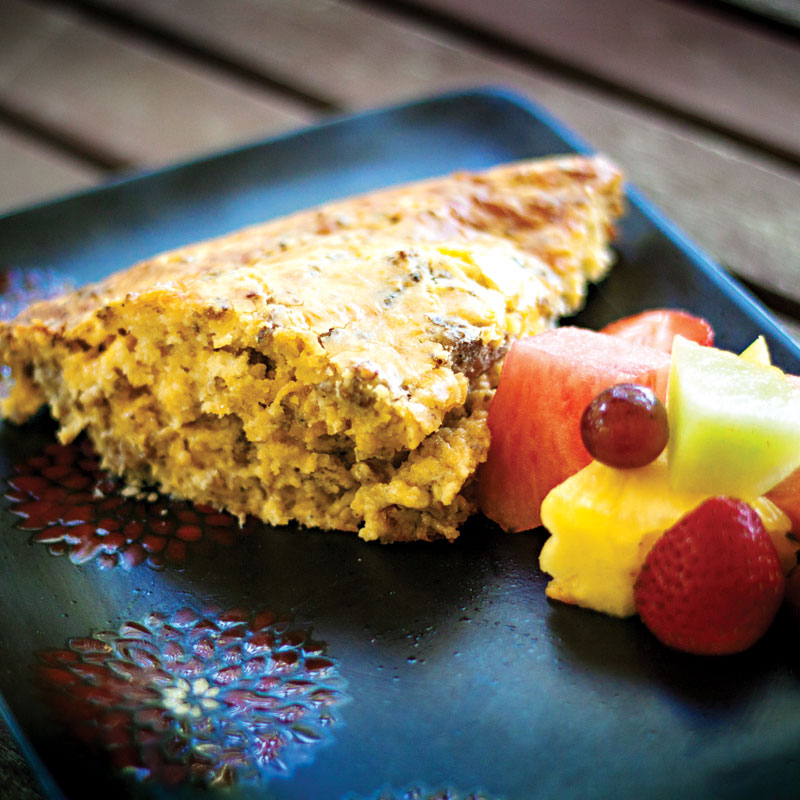 Think of your three favorite things about the holidays, and chances are that enjoying your favorite holiday food is on the list. In every home there are holiday food traditions everyone eagerly anticipates. These are the dishes that elicit "oohs" and "aahs" every time they are brought out to the table and served on Christmas Day or during Hanukkah. For some families it's about carrying on established traditions, and for others it's about starting your own traditions.
It simply would not be a proper holiday without Mom's breakfast casserole or Aunt Libby's noodle kugel or Grandma's bread pudding with the special Amaretto cream sauce. Here is a selection of traditional holiday brunch recipes from some of the Emerald's Coast's loving mothers:
Business owner Adrianne Brackett learned to make her sausage breakfast casserole from her mother, Linda Long, who learned to make it from her sister who kept the recipe a secret until she sold her catering business. Linda made the dish every Christmas morning and for brunch gatherings.
"I can remember having it when I was eight years old, and I always looked forward to it," says Brackett, co-owner of Pure & Couture salon in Destin.
Her favorite memory associated with the breakfast casserole was making it for her best friend, for whom she served as maid of honor at her wedding.
"I made it for her special occasion, and that began my own tradition five years ago," says Brackett, who adds that her young son, Easton, makes special requests for the breakfast casserole.
Adrianne's Breakfast Casserole
Serves 6
½ cup Bisquick
1 pound shredded cheddar cheese
1 pound regular pork sausage
8 ounces sour cream
1 cup milk
2 eggs well beaten
Brown sausage and drain. Mix sausage, eggs, cheese, Bisquick, milk, sour cream. Bake at 350˚ about 30 minutes until golden brown.
For Brenda Salvage, the origin of her family's favorite holiday dessert came as she was trying to locate her grandmother's recipe for bread pudding, only to discover it was never written down.
"As a kid it was such a treat. I remembered she used whatever bread she had around the house, including leftover bread. When I realized there was no written recipe I decided to make my own — just like she did," says Salvage, who resides in Panama City and works in Miramar Beach as a property accountant for a large retail center.
In what Salvage calls her "experimental phase," she began trying different variations of bread pudding recipes in an attempt to recreate her grandmother's. Not every attempt was successful, such as when she tried sour dough bread and it resulted in the eggs curdling. ("We ate it anyway!") Finally, she used Hawaiian bread and the results were spectacular, making a memorable pudding with a rich custard texture and an addictive Amaretto cream sauce.
---
Brenda's Bread Pudding
Preheat oven to 350˚
Pudding
1 16-ounce sweet bread round, with crust removed (optional) cut into one-inch cubes
8 large eggs
1 1/2 cup whipping cream
1 1/2 cup whole milk
1 cup sugar
Mix together all pudding ingredients except cubed bread. Place cubed bread in lightly greased 13×9 pan or divide in half for two equal baking dishes. Pour pudding mixture over cubes and let sit for 30 minutes. Bake at 350˚ for 45 minutes or until pudding is firm when touched.
Sauce
1/2 cup whipping cream
1/2 cup whole milk
3 tablespoons of sugar
1/4 cup Amaretto liquor
2 teaspoons of corn starch
Cook cream, milk and sugar over medium heat until boiling. In separate bowl, whisk cornstarch into liqueur and stir into boiling milk mixture. Reduce heat to low and stir constantly for two minutes or until thickened. Spoon pudding into bowl and drizzle sauce over. Best when served warm.
---
Jewish holidays offer a rich history of traditional foods.
Photos by Jacqueline Ward
Sherry's Noodle Kugel
Noodle kugel is a staple in many Jewish families during the various holidays. Destin resident Sherry Londe says it's a dish that is passed from generation to generation and often prepared to feed a large group.
"Like most cultures, when you include noodles you can stretch it to a lot of people," says Londe.
The beauty of noodle kugel is that it is so versatile. It can be made sweet or savory; either as a main dish or side dish. Londe says she remembers eating it when she was four or five years old when her aunts on her father's side prepared it every Thanksgiving.
With her own daughters now grown and living in New York and Los Angeles, Londe says her girls celebrate certain holidays with their friends, and inevitably someone will make a noodle kugel of some kind, though they say it is "not as good as grandma makes it!" Londe's own mother still makes the dish.
Noodle kugel can be made in a lasagna pan and custard dishes or as cupcakes.
Sherry's Noodle Kugel
Serves 8–10
1 package of wide noodles
1/2 stick unsalted butter at room temperature
1 1-pound container
cottage cheese (small curd)
2 cups sour cream
1/2 cup sugar
6 eggs
1 teaspoon cinnamon
1 teaspoon vanilla
1/2 cup raisins
Preheat oven to 375˚.
Boil noodles in salted water for about 4 minutes and drain. Transfer to large bowl and mix in butter until noodles are well coated. In separate bowl mix all other ingredients to blend with eggs, then pour and mix everything with noodles. Pour into greased 9×13 baking dish or two smaller baking dishes or muffin tin for individual servings. Place baking dishes on baking sheet with lip and add hot water bath to ensure even baking. Place on center rack and bake until custard is set and top is golden brown (about 30–45 minutes).
---
A freshly made cocktail is a nice addition to any holiday brunch.
A colorful drink with an assortment of condiments from which to choose adds a lovely festivity to the occasion.
Stacey's Perfect Bloody Mary Serves two
1 11.5-ounce can of V8 vegetable juice
3 ounces chilled vodka
3 shakes Worcestershire sauce
2 shakes Tabasco sauce
1 shake celery salt
½ teaspoon horseradish (optional)
Squeeze of one lime
Mix all ingredients well (shaking them is best) and pour over two ice-filled glasses. Garnish with choice of lime, lemon, celery, pickled okra or pickled green beans.