Crystal River Offers Visitors Rare Manatee Encounters
Making Manatee Memories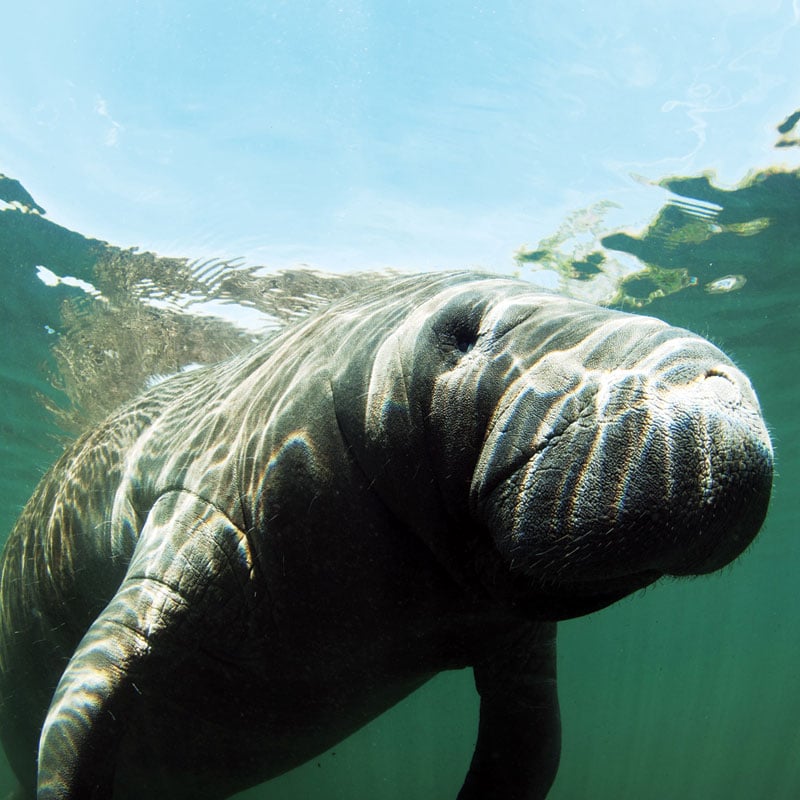 The cool, crisp waters winding through Crystal River's lush terrain are streaming with … manatees.
Five hours south of Destin, Crystal River is the world's premier manatee "hot spot." Amazingly, the winter residency count for Florida's official state marine mammal — an endangered species — reaches upwards of 600 over the course of a single season. 
For locals and visitors, the level of congestion can be startling. 
"From an aerial view, it looks like someone dropped a sack of potatoes there," joked Paul Cross, manager at the Plantation on Crystal River's Adventure Center.
Thanks to Cross and others like him, visitors can do much more than simply admire the manatees from above. The Adventure Center is just one of many outfitters in Crystal River providing opportunities for kayaking, swimming and learning alongside these gentle giants. Tours start at $35 per person and can include sunrise and sunset kayaking as well as manatee snorkel tours, which often consist of quite a vigorous swim. For nature lovers and exercise enthusiasts, it's the perfect combination.
But remember, just because the word "manatee" is used in the title of your excursion, it may not necessarily translate into an actual encounter. According to experts (not to mention state and federal laws) manatees are most properly interacted with in a very passive, non-assertive way and from a distance. 
"Some people come here with false expectations, thinking it's a petting zoo, but it is definitely not a petting zoo," cautioned Cross. "The manatees are here for survival. We have to make sure we keep that proper balance."
In other words, it's best to let the manatee come to you. 
Having a manatee initiate contact is an entirely likely possibility, particularly when it comes to juvenile manatees who, in general, are known to be extremely curious. Operating under a sophisticated tactile sensory system — or one based on touch — the average manatee has over 2,000 tactile hairs on its face alone. Akin to whiskers, these hairs allow the manatee to investigate an unknown object by rubbing or nestling up against it.
---
Nature Coast Outfitters 
Florida Manatee Tours
2380 N. Suncoast Blvd.
Crystal River
(877) 463-4846
Paddling Adventures at Weeki Wachee State Park
6131 Commercial Way
Weeki Wachee
(352) 597-8484
Plantation on Crystal River Adventure Center
9301 W. Fort Island Trail
Crystal River
(352) 795-5797
---
Manatees Need Love Too
In recent years the Emerald Coast has seen a slight increase in its summertime manatee population. Unfortunately, our warmest waters are still far too cold for manatees to find suitable shelter during cooler weather. During the chillier months, your best bet for manatee spotting (no touching, please!) is to travel east to Wakulla Springs, or south to Crystal River or even Weeki Wachee Springs.
But you don't have to see a manatee to love one. "Adopting" a manatee is a quick and easy process and makes for the perfect charitable gift. It's just $25 and a few keyboard clicks away.
According to Katie Tripp, Ph.D., director of Science and Conservation at Save the Manatee Club (savethemanatee.org), people of all ages love the opportunity to "have" their very own manatee.
"These are actual manatees that live in Florida and have a history," said Tripp. "You get a biography of your manatee and, depending where it is, you may actually have a good chance of going to see it." 
For your donation you'll receive a membership handbook, an adoption certificate with full-color photo and biography of a real endangered Florida manatee. You'll also be complimentarily subscribed to "The Manatee Zone," the Club's official newsletter.
"We find that it really helps people get excited about the cause," continued Tripp. "It helps them get attached to their particular manatee and its story. It helps make them more aware of the different issues that face manatees and their habitat. It's really just a good platform for building concern among citizens and members."