Crystal Beach: A Clear Choice for the Coastal Lifestyle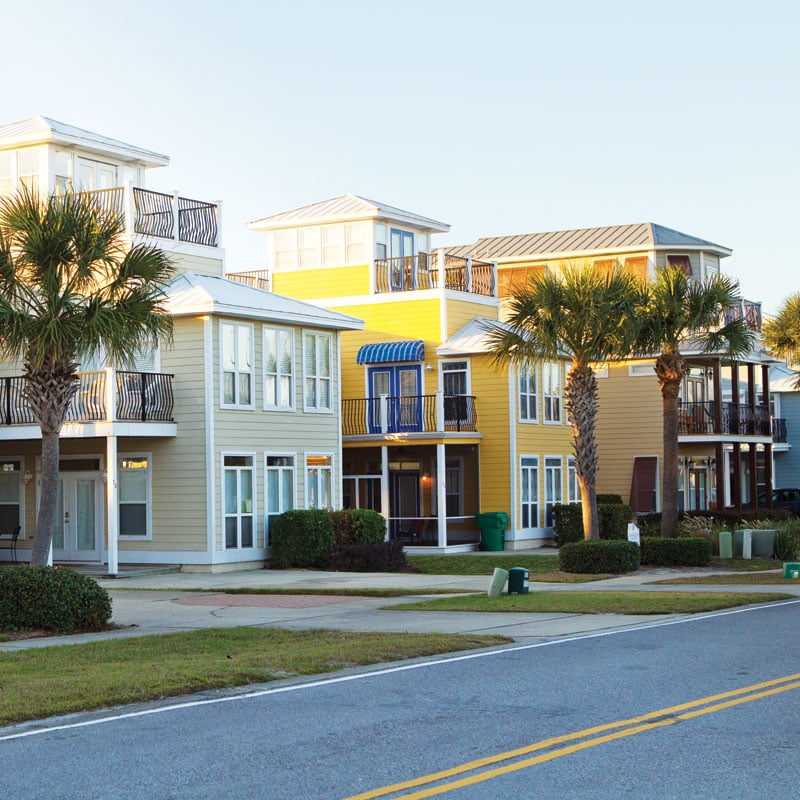 Inspired by the architecture of Seaside — one of New Urbanism's most iconic beach towns on the Gulf — Crystal Beach is a neat neighborhood on the south side of Highway 98 in Destin of about 500 "Nantucket"-style single-family homes with clapboard siding, metal roofs and quaint white picket fences. The first homes were developed in the late 1980s and early 1990s and range in size, but the majority are three- and four-bedroom, two- and sometimes three-story homes that range from 1,700 to 2,400 square feet.
Today, there are four subdivisions: Crystal Beach, Shores of Crystal Beach, Crystal Shores and Crystal Beach Cottages I and II. The amenities of each differ — some have a community pool, for example — but all are near the beach. "It's cute, close to the beach and close to 98 and priced at the bottom of the market," says Richard Eimers, veteran real estate broker and managing partner of Eimers Group Real Estate and Land. 
Like Seaside, which it was modeled after, Crystal Beach was designed as a neighborhood for primary residences, but over the years the mix of the community has shifted, and it has become an attractive investment for those seeking a second home and vacation property. Today, Eimers guesstimates that less than 30 percent of the homes are still primary residences. 
The Brady family saw Crystal Beach as the perfect place in Destin to raise a family of four. They purchased a three-bedroom, three-bath cottage in 1997 and added on a bedroom, bath and small garage. "We left the suburbs of Memphis. Our whole reason for moving to Destin was to experience life at the beach," Mike Brady says. Walking distance to the beach, a safe, family-friendly feel and a convenient neighborhood pool meant Crystal Beach Cottages II "fit the bill." Today, Brady is president of his neighborhood homeowner's association, which works to maintain the integrity of the architectural guidelines and covenants, and the upkeep of common areas. "The amenities add appeal and help with property values," he says. 
If it fits your budget, Eimers says there are essentially three market categories that will get you a Crystal Beach address. Tier 3 properties are below $500,000. There are currently nine for sale with an average asking price of $439,967 or $244 per square foot. Tier 2 includes homes priced above a half million that are not on the Gulf. In 2012 there were 13 such homes sold with an average selling price of $668,500 or $207 per square foot. If you want Gulf-front property, there are 15 homes for sale with an average asking price of $822,660 and up. In the past two years there were two sold, one for $1.8 million and one for $3.8 million or $813 per square foot. 
There are some considerations for buying in Crystal Beach. Though there are a few opportunities for new construction (four new houses were recently built near Luke and Dolphin streets), most of the homes, particularly those that have been used as vacation rental property, are showing some age. Location is another factor. The development is located in Flood Zone X. This isn't a deal breaker for every buyer, but if you are financing through the VA (Veteran Affairs), it will be. 
The time to buy or invest in Crystal Beach is now. Home values are beginning to rise, and inventory is moving quickly. In fact, they are selling at 93.41 percent of asking price and are on the market 17 fewer days in 2013 than 2012. "Arguably, Crystal Beach has some of the lowest priced coastal property along the Emerald Coast," Eimers says. "Comparing it to other coastal neighborhoods between the Destin Bridge and 30A, dollar for dollar it delivers the greatest bang for the buck and offers the greatest opportunity for improvement."