Crescendo
Band director's love of music and teaching hailed in 'Legion of Honor'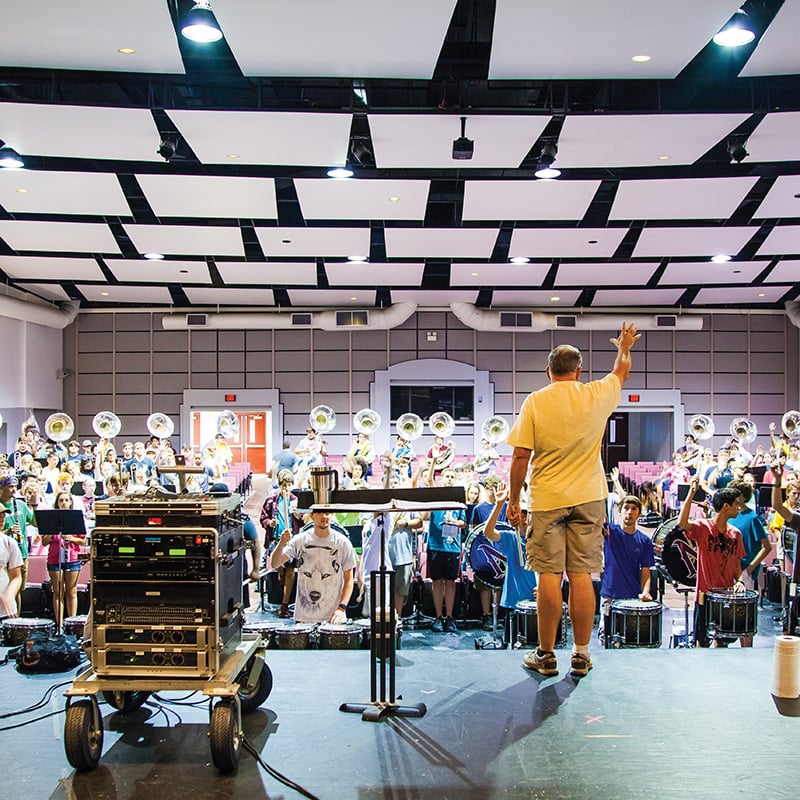 As an educator for more than 30 years, Daniel Wooten's career has taken him from coast to coast and from the Midwest to the Deep South. And while he's loved each stop along his journey, Wooten has always felt most comfortable along the Emerald Coast.
An accomplished musician who has performed with the Cincinnati Brass Band, the Kentuckiana Brass and Percussion Ensemble, the Louisville Orchestra and the Pensacola Symphony — just to name a few renowned performance groups — Wooten spends his days as the band director at Niceville High School. There, he shapes and molds students who have a passion for music in the same way that his parents, who were heavily immersed in the Pensacola arts and entertainment scene, shaped and molded him.
"I grew up in a family where it was a little bit Norman Rockwell," Wooten says. His mother was a pianist and organist who sang in the Glee Club with Wooten's father, a sporting-goods salesman. "We sat around the piano at holidays and sang, and routinely my father would be singing at church or at someone's wedding," Wooten says.
But it was the rhythmic sound of a snare drum that caught his attention as a young man. And the rest, as they say, is history.
"There was a family across the street, and they had twins and an older boy, whose name was Dick," Wooten recalls. "Dickey was out there in the driveway and he had a snare drum hanging off his shoulder. I heard it, and I ran outside to see what it was. At that point, I knew that I wanted to do that. I thought he was cool. He was in the ninth grade and had a five o'clock shadow, so I wanted to be like him."
Soon after, Wooten found himself a member of the middle school band at Brentwood. By the time he was in high school, he knew he had found his calling. As an adult, he would spend time at Tate High School before taking a position at the University of Louisville as the assistant band director at 24 years old.
"I just had a blast," he recalls. "I got to be out there in the rolling hills of Kentucky, which was beautiful. But I missed being out there on the podium."
After six years of teaching, Wooten turned down a job offer from the University of Iowa to return to his Pensacola roots and take over the band at Woodham High School.
"It was time for me to get out there and run my own program," he says.
After teaching at Woodham, he took over the Niceville High School band in 2003. He explains that the arts culture at the high school is, in general, very strong. Between them, Wooten and the choir director at the school share more than 700 music-loving students.
"People don't realize we have this art-school culture," Wooten says. "The fine arts and music … wow. We've just been able to have really good people, and we are making the most of it."
Success seems to follow Wooten, no matter where he calls home. He was a Grammy nomination semifinalist for education in 2013-14, and even more recently, he was named to the Legion of Honor by the John Philip Sousa Foundation. The Legion of Honor was established in 1989 to honor a select few of the finest band directors in the nation. To be honored, an individual must have taught for at least 15 years, maintained a quality concert band program and contributed significantly to the profession through his or her dedication to bands and band music.
"When you grow up as a scrawny little drummer from Pensacola, you don't ever expect something of this nature to happen to you," he says. "It's been positive, and it has brought some great publicity to the community and the (high school's) program."