Cozying Up to Fire Pits
Homeowners warming up to the idea of fire pits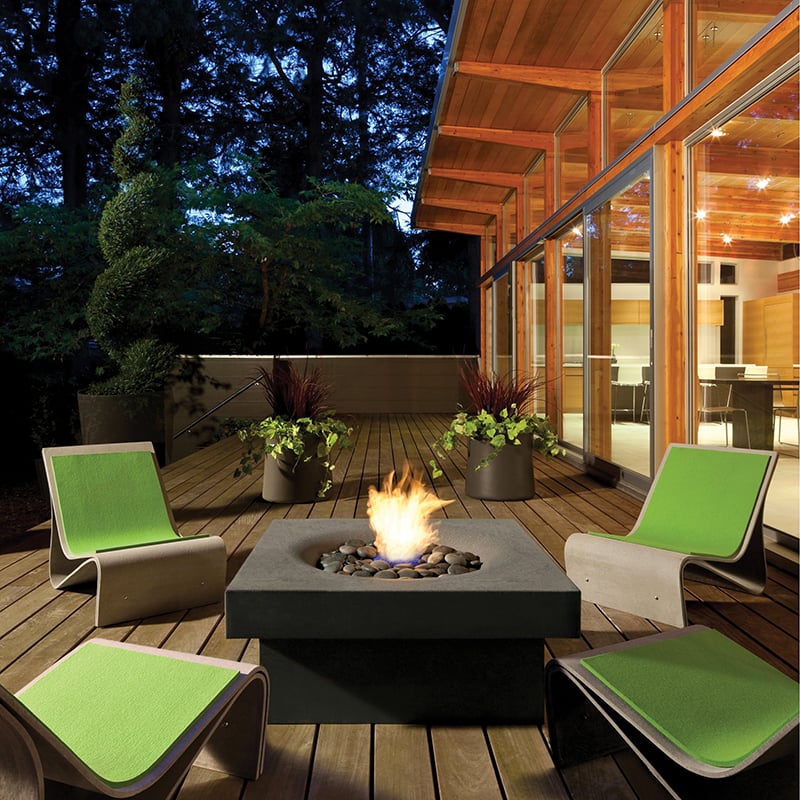 In the 350,000 or so years since human beings learned to control fire and expanded their range to colder climes, what was once an essential has become an accessory. But our fascination with fire never has cooled, and today, many feel that their back yards would be incomplete minus a flame feature.
In short, fire pits are hot. 
"They have really increased in popularity over the last five years and are considered to be the hottest trend in our industry," said Wayne Paul co-owner of Bay Breeze Patio in Destin. "They not only add warmth, but they become the focal point of any outdoor area."
Growing numbers of homeowners are making patios and permanent fire pits and barbecues part of their outdoor spaces. People are looking for cost-effective ways to extend their homes and embrace the outdoors. Budgets for such projects run anywhere from $2,000 to $5,000.
Low-cost fire pit alternatives include simple $500 kits that homeowners can install themselves — and move around as they please, like a steel cauldron. More elaborate fixed fire pits may require assistance from a professional hardscaper and may cost thousands of dollars, depending on their size and the material used. Natural stone is a favorite.
"About 50% of our fire pits are custom, many of them built to match the materials used in an outdoor kitchen or patio," explained Paul. "Complementing materials are concrete, stone or brick. The ability to customize is pretty unlimited." 
Such projects may seem daunting, but homeowners should not be dissuaded from embarking on little adventures aimed at rejuvenating and expanding their living space.
"Fire pits allow people to enjoy the cool fall nights with family and friends with a great ambiance," said Emily Durgan of GreenEarth Landscape Service in Panama City Beach and Santa Rosa. "They are a focal point, a conversation piece and a seating area. If done correctly, they can increase the value of a house." 
Even more so, fire pits add to the value of your home by assisting in making memories, like those moments spent with s'mores under the stars.
---
Tips for Your Backyard Project
Shop Around for Ideas
Sites, including Pinterest and Google Images can be a huge (and free) source of ideas. Search "backyard ideas" on the sites, and you'll be kept you busy combing through thousands of photos.
Get a Plan
While talking things over at the house is a good start, hiring a designer will help turn your vision into a comprehensive, workable plan. Experienced designers are equipped with photos of tasteful and successful projects that can help you visualize possibilities.
Get a Budget
Whether it's $8,000 or $20,000, a budget helps iron out details for designers, installers and the homeowners, themselves. That way, there are no last-minute surprises.
Research the Installers
If you're going to spend thousands of dollars on your home, it's best to do some research on installers in your area. Get references on hardscapers to make sure they are competent and easy to work with.
---
Fire pit installers throughout the Emerald Coast
Bay Breeze Patio, Destin  |  Delta Pavers, Panama City Beach  | The Wallace Company, Pensacola  |  Grill Island Inc., Pensacola