Countdown to the Holidays
A basket of blue and white crackers are perfect for Hanukkah; try red, green and black for Kwanzaa; yellow and orange for Winter Solstice; and red and green for Christmas.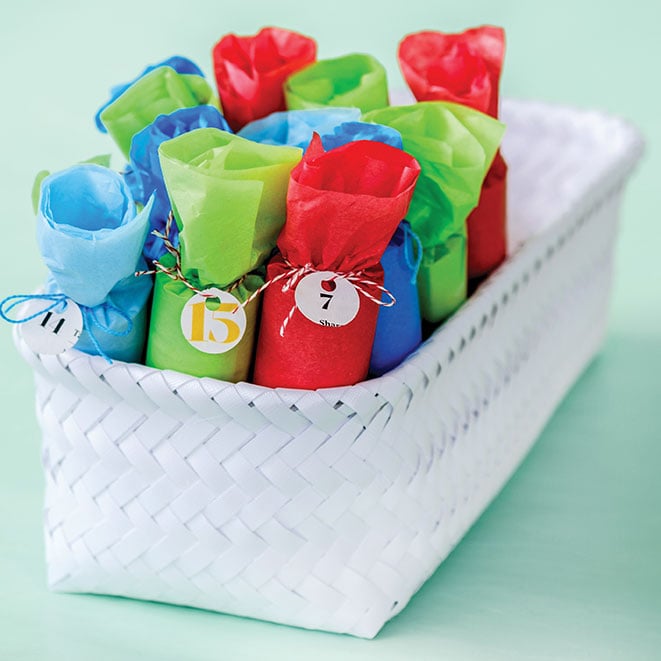 In Britain, "crackers" are an important part of any Christmas celebration. When you pull the sides of a traditional British cracker, it pops open, spilling out paper hats, treats, toys and slips of paper containing groan-worthy jokes. You can make your own crackers for any holiday using cardboard toilet paper roll tubes (start collecting them now), tissue paper in any color and string or ribbon, also in any color. Count down to your holiday by opening one cracker per day.
Start by cutting tissue paper into widths that are twice the length of a cardboard tube. Lay a tube at the center of a piece of tissue paper, and roll the tube down the length of the paper, leaving excess paper at both ends. Tape the paper in place. Gather the paper on one end of the tube and tie it with string. Place a treat or toy inside and tie off the other end. You may like to number the tubes for your countdown, or just leave them unmarked. Place them in a basket and open one every morning of your countdown. Let family members take turns opening the crackers. You may place more than one treat or toy inside each, so there's enough to share each day.
---
Check out these Holiday How-Tos!