Corral Your Water
Plant a Runoff-Reducing Rain Garden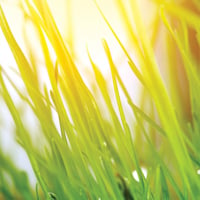 Q: My backyard has a moderate slope that turns into a small stream when we have a heavy rain. A friend suggested installing a rain garden, but I'm not sure what that is or how to start. What do you suggest?
Rain gardens have multiple benefits for your garden and for the regional environment. They slow the runoff of storm water from your property, reducing the risk of flooding in the yards and streets of neighbors whose property is downhill from yours. They also help filter the rainwater as it passes through the layers of soil and sub-soil, so it's cleaner when it reaches underground reservoirs and aquifers. Rain gardens also help keep your topsoil and mulch on your property, saving money since you don't have to replace it every time we get a big rain.
Storm-water runoff is a serious problem that contributes to increased pollution in our lakes and streams, particularly because it washes excess fertilizer and chemicals from lawns and gardens. Supplemental phosphorous, in particular, has harmful effects on aquatic life and the health of the North Florida's numerous springs. Phosphorous is key for making plants bloom — it's the primary ingredient in "super-bloom" fertilizers and the middle number in the three-digit fertilizer formulas. Because most of the soil in our area has an abundance of phosphorous, any additional phosphorous applied in fertilizer and weed-and-feed products simply runs off and eventually enters the water supply. Agricultural and horticultural specialists at state universities now recommend a general-use fertilizer with a formula of 15-0-15, instead of the 10-10-10 that was the standard for years. Thus, building a rain garden on your property reaps benefits for you and your community.
At its most basic, a rain garden is an arrangement of plants in a basin that holds water for anywhere from two hours to two days, allowing it to seep slowly into the soil. To get an idea of how big your rain garden needs to be and where it should be located, watch how water runs off your property during a heavy rain and locate it to catch the water it. You should also consider the size of the your roof and how it sheds water, including whether you have gutters and downspouts to direct that runoff; the size of impervious surfaces on your property such as concrete sidewalks, patios and driveways; and how much rainfall you get.
Your rain garden needs to contain plants that can stand "wet feet," or having standing water around them, for a while. Ideally, these plants also thrive when they're not in standing water, but you probably will need to water them in a drought situation. Although it sounds like a contradiction, a surprising number of plants can fit the bill.
You also need to take into consideration the light level of your proposed rain garden location. Is it in shade or full sun? In our hot, Zone 8b USDA zone, full sun means getting at least six hours of direct sun a day. Or is it in shade part of the day, or high shade — the kind provided by tall pines — most of the day? 
If you have enough room on your property, large trees such as bald cypress thrive in standing water but also do well in upland, drier situations, making them ideal for rain gardens. For small urban yards, a weeping bald cypress has the same great qualities but grows to only 10 or 15 feet tall. It's best to plant the trees when you plant the rest of the garden, to avoid disturbing the roots of existing trees and potentially damaging them. Shrubs, perennials and groundcovers help create diversity, just as in any garden.
There are a number of books and websites that contain a wealth of information on rain gardens. One in particular, "Rain Gardening in the South" by Helen Kraus and Anne Spafford (Eno Publishers, Hillsborough, N.C.) is especially relevant to our region. Be sure to check the recommended plant list against the Florida Exotic Pest Plant Council's invasive species list (fleppc.org), though, because plants that are fine elsewhere might not be here.
Closer to home, there's an excellent resource at the city's TAPP program, which is an acronym for Think About Personal Pollution. For the past several years, TAPP has awarded reimbursement grants to Tallahassee homeowners for installing rain gardens with up to $175 for plants, compost and mulch. It's the only program of its kind in Florida.
The grant application cycle opened in March this year and will remain open until the pot of money has been exhausted, said Karen Rubin, TAPP's project manager. "This year, we're going to be able to help even more people. We have money to cover reimbursements for 60 gardens."
In addition to reimbursement, the program since 2011 has included the services of landscape architect John Gorham, who conducts site visits and designs the rain garden for grant recipients. 
"We started out doing maybe 20 grants a year, but we increased to 30 a year in 2011 and 2012," said John Cox, program manager for the City of Tallahassee's Stormwater Pollution Reduction Program. "It makes a difference. A 10-by-20-foot rain garden, 200 square feet, that holds 6 inches of rainwater can reduce runoff from a quarter-acre, single-family site by 20 percent." 
 It's a good family activity, he said, "getting the kids out to help dig the garden and install the plants."
The application and directions on building a rain garden are available online at tappwater.org/raingardens.aspx.