Copper Penny Brings Destin More Than Luck
Destinite Works with City for a Year to Get Main Street Ordinances Lifted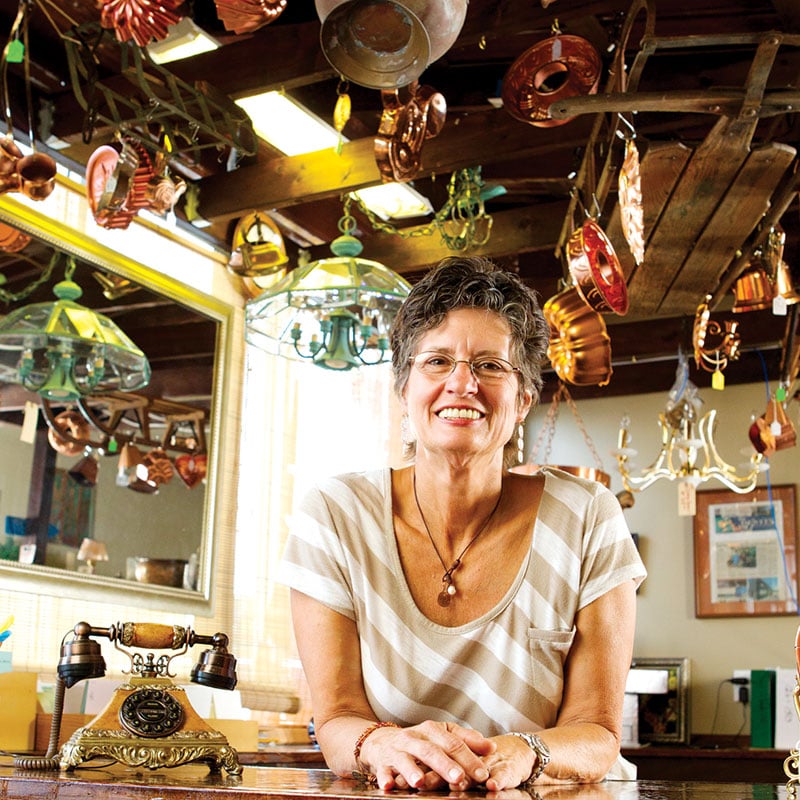 Copper Penny's Emporium has more than 28,000 pennies adorning the sales counter. However, it took more than the luck of a penny to convince the city to allow the emporium to adorn what Penny Vance called a "skeleton" street.
Vance, 56, is the owner of the newly opened Copper Penny's Emporium on Main Street, but locals may recognize her as the owner of the Village Groomer Inc., where she also has worked just down the street for more than two decades. In 2010, she started working with the property owner of a building in front of her own who was having trouble renting out the space. The issue wasn't the shop's spacious interior or its visible position on one of Destin's core roads, but rather the zoning laws.
Vance had a vision in mind for the building: an emporium, or a business that houses numerous other small businesses under one roof. The problem was that many of the items would be recycled art or previously used merchandise for resale, merchandise not approved for sale on Main Street after the city designated it as part of the town center.
Vance said the city dreamed of a "commons-like Main Street," where the old would be replaced with the new. But when the economy "went flat and the oil spill went flatter," Vance said the city had to reevaluate its goals.
After a year of emails, phone calls, meetings and discussions, Vance convinced the city to lift eight ordinances. It was enough for the Copper Penny's Emporium to finally shine on Main Street.
Now handbags, antiques, textile art, handmade soaps, recycled art, furniture, jewelry, a collection of Coca-Cola bottles and beer cans, pet supplies, jewelry stands, accessories and art galore are waiting for shoppers to come by and exclaim that one of these items is perfect for a beloved family member or friend. We spoke to Vance at her Main Street Emporium about these items and her efforts to showcase them to the public.
EC: What were the obstacles keeping Copper Penny's Emporium from opening a year earlier than it did?
PV: The owner of the property in front of my original business couldn't rent out his property because of zoning. He and the other property owners on Main were paying their taxes, but the zoning was making it extremely difficult for anyone to open a business. So we decided to go in and start fighting to try and change the zoning so it would lighten up and we could get this building rented.
EC: What does Destin gain from the zoning changes?
PV: Since we've had our new ordinances, my business opened and three more moved here in four months. So if that tells you anything about the ordinances and everybody wanting to do something, now they have a chance.
EC: What is your favorite part of owning an emporium?
PV: I like to see all the creativity of the people. All these people have full time jobs and then have to come home and make dinner and take care of the babies. They don't usually get to their passions until after everyone else is asleep, especially the artists. I just supply the space here, and they use their creativity to make it their own.
EC: Your other business is dog grooming. How did you get into that?
PV: I've always had a passion for pets. They don't have a voice, so someone has to stand up for them. And before I went to school in Dallas I showed dogs. I was a handler. You know how your parents want you to get involved in something: sports, swimming, whatever. I was involved in a great animal program for adolescents [when I was growing up].
EC: What do you do in your spare time?
PV: I love to fish. It's so peaceful on the ride out and in. It's my mental therapy. I'm a nature girl. I want to cast a line and play with the dogs.
EC: What do you think small businesses have to offer a community?
PV: Ma and pa are the backbone of society and provide things big warehouse stores can't. They provide character, selection, the individuality of the business owner and specialties. At Copper Penny's, we are just providing a second showroom for them. People have some really great ideas, and this is a place for them to come make some money off those ideas. I would like to see the recognition these vendors deserve.
EC: What would your advice be to other potential small businesses?
PV: If you need something and you don't feel like it is attainable, it is. You just have to want it and be persistent and be a pest. State what you need, and someone will eventually listen. I don't tell anyone to stop just because a few doors close.