Cool Music Hot Spots
From jazzy joints to boogying back yards, the Emerald Coast doesn't miss a beat when it comes to unconventional music venues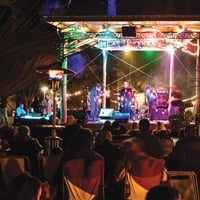 Photo by Shelly Swanger Photography
Sure, YouTube, iTunes and a growing number of online sites allow audiences to watch, listen and download, but there is no substitute for hearing the artists' personal stories, feeling the pulsating bass or being entranced by soulful vocals during a live performance.
The Emerald Coast is packed with gifted singers, songwriters and musicians. Yet these talented artists often go undiscovered or forgotten without a place to showcase their talent.
Luckily, there are individuals along the coast who give artists a stage to connect with the music-loving public. We've highlighted three unique venues, which feel more like a friend's party than a concert venue. Guests bring their own beverages and are welcomed like family. By night's end, there is hardly a stranger in the room (or on the lawn, as the case may be).
Concerts in the Village
Mattie Kelly Arts Foundation (MKAF) was one of the first to present live outdoor concerts in Okaloosa County. Since the organization's inception in 1995, MKAF began featuring bands at the Kelly Plantation Outdoor Theatre on Sundays.
"We were one of the first venues to feature many local bands, including Dread Clampitt and Jones & Company," says MKAF Executive Director Marcia Hull. "We used music to connect the community. It became so popular, we moved it to Thursday night and had to find a larger venue."
As luck would have it, MKAF inherited 52 acres of land from the late Destin Matriarch Mattie Kelly for use as a cultural center, and the outdoor concert series was moved to the site. The concert series has continued to grow. This year, it is expanding to a 10-week series and is now coined Concerts in the Village, reflecting the new venue within the Mattie Kelly Cultural Arts Village, which includes the Dugas Pavilion and expanded Village Green.
"The concert series has grown exponentially from its humble beginnings," says Hull. "It is quite the social event. It is a place where old friends and families catch up, new friends are made and professionals enjoy networking within a casual atmosphere while enjoying incredible music under the stars."
Attendees arrive with their lawn chairs, picnic baskets and favorite libations. Meals are available on-site through partner restaurants, such as Jim 'N Nick's Bar-B-Q and Carrabba's Italian Grill. Guests may also purchase a table as part of the Picnic Supper Club to ensure a regular spot close to the action.
"Usually by the end, people are up dancing," says Hull. "It is a music party for all ages."
From jazz and blues to classic rock and country to reggae and R&B, the 2013 lineup includes local favorites such as Heritage, Deja'Vu and David Seering, as well as regional acts including Reflections with Ron Adams and the Craig Woolard Band.
Destin local Susan Moody quipped in her Emerald Coast Insider blog, "Concerts in the Park are as American as apple pie and Fourth of July. From classic rock to pop, funk and soul and everything in between, the concerts provide a great sound-track for your summer."
Williams Backyard Boogie
In contrast to the Cultural Arts Village's wide-open space, Williams Backyard Boogie is an intimate outdoor venue in Santa Rosa Beach within Forrest William's backyard.
"I felt like we needed a platform for local musicians to perform and tell their story," explains the modest owner, Forrest Williams. "My goal is to give the artists and the community a quality experience."
Williams Backyard Boogie, which opened in May 2012, is a venue built by musicians for musicians. The backyard, which can comfortably seat 100 to 150 people, ensures everyone has an up-close and personal experience. With a songwriter-style format, the bands are invited to tell stories and do whatever comes naturally during their performance.
"Forrest says we can do anything we want, which is a little dangerous," teases Tony Verecchia, lead singer for the band Heritage at a recent performance. "In all seriousness, we are thankful for this opportunity. It's about how the music makes you feel, that song that touches you."
The performances at the Backyard Boogie could be compared to watching world-class talent in a friend's backyard. The casually intimate setting allows audience members to feel as if they got to know the band personally by the end of the performance.
Guests bring their lawn chairs, snacks and beverage of choice and Williams provides the setting and the talent. Artists perform on an expansive wooden stage with a tall, pitched roof, which is surrounded by long leaf pines. White lights twinkle from poles and trees, candle lanterns flank each side of the stage and Tiki torches pepper the perimeter, creating a warm and friendly atmosphere. For those who wish to purchase dinner, Grayt Coffee features fresh made sandwiches and chips to satiate hungry guests.
"The setting is wonderful," shares Buzz Livingston, a regular visitor to the Backyard. "Last time I was here, the moon was rising through the pine trees over the stage. With the music playing, it was simply magical."
Shows are scheduled approximately once a month and this summer Williams hopes to showcase local bands as well as have his band back-up some of the talented local solo artists.
"Giving back to the community is what sustains us," says Williams, who grew up in the hills of Arkansas and began strumming a guitar at age 14 and never put it down.
Beal Street Bottle Club
"At Beal Street Bottle Club, you bring the bottle, we'll bring the fun," Club Owner/Host Gwen Lanier — whose stage name is Gwen D'Vyne — promises over the microphone.
Located in an unassuming strip center in Fort Walton Beach, Beal Street Bottle Club is a hot spot for live jazz, blues and BBQ. While Beal Street Deli is open for lunch, the Bottle Club is focused on music.
"We opened a bottle club because it's all about the music and fostering local talent," shares a passionate Lanier, who co-owns Beal Street with her husband, Edwin Lanier, who performs as EdMo. "Performing live allows you to really share your craft, connect with the audience and even give some impromptu sets that really show what you're all about."
Celebrating three years in July, Beal Street features a regular lineup of jazz and blues on Friday and Saturday, and each month's schedule is sprinkled with talented local musicians and bands. Wednesday night is Family Jam, in which families (ages 12 and older with a parent) are encouraged to come out and jam with the band.
"We invite young talent to come and play with old guys," says Lanier. "It's incredible."
It was a great opportunity for Choctawhatchee High School student, Josh Carter, who after a few Wednesday performances was asked to play with the band during their Saturday night gig.
"We don't practice," says Carter after a recent performance. "You just feel it. It feels completely comfortable, like you're playing in your living room."
The cozy setting ensures there is not a bad seat in the house, and meeting the musicians is welcomed activity after the show. In fact, the whole club is teaming with talent, and you never know who may jump in on the next set. There is even an "Express Yourself" night in which singers, dancers, poets, improv performers and anyone with a talent is invited to perform.
With its juke joint-style decor, Beal Street Bottle Club is decked out with local artwork and a fabulously funky collection of handmade lamp shades decorated in everything from feathers and flowers to beads and ornaments. The decor is festive and original. Guests bring in their own bottle, while servers bring out $5 buckets of ice and offer a variety of mixers. The diverse menu includes deli-style sandwiches, ranging from po-boys and paninis to Cubans and reubens, making certain no one leaves hungry. The club's T-shirt says it best, "Music, Love & Good Mojo."
Mattie Kelly Arts Foundation
Concerts in the Village
$8 per adult/$15 per couple
Children (12 and under) free
mattiekellyartsfoundation.org
(850) 650-2226
Williams Backyard Boogie
$20 donation
Find them on Facebook at
/Williams-Backyard-Boogie
(850) 502-6448
Beal Street Bottle Club
$10 cover/$5 after midnight
$30 monthly membership available
bealstreetbottleclub.com
(850) 642-2221