Cooking With Ken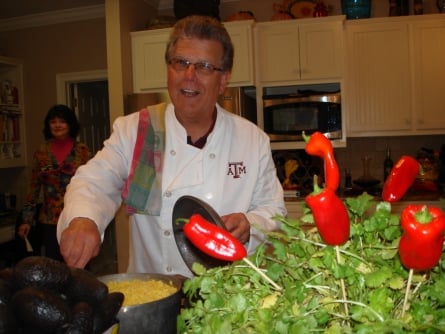 Spice up your dinner party this summer with recipes from Ken Harrison, a Destin resident with a passion to create savory eats. Ken's culinary palette is influenced by the Cajun flare of his hometown of New Orleans and the 20 years spent in Texas. He and his wife, Darla Harrison, now reside in the Kelly Plantation where they hosted the Kelly Plantation Home and Garden Club for a night of "Cooking with Ken". Ken created a delicious menu for 20 people including a Margarita punch, homemade salsa, guacamole, black beans and rice, chicken enchiladas, and flan to finish it off!
Margarita Punch
---
Mix all ingredients in a punch bowl, serve, and enjoy!
Ingredients
3 cups of Tequila
2 cups of Triple Sec
2 cups of fresh lime juice
¼ cup of honey
1 liter of club soda
4 cups of ice cubes
1 lime sliced for garnish
1 orange sliced for garnish
Margarita salt (optional)
Ken's Fresh Salsa
---
Cut all vegetables to size that fits into a food grinder opening and set on medium. Feed the tomatoes, onion, pepper, jalapeños, and garlic through grinder into a large bowl. Add lime juice, cilantro, honey, olive oil, vinegar, and salt. Stir to thoroughly blend, taste and adjust sweet, salty and tangy with honey, salt, and lime juice if needed. It is best to make the salsa the day before as flavor is enhanced after sitting and chilling. Serve with your favorite tortilla chips.
Salsa Ingredients
12 to 15 ripe tomatoes
1 medium sweet onion
1 bell pepper (*roasted, seeds removed)
2 garlic cloves (minced)
2 or 3 fresh jalepenos (*roasted, seeds removed)
Juice of 2 limes
¾ cup chopped fresh cilantro
3 or 4 TBS honey
2 TBS olive oil
Dash of wine vinegar
Salt to taste (2 to 4 TBS)
*Roast peppers on grill or gas burner of stove, turning until all sides are lightly charred.
More recipes on the following pages!
Ken's Guacamole
---
Begin by cutting avocadoes in half and remove pit. Now holding one avocado half in hand, use a sharp knife and lightly make several cuts to the pulp first length wise, then again across the width, now scoop the cutes of avocado out of skin with a spoon and place in a bowl, repeat for all halves. Add remaining ingredients, use a fork to slightly mash and mix, but leave a bit chunky. Serve with your favorite tortilla chips!
Guacamole Ingredients
2 rips Hass avocadoes
Juice of a ½ lime
1 clove of garlic (minced)
1 TBS olive oil
1 TBS honey
Splash of tequila (optional)
¼ cup fresh salsa
½ fresh jalapeño (seeded and chopped fine)
¼ cup chopped cilantro
Salt (to taste)
Ken's Black Beans
---
In a large pot on medium high heat, place oil, butter, onions, peppers, and celery; cook until onions are translucent then add meats. Continue cooking until meats are rendered, then add al remaining ingredients (except cilantro). Lower heat to medium, cook covered until beans are tender, stirring occasionally. Taste and add seasonings if needed, adjust cooking temperature to achieve a steady boil. When finished add the fresh cilantro and stir to mix.
Server over steamed rice or alone in a bowl; sprinkle with your favorite shredded cheese, garnish with more cilantro, chopped onion and chopped jalapenos as desired. Also great to serve with steamed tortillas or cheese quesadillas. Left over beans make excellent nachos.
Black Bean Ingredients
1 lb bag of dry black beans (soak in water over night)
2 onions chopped
1 bell pepper chopped
1 stalk celery chopped
4 toes of garlic chopped
Handful of chopped fresh cilantro
4 or 5 bay leaves
1 small can of diced tomatoes w/ chilies
1 TBS ground cumin
1 package diced smoked ham
1 chorizo sausage (cubed) or 1 Andouille sausage (cubed)
2 cups chicken broth
Add enough water to cover beans by 1 inch
Couple of dashes of hot sauce
Salt to taste
2 TBS olive oil
2 TBS butter
More recipes on the following page!
Ken's Enchiladas
---
For the sauce, in a large skillet heat oil and add onions and garlic. Sauté just until onions are translucent, now add flour and stir to blend. Next, add remaining ingredients with exception of cilantro; continue to simmer, stirring occasionally, until sauce thickens slightly. Add chopped cilantro and stir to blend.
Sauce Ingredients
3 TBS olive oil
1 TSP flour
1 clove of garlic (minced)
8 oz. can tomato sauce
1 quart chicken broth
Juice of ¼ lime
¼ cup chili powder
1 TSP dried cumin
1 TBS honey
¼ cup chopped fresh cilantro
For the stuffing, preheat oven to 325. Season chicken with salt, pepper, and chili powder; grill until just cooked through about 4 minutes per side. On the same grill, roast the pablano peppers. Shred chicken into large bowl and add the pablanoes, lime ice, cilantro, and about 3 oz. of cheese. Mix well, then take a corn tortilla and dip into enchilada sauce just to coat, place a small amount of the chicken mixture in tortilla and roll, placing into an oblong casserole dish, brushed with olive oil. Continue the process until mixture is gone. Now, generously cover the top of the enchiladas with the Mexican cheese and pour chicken broth around all sides of the dish, cover with aluminum foil and place in oven for 15 minutes, remove foil and place back in oven for another 5 minutes. When serving, place an enchilada on plate and ladle with sauces, garnish with chopped green onion, cilantro, shredded lettuce, chopped jalapenos and sour cream.
Enchilada Stuffing Ingredients
3 lbs. grilled chicken
Salt
Pepper
Chili powder
2 pablano peppers (roasted, seeded and chopped)
Squeeze of lime juice
16 oz. shredded Mexican cheese blend
¼ cup chopped fresh cilantro
12 to 16 corn tortillas
1 cup chicken broth
Ken's Custard (Flan)
---
Custard Ingredients
Preheat oven to 325° F. Whisk the first three ingredients.
6 large eggs
2/3 cup granulated sugar
¼ TSP salt
Heat 4 cups of half & half just until steaming (do not boil). Gradually whisk the hot milk into the egg mixture and stir until the sugar is fully dissolved, then stir in 1 ½ teaspoons of vanilla extract. Strain mixture and then pour into 12 6oz ramekins or custard cups (dust with nutmeg), placed on a flat pan with sides to hold water, pour hot water into pan till cups are covered by 1/3 to 1/2.
Bake for about 40 to 60 minutes, let cool for 30 minutes
Caramel Sauce
1 stick of real butter
1 cup brown sugar
1 tsp cinnamon
¼ cup heavy cream
½ tsp vanilla extract
In skillet, melt butter on medium low then add brown sugar & cinnamon, stir constantly until melted, slowly add cream while stirring just until sauce comes together, add vanilla extract, stir to blend, spoon a small drizzle over custard, top with whipped cream, serve.