Complementary Skills
Siblings overcome obstacles in building 'glampground'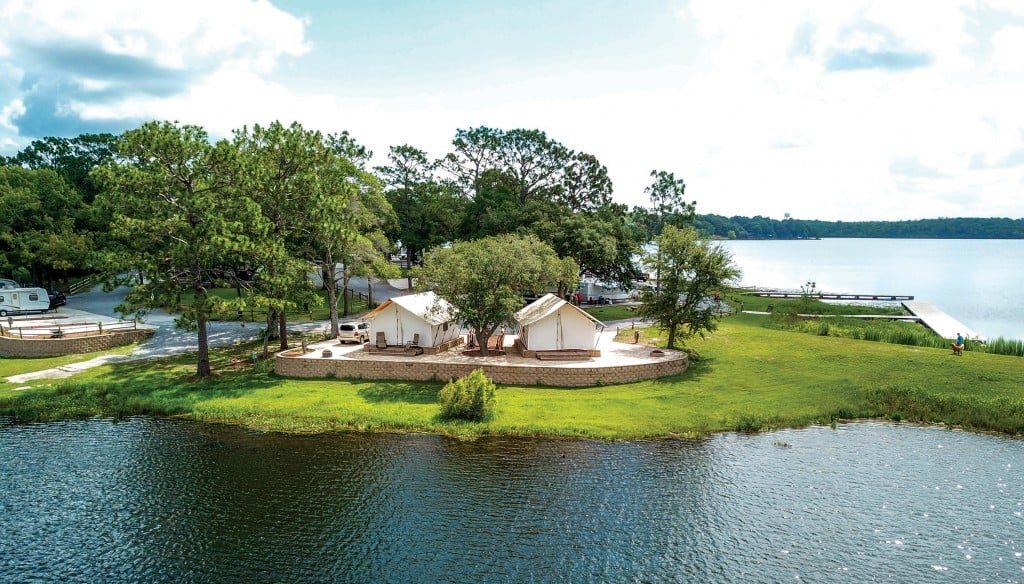 Kristen is a born leader, Meagan is artistic, KK is mechanical, Nelson is a natural tinkerer and Maggie is a whiz with numbers.
The O'Neill siblings, along with 22-year-old cousin Justin Harstvedt, are the sweat equity crew behind the newly enhanced Twin Lakes Camp Resort.
Located on a shady 10-acre waterfront site in scenic DeFuniak Springs, the family business is the brainchild of the brood's father, Pat O'Neill. But Twin Lakes is not the family's first foray into hospitality. Pat and his wife, Heather, operate Camp Gulf, a 200-site RV resort in Destin.
Three days after taking ownership of Camp Gulf in 1995, Hurricane Opal blew into town. Pat got a baptism in construction and, 25 years later, after two full renovations and service on the state and national boards of the Association of RV Parks and Campgrounds, he has learned a thing or two.
Pat saw Twin Lakes as an opportunity to provide his five children with a hands-on crash course in entrepreneurship. After a year of planning and designing an attractive glamping resort, they went to work.
Contractors put in a septic field and handled electrical work, but over four years, the O'Neill children and Harstvedt did nearly everything else. They poured concrete pads for each campsite and worked with building inspectors to ensure codes were met.
"We knew our individual expertise and what we didn't know, but there was still a lot of learning," Harstvedt said.
"I enjoyed watching the kids come up against an obstacle and then talk through it, try something else, then look back and see what they did," Pat said. "These are beautiful homes; we did not cut corners. Plus, these kids walk away with experience to do something else."
Pat wasn't the only one providing guidance. The kids listened to campers and incorporated their feedback. As a result, tiny houses were equipped with bathtubs and lofts for families traveling with kids.
Kristen, the oldest O'Neill sibling, is 22. Beyond design-and-build experience, she gained a lot of patience.
"When there are issues with projects or jobs, you'll run into setbacks," she said. "Now, I know how to take a step back, think about it and move forward."
Justin agreed. "Yes, there certainly were big life lessons, but I actually enjoyed the practicality of things — putting in walls, installing a shower, putting in a vanity. Now, I will be able to do these things when I have my own house."
Twin Lakes has nearly 70 accommodations — a mix of RV hook-up sites, glamping tents, cabin suites, tiny homes and two lake houses. The O'Neills say their resort is for the "non-traditional" — someone who wants to go camping, but doesn't have an RV — hence, the perfect glamping clientele.
Kristen said Twin Lakes offers more than well-built accommodations in an appealing setting.
"The beauty of our park is the way we treat our guests. Our hospitality is second to none," she said.
What's next? Several things: rallying the kids to renovate an older home situated just outside the campground, shaping a walking trail and "trents."
"We want to design a tent 15 feet in the air, a treehouse tent — a trent at Camp Gulf," Pat said. "You park your car under it and once you go up inside, you'll be able to see the Gulf of Mexico. We don't know anybody doing that."