Cold Shoulders Are Still Hot This Spring
Last years biggest trend resurges for Spring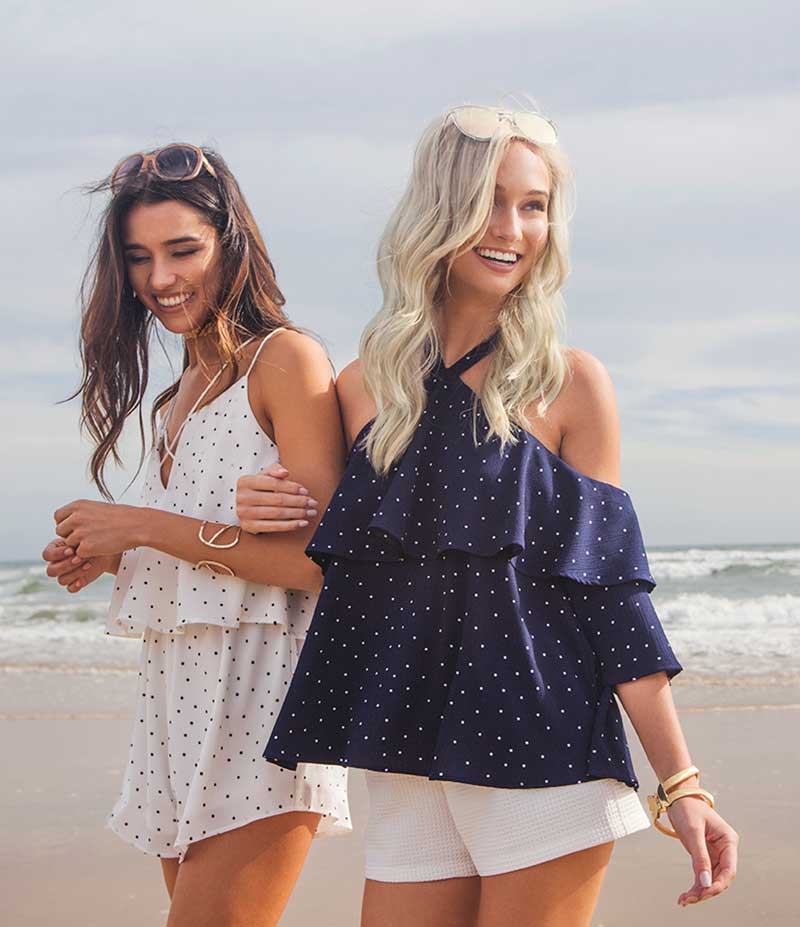 Okay, ladies, we need to discuss one of the easiest ways to spice up your style, turn heads and showcase your personality. No, I'm not talking about investing in oversized, chunky "statement" jewelry, dangerously high heels or plunging necklines.
Sleeves. Think about it: In the morning, throw on a billowy, butterfly-sleeved blouse, jeans and espadrilles to embrace your inner beachy bohemian. By night, slip into your sleek, slit-sleeved mini-dress, toss on a pair of pumps and you're suddenly Gigi Hadid.
From flounces and flares, to cold-shoulder and layers, this is the season of the sleeve.
"A few trends popping up this season are one-shouldered, puffy and sheer sleeves," dishes Alicia Taylor, owner of SoBo Boutique in Pensacola. "One-shoulder sleeves have quickly become an alternative to the off-shoulder trend of 2017."
If you didn't dive into the cold-shouldered craze last year (or if you went a little overboard with it like I did,) you'll be relieved to know this trend is still going strong in 2018.
Adds Laurie Olshefski, owner of Coastal Casuals in Panama City Beach, "Most ladies are self-conscious about their arms, so styles that show off the shoulders yet cover the meat of the arm are flattering, feminine and fun. Cold-shoulders especially give coverage while showing a little skin and keeping a girl cool."
Oh, we're all about keeping cool in these warmer months. Honestly, where would we be without our breathable, bell-sleeved, Stevie Nicks garb once the heat kicks in?
"The one thing I love about fashion is while it's constantly evolving, you'll always see old trends come back around," says Taylor. "The '70s flared, bell sleeves have been a huge trend for the past few years, but now they're changing to a double flare for a more exaggerated look. Things like embroidery and embellishments help modernize them."
"Lace, crochet and floral embroidery seem to be the most popular details." Olshefski agrees. "We're also seeing bell sleeves in a 3/4 length with slit shoulders that have detailed accents across their hem. Personally, I love the updated bell sleeves because they can be designed in so many different ways with stylish accents."
Even if you're a bit demure when it comes to fashion, sleeves are a simple way to venture outside of your typical comfort zone without going overboard. And if you're one who basks in limelight, now is the time to take this trend and run with it.
"There are so many different sleeves and details out right now, so expand your fashion flare and try out some of the new, flirty looks," advises Olshefski. "See what fits your style personality and makes you feel good."
Taylor thinks we could all benefit from taking more risks.
"Look for conversation starters! It doesn't matter which trend you gravitate toward as long as you're feeling bold and confident. The key to keeping your closet trendy, fun and fresh is to look out for new trends as they emerge and incorporate some of those elements into your looks."