Coastal Dining Do-overs
They are renovated, refreshed, and now, even more delicious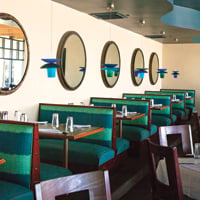 Secrest Beach-based interior designer Susan Massey refreshes Marina Café with a contemporary nautical theme expressed with round mirrors, a strong sculptural glass rack that anchors the bar, and bold splashes of water hues such as the custom glass art pieces from Fusion Art. Photo Scott Holstein
What was once old has become new again, as many waterfront restaurants have undergone recent renovations, updates or expansions, revitalizing dining along the Emerald Coast. Whether searching for fine dining on the Gulf, seeking a beautiful view of the harbor or enjoying a casual bite overlooking the bay, the range of dining experiences can accommodate nearly everyone's needs.
Marina Café, Destin
Known for their fresh local seafood, sushi, nightly specials and incredible sunsets, owner Jim Altamura felt it was time to update Marina Café's look and hired Susan Massey of Bohlert Massey Interiors for the job. Using sea tones and inspiration from the restaurant's magnificent harbor views, shades of teal wash the walls in color while custom glass from Fusion Art flank the walls. A cooler color palette for the restaurant was refined, with rich walnut staining all of the millwork. Crisp fabric was added to the chairs, barstools and banquettes, allowing for comfortable seating spaces in which to dine and gaze at the boats drifting by. Extensive painting was done to the interior and exterior of the restaurant, along with a verde application to the sculptured sea creatures greeting patrons upon entering the restaurant.
For 25 years Marina Café has stood the test of time as one of the most memorable and delicious Destin dining options, and though some things may change, Altamura promises patrons that some things will stay the same. "The Andouille Crusted Redfish will always be on the menu," he assures.
Seagar's Prime Steaks & Seafood, Miramar Beach
Though many loyal customers could not see room for improvement in the sophisticated restaurant known for fine dining, prime steaks and live music, the Hilton Sandestin Beach Golf Resort & Spa decided after 15 years to give Seagar's Prime Steaks & Seafood a gift — a $1 million renovation.
Executive Chef Dan Vargo led the way with menu changes that continue to emphasize select cuts of beef but now has a focus on succulent seafood. Vargo says, "Everything is made in house, including the desserts. We are focusing on regional seafood from local waters, with the exception of the sole and halibut." The refreshing snapper tartare with orange and basil, and the tuna tartare with lemon and chive is a sought after appetizer, while the most popular seafood addition has been the pan-roasted halibut. Offering custom cut steak selections has also garnered attention as customers can enjoy 6, 8, 10 or 12-ounce portions. An innovative iPad menu with wine list eases diners through the more than 600 labels of fine wine offered, which can be matched to the customer's dinner selections. Try a glass of crisp French champagne with the Lobster Risotto, or order a bottle of California red to pair with your steak. The options are endless!
At Seagar's entrance, a unique fire-and-water feature serves as a dramatic welcoming focal point, while other fresh additions include the completely updated interiors, fresh soft coastal color hues on the walls, and the adornment of new artwork. Mahogany flooring was added for warmth, as was a glass encased semi-private dining room surrounded by a 250-bottle wall of wine. The lounge with plush seating and a gorgeous fireplace make an oasis for relaxation. Vargo says, "We have a four diamond rating and are reaching for five!"
Whiskey Bravo, Seagrove
723 Whiskey Bravo Bistro & Bar of Seagrove Beach made its debut in 2012, but by early 2013 big changes were underway as owners Victoria and Skip Moore added former Smiling Fish Café owner and chef George Barnes to their culinary team. With more than 13 successful years of operating a restaurant on 30A, Barnes brought his expertise, a popular lunch menu and a loyal following. And he added another well-known local chef to the mix, Alan Baltazar, who prepares culinary creations such as his signature catch of the day, pan roasted with arugula, bacon, crispy capers and balsamic glaze to the delight of patrons searching for unpretentious and fresh local fare.
Gluten free options, a children's menu, as well as a Rooftop Deck menu have been updated along with other noticeable differences, including a wine bar area with more than five hundred fine labels inducing excitement for many, as wine dinners are expected to take place in the near future. The most sought after space is the freshly renovated Rooftop Deck with stunning views of the Gulf of Mexico.
Elephant Walk, Miramar Beach
As most long-time locals in the area know, The Elephant Walk was Sandestin Golf and Beach Resort's most beloved fine-dining establishment from 1985-2003. With a devoted following and an exotic upscale atmosphere, the restaurant was the place for freshly caught seafood and stunning Gulf views. When prominent local restaurateurs Tom Rice and Wayne Lewis heard a rumor it might be torn down for a condo development, they decided they could restore the restaurant to her former glory days and stepped in, bringing with them the executive chef from sister restaurant Marlin Grill, Mike McAnulla, to formulate the menu. "Our goal was to bring back this great restaurant tradition with extraordinary cuisine, fine service and beautiful views it was once known for," Rice says.
As an anchor for the resort, Rice worked with Sandestin management to recreate The Elephant Walk, a plan including the use of rich colors, warm woods and the utilization of two levels of a combined 13,000 square feet of deck space, ensuring a spectacular view and Gulf-front dining experience.
The popular top floor Governor's Attic bar is available once again, as is the treasured menu favorite and signature dish — Grouper Elizabeth which is pan seared and topped with jumbo lump crab and a beurre blanc sauce. The dish is in honor of Elizabeth Taylor who starred in the movie for which the restaurant is named. Hand cut 28-day dry aged wood-fired steaks are also in demand and can be topped with the diner's choice of lump crab, a béarnaise sauce or blue cheese.
Fudpucker's Beachside Bar & Grill, Okaloosa Island
Locally owned and operated since 1982, Fudpucker's Beachside Bar & Grill has become famous for its good food, world famous T-shirts and fun atmosphere appealing to old and young alike. More than just a Fort Walton Beach tourist destination, Fudpucker's offers a one-of-a-kind experience that includes the new Fudpucker's Okaloosa Island — a waterfront establishment featuring over 20,000 square feet of dining and entertainment spaces overlooking the bay.
Featuring three restaurants, Fudpucker's serves seafood, steaks and acclaimed burgers, while FudPuckeroni's offers up pizza, wings and Italian sandwiches in a sports-themed atmosphere. You won't want to miss FudShucker's Steam Shack & Oyster Bar with seafood steamed and boiled, while oysters are in demand raw and baked. Spend the day with Fudpucker's Watersports and Fishing Charters, or enjoy Fat Daddy's Arcade on site. The day won't be complete without a little retail therapy while shopping at Fudpucker's Trading Company. Partner Chester Kroeger says, "There is something for everyone. You have to see it to believe it."
Stinky's Fish Camp, Navarre
When Chris Sehman decided to embark on a new business in Navarre, he took over a 12,000-square-foot T-shirt shop with plans to renovate the waterfront space for his popular nightlife sports bar concept Helen Back, and planned to include a casual restaurant as well.
After the first attempt with an eatery did not meet expectations, General Manager Russell Hedrick suggested a fish camp type of feel for the restaurant. Sehman says, "Immediately a light bulb went off, and I knew I had to contact old friend Jim Richard of Stinky's Fish Camp in Santa Rosa Beach."
Already sold on Richard's cuisine, creativity and work philosophy, Sehman decided incorporating Stinky's Fish Camp with Helen Back was an excellent decision, and Richard agreed. Just like the 30A restaurant, the same high-quality fresh local fare is served at Stinky's Fish Camp in Navarre, yet it is geared more towards the locals and military. Sehman says, "The military following just makes my day. They are great."
Executive Chef Jason Hughes prepares coastal delicacies with weekly specials including the popular Mullet Monday Madness, Fat Tuesday Tuesday's with po-boy specials and Taco Thursday's where crawfish tamales are in demand. With stunning water views from most seats in the restaurant, Sehman declares, "You have got to come by for sunset."