Classy or Chunky, Wristwear Completes Looks
Spice up your arm candy which natural stones and local pieces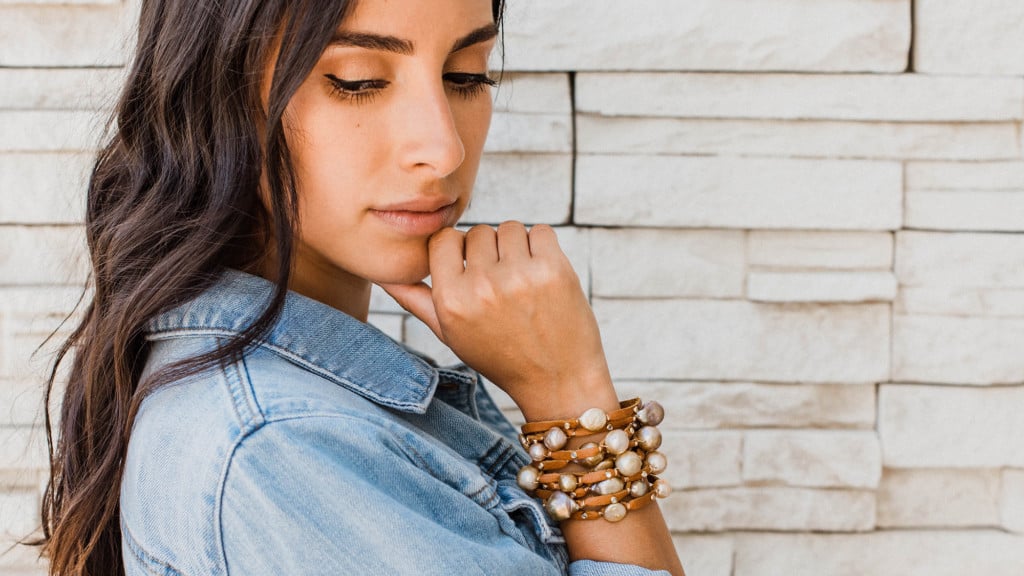 Whether you're dressing to the nines for a night on the town, or keeping it "caj" for brunch with friends, bracelets are a fundamental, but often overlooked, element of a complete ensemble.
For Lisa Hanna, owner and designer at LH Bead Gallery in Panama City, wristlets are one of the simplest, chicest ways in which we express ourselves.
"Bracelets are designed to make a statement," said Hanna. "Maybe that statement is confidence — you're a woman who is complete and put together."
Or, maybe you're struck by a design that represents something significant. Chunky and bold or dainty and subtle, the weight around your wrist is undeniably comforting.
Like Hanna, Renee Launiere, jewelry designer and owner of Bijoux De Mer in Destin, views bracelets as one of the most artistically liberating accessories to assemble.
"Usually, it's the stones or pearls that speak to me first," said Launiere. "Then I go about planning the design in my head. I hand-select all the materials and creatively combine them in ways that are different than anything out there."
Launiere believes it's that intricate process which has successfully fostered her wholesale business and gallery.
"Everything in my store is designed by me and either made by me or my master goldsmith," Launiere shared. "I make everything from casual, stretchy bracelets to sturdier bands with diamond beads for added bling."
Launiere's signature pieces include leather, multi-stranded cuffs embellished with precious pearls and radiant gemstones. And for those interested in customization, Bijoux de Mer provides over 200 leather cuffs in various colors and textures adding up to endless combinations of stones and pearls.
"People love to play 'designer' for the day and pick out all the goodies — of course with help from me!" Launiere said.
Customers are also afforded the opportunity to customize their cuffs at LH Bead Gallery, whose slogan is "Dream it. Design it. Wear it." With over 40,000 beads available in the store, patrons enjoy pushing the boundaries of their creativity.
"A triple-wrap bracelet made from leather and gemstone beads can be worn casual or dressed-up depending on whether you use metallic or natural leather, and matte or shiny-faceted gemstones," said Hanna. "You can also purchase a simple, elegant and adjustable chain bracelet with a connector bead, or we can help you make your own."
Those seeking one-of-a-kind professional bangles, however, need look no further than Hanna's lampwork designs.
"Lampwork beads are created in a torch using glass rods," Hanna explained. "You let them get molten-hot, then anneal them in a kiln for strength."
Most of these designs are sculptural in nature, and incorporate a sea-themed motif. Flat-leather bracelets featuring a metallic mermaid focal point are among the most exotic accessories Hanna's customers encounter.
And while we love bracelets for their versatility, some pieces are strictly reserved for special occasions. For Launiere, her award-winning "Ruffle Cuff" is the ultimate dazzler.
"The ruffle cuff is truly a couture piece of fine jewelry," Launiere said. "It's usually made of 18-karat gold and sumptuous gemstones, such as opals, emeralds, diamonds and moonstone."
For ladies who prefer a more delicate elegance, Launiere recommends her "traditional with a twist" bracelets, which feature daintily strung pearls, diamond accent beads and a bedazzled clasp.
"Sterling silver, gold and high-end gemstones, such as aquamarine, are great ways to class-up your look," added Hanna.
There's a bit more wiggle room in day-to-day options. Bohemian-style wrap bracelets — accented by raw stones and miniature charms — are ideal for the free spirit. Minimalist chains discreetly accent the girl on the go, while woven, wood-beaded bracelets may never leave a beach bum's wrist.
Find what speaks to you, and wear your heart on your sleeve.