Chomping at the Bit
Area equestrians gallop into the big time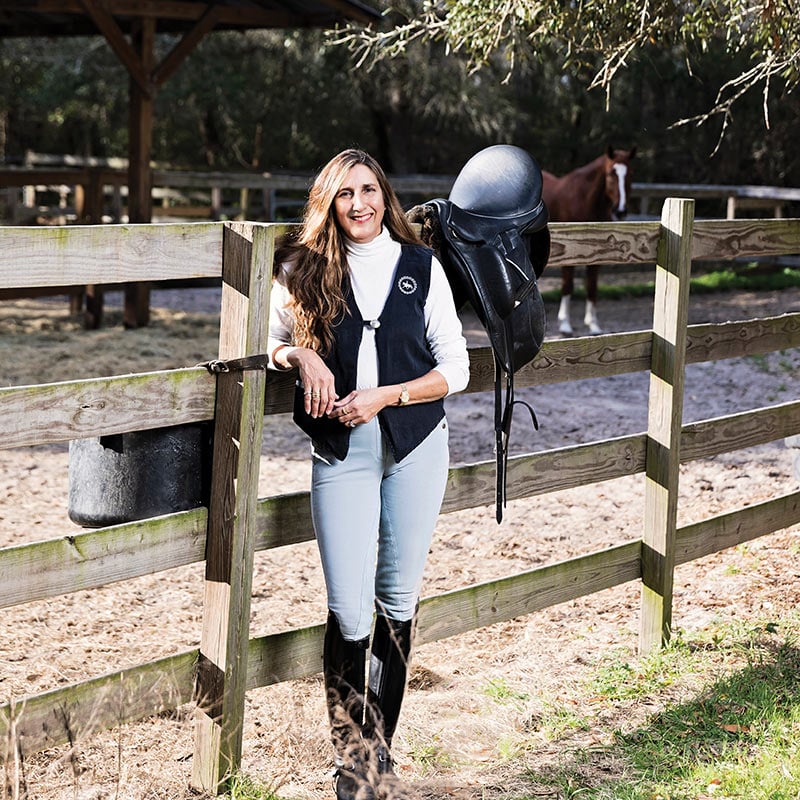 Hidden in the tranquil countryside of North Florida is a community of elite athletes who are quietly gaining national and international attention.
Bounded by our famous canopy roads, the area's hilly terrain and green pastures are the training ground for some of the country's top ranked equestrians and their horses.
From foxhunting and polo to western, show jumping, eventing and dressage, there are local equestrians ranked among the country's very best and a slew of young riders to watch in the future.
Among those equestrians are two teams, in different disciplines that combine beauty and athleticism with incredible results.
Team Wallace comprises a father/daughter pair, Rick and Elisa Wallace. Both were considered for the Olympic Eventing Team at different times. Elisa almost rode in last summer's Olympic Games and was the highest finishing American at a prestigious event in England. The Wallace's protegee, Briggs Surratt, is a young man with a passion for horses and his own dreams of competing internationally.
Team Pink, contrary to its name, is not a bunch of girly girls playing with pretty ponies. These equestrians, through grit, determination and perseverance, have risen through the ranks and racked up victories on this year's dressage show circuit.
Team Pink, led by Destin trainer Jodie Kelly, had two horses take Horse of the Year honors and win championships in their levels in 2016.
Kelly says of the local horse community, "The people are here. There is such a huge group of horse lovers in this area that I really think it is very understated. We are all here and have a lot going on. I have some young riders who are the top young riders in the country. I have jumper kids who went on to top competitions in the country.
"We're not just riding around in our backyards. We're really doing it," she says.
Team Wallace
Team Wallace members Elisa and Rick Wallace and Briggs Surratt are garnering national and international recognition in the tough and grueling sport of eventing.
Eventing is not for the faint of heart. During a traditional three-day event, the partnership between horse and rider is tested. They push the limits of their trust for each other, their strength, their endurance and their ability.
On the first day of competition, horse and rider are tested in the dressage arena. The team is put through a series of maneuvers that test their communication and abilities "on the flat," meaning with no jumps.
The next day, drama and daring rule as riders compete on the cross-county course. Brightly clad riders thunder over natural terrain on their horses, jumping a variety of fixed obstacles along the way.
On the third day, during the stadium jumping phase, the horse-and-rider teams attack a pattern of brightly painted jumps. Hoping for a clear round, their success determines their final placement for the three-day event.
Elisa is an American eventing superstar who calls North Florida her "home away from home." Her farm is in Jasper, Georgia, but she trains with her father, Rick, also an accomplished equestrian, who has lived in the Tallahassee area for more than 20 years. The two plan on competing together at this year's Red Hills Horse Trials (RHHT) in Tallahassee.
She says, "We go together to most competitions, but it's great when we're in Tallahassee."
In 2016, Elisa was named an alternate for the summer Olympic Games in Rio. Most recently, she was the highest finishing American in the world's toughest four-star event, Burgley, in England.
"It's surreal," she says of competing and succeeding at the elite levels, "I don't feel like I've really done it, but I'm starting to feel like it's not a fluke."
She has also competed in the Super Bowl of American eventing, the Rolex Kentucky International Three-Day Event, several times.
With both parents being horse people, Elisa has riding in her blood. At the age of 9, Elisa was the youngest eventer to win a gold medal at the Georgia State Games in Combined Training. She also successfully competed in the USEF Medal and Maclay equitation and qualified for the 1995 USEF Maclay Finals, in Newark, New Jersey, at the age of 12.
In her 20s, she took two horses, Jackson and Leap of Faith, to the three-star level in eventing. In 2006 and 2007, Elisa had top finishes at almost every completion and was long-listed for the Olympics and Pan Am games. Unfortunately, by 2008, both horses were retired due to injuries.
It was during this time that Elisa found another love, training wild American mustangs. Today, Elisa is a well-known ambassador for the mustang and has six currently in training. Her mustang mare, Hwin, is currently eventing at the Preliminary level.
Her top eventing partner is Simply Priceless (Johnny), a 2001 Australian thoroughbred gelding. She and Johnny placed third in their first Concours International Combine (CIC) three-star competition at Chattahoochee Hills in Fairburn, Maryland, in May 2014 and eighth in their first Concours Complet International (CCI) three-star at the Bromont International Three-Day Event in Quebec, one month later. An eighth-place finish at the 2015 RHHT qualified them for Rolex.
With Johnny, Elisa finished in the top 20 at the four-star 2015 Rolex and was the highest placing Rolex Rookie. At the 2016 RHHT, Elisa finished 20th in CIC three-star on Johnny, returned to Rolex and finished in the top ten. This led to her consideration for the 2016 U.S. Olympic Team.
Rick looks forward to competing and traveling with his daughter this year. Sitting in his barn outside of Monticello, on beautiful Patchuk Farm, he points to the huge horse trailer which he, his students, and Elisa use traveling to shows together.
He says, "We're lucky that we travel together. It's nice to have the whole group together."
Blazing the trail for his daughter, Rick was long-listed for the 1991 Pan Am Games and the 1992 Olympic games. He has competed internationally and is well known and beloved in the Tallahassee horse community.
Rick began riding in 1972 in Nebraska and South Dakota. Upon moving to Georgia in 1980, Rick began competing in eventing and progressed through the levels to Advanced on his horse, Ultimate Trial (Lexy). Rick and Lexy were named USEF's Zone IV Intermediate Horse of the Year in 1989 and 1990 and Advanced Horse of the Year in 1991. Rick and Lexy competed at national and international three-day events such as Radnor, Essex, North Georgia, Fair Hill and Rolex.
Already a well-established eventer by the time he arrived in Tallahassee in 1999, Rick came from Atlanta to work for the Florida Restaurant and Lodging Association (FRLA). At the time, he thought he wanted to return to the corporate world and not be a full-time horse trainer. He was with FRLA for seven years and became vice president of Education and Training. But he credits FRLA president Carol Dover (Dover is spotlighted below) and the former Florida lieutenant governor's wife and local horse breeder, Patti Brantley, with getting him back into coaching.
He left FRLA in 2006 to help Elisa follow her Olympic dreams and began competing avidly again.
"It's always a challenge to get back up through the ranks and levels," he says. By 2012, Rick was ranked 1,665 out of 3,450 world-ranked eventing riders. Rick rides Ultimate SeaQret (aka Q), a seven year-old Russian Trakehner stallion.
Rounding out Team Wallace is Briggs Surratt, 20, an up-and-comer in the eventing world.
Surratt began riding hunter/jumpers as a teen at Cavallo Farms. Rick began coaching him when he was 14. Surratt transitioned from hunters to eventing with Elisa's horse, Faris.
He says that riding horses is unlike anything else. "You are putting all your trust into an animal that is stronger than you but who also listens to you. It's very special. I'd rather be with a horse than a lot of people. Horses look into your soul and see who you are, and you can't hide that," he says.
Surratt began riding a big, gray horse named Hat Trick while at Cherry Hill Farm near Monticello.
"Briggs took him all the way to the two-star level in three years and the Jr. Olympics," Rick says.
Surratt's first CCI one-star was at RHHT on Hat Trick.
His father, Andy, wrote of Surratt's first major three-day event, "There is nothing more exciting than watching your child thunder by with confidence conquering every jump with ease. Once we heard he finished with no jump penalties, a sense of pride hit us. The overwhelming pride made it very hard to button our jackets. As Briggs made his way over to the sponsor tent, shaking hands as family, friends and colleagues congratulated him, I realized I watched my little boy turn into a young man overnight."
In 2014, Surratt qualified for the Fédération Equestre Internationale (FEI) North American Young Riders championships in Lexington, Kentucky, where he competed for Area Three on the one-star, four-person team.
By the fall, he was competing at the two-star level. He finished seventh at Popular Place in Georgia. Rick, Elisa and Surratt went to Fair Hill for the national championships.
Surratt has traveled with Elisa and Rick internationally as Elisa competed in the elite horse trials. He has dreams of riding there himself.
Rick says, "He's got a young horse. He's being patient. But he's really, really chomping at the bit to get back up the levels."
Surratt is currently riding the full brother of Rick's horse, Ultimate SeaQuest (Fargo). Surratt broke this horse himself and says Fargo "is the smartest horse I know."
Team Pink
While there is a dressage element to eventing, competitive dressage is a completely separate equine sport. As Team Wallace is turning heads in the eventing world, Team Pink, whose name comes from Kelly's famous pink dressage boots and the team's support of breast cancer survivors, is garnering its share of accolades in the more refined world of dressage.
Dressage is probably the least understood by non-horse people of all the equestrian sports. It is the foundation upon which all other riding is based. Often compared to figure skating, the elegance, beauty and fluidity of the horse and rider teams often hide the complexity and difficulty of what they are actually doing. The rider communicates through subtle aids to the horse. The horse responds and the movements are carried out, hopefully, in a graceful dance in which horse and rider appear to be one. In competitive dressage, a series of these movements are put together in tests which strive to exhibit elegance, obedience and communication in the dressage arena.
"I just love the beauty of dressage," says Team Pink's Kelly. "I have tried a little of everything but I always go back to dressage. I love its technicality, the ability to tell a 2,000-pound animal to put its foot right there, and it does. It is so beautiful."
Kelly has ridden horses all her life. At the age of 15, she was on the FEI junior team. She won the team and individual gold medals. She was on multiple other FEI Young Rider teams and won several gold medals. She also won an individual bronze medal. Kelly also competed in the Brettina Cup, a grand prix for riders under the age of 25, on Manhattan, a horse she trained herself. She bought him as a 2 ½-year-old and trained him through Grand Prix while she was working with Holland's dressage legend, Anky van Grunsven.
A little later, she became a professional trainer and had a few great years and a few bumpy years.
Kelly says of 2016, "It is my crowning success as a professional."
She is training and riding the United States Dressage Federation's (USDF) 2016 reserve third level Horse of the Year, Caymus, who was bred by owner Beth Godwin, a breeder of Dutch Warmbloods in Freeport. Kelly was also riding and training the USDF 2016 second level Horse of the Year, Shirocco, who is owned and ridden by Carol Dover in Tallahassee. Another horse ridden by Kelly, Grayton Beach, has qualified for the USDF Young Horse Championships. She calls them all "Super Star horses."
She writes in a Facebook post, "Between these three, we have won Horse of the Year, reserve USDF Horse of the Year, dominated individual breed year-ends, qualified for Young Horse Championships with an 81 plus percent, and now have invites to Nationals. To say it's been a fairytale year of showing would be an understatement."
Godwin owns Caymus' mother and grandmother and he was born on her farm, Jolly Bay Farm.
"When Caymus was started under saddle, he was awkward and undeveloped, but he showed an amazing work ethic," Godwin says.
Now she says the big bay colt has beautiful movement and athleticism and, most importantly, "He loves his job. You just don't come across ones with that kind of willingness."
Godwin is an adult amateur rider and competed him to second level. She confesses, "Caymus just has so much more talent than me. I turned him over to Jodie. It was really important to me that she have a super horse."
Kelly recalls, in 2015, right after Regionals, Godwin took Kelly to lunch. Godwin told Kelly, "You should keep him."
Godwin says, "We don't know the limits for him yet. He's getting strong and he has the ability to go all the way. We'll just have to wait and see."
Kelly says, "Caymus is very, very special."
The second of Kelly's special Super Star horses is Dover's Shirocco. Dover was looking to buy a new horse after her Hanoverian horse died.
Kelly says that after looking all over Florida with no luck, Dover and Kelly went horse shopping in Europe. Kelly and Dover met Shirocco at the end of the first day in Holland.
Kelly says she rode the big bay 6-year-old Rheinlander horse and thought Dover would like him. Dover then rode him and fell in love.
Dover bought Shirocco and brought him to her farm between Havana and Tallahassee.
"We uprooted his entire world," says Kelly. The horse had spent his life sheltered in an inside arena. At Dover Farm, he had to adjust to life on a Florida farm, complete with golf carts and trucks and trailers. Dover and Shirocco got off to a rocky start, with Dover being bucked off several times. Kelly took over his training as both the horse and rider gained confidence.
Dover, a breast cancer survivor, was determined to ride him again. She worked with him on the ground, developing a bond and trust.
"At the end of the season, Carol started showing him," says Kelly.
"I'm bowing out from showing him now," Kelly says, proud of Dover. She says Dover and Shirocco are doing well.
Dover says, "I hope that I look back and he's the horse of a lifetime. He's a friend, companion and partner. He comes running to me (across the pasture). We truly have a bond that I haven't had before."
Dover says, "Dressage is not an easy sport. It takes a team. If Jodie wasn't here, I wouldn't have made it to this level."
She continued, "Jodie is a very special trainer. I hope to see her riding down centerline at the Olympics one day."
Kelly is not the only one at Dover Farm dreaming of the Olympics. Lindsey Holleger works with Kelly and boards her horses at Dover's beautiful farm.
Holleger, who trains with Erin Brinkman of Valhalla Farm in Wellborn, is a FEI Young Rider on the cusp of international competition. In fact, she had hoped to have her first international competition under her belt by now, but injury to her beloved horse, Fenway, delayed those plans.
Her last competition on Fenway in March 2016 was their first Concours Dressage International (CDI) qualifier at the Adequan Global Dressage Festival in Wellington. Holleger and Fenway won their class.
"It was so intimidating riding with some of the best riders, not just in the country, but in the world. They were really good," says Holleger, "top riders and top horses." Competitors came from Austria, Canada, Germany and Spain.
She says, when she won, it was the happiest moment of the year.
"I cried," she says.
She needed two more CDI scores by May to qualify for Young Rider European Tour, which took the top three Young Riders in the country to Hagen, Germany.
More tears surely followed when the severity of Fenway's injury was learned and they were unable to continue.
"He will have a long recovery and rehab, but we are getting him the best help he can get," says Holleger.
"I want to compete in the Olympics with Fenway," she says. "He's my best friend, someone I love so much. On any horse it would be cool, but he's the first one I've trained myself."
Since 2010, Holleger and Fenway have been the USDF Regional Champion at each level all the way up, from First Level to Intermediate 1.
In 2012, they won Individual Fourth Place at the Adequan/FEI North American Junior & Young Rider Championships. In 2013, they won the Individual Gold Medal at the same championship. In 2014, Fenway experienced some lameness issues, and they opted out of the championships. The duo came in sixth individually and second with the team at the Adequan/FEI North American Junior & Young Rider Championships.
In high school, Holleger trained at home, outside of Whigham, Georgia. She moved her horses to Dover Farm when she entered Florida State University. She's majoring in international affairs.
But, while heartbroken over Fenway, Holleger has turned her attention to several other amazing horses.
Bred by a local breeder, Julie Whitfield, Holleger is riding and training three mares: a 4-year-old, Farrah, who Holleger predicts will be her next international-level horse; a 5-year-old, Reesey; and 8-year-old, Feather, who recently won Reserve Champion Third Level at the USDF Region 3 Championships and was Second Level Junior Champion.
Holleger says the Panhandle's equestrian community is a lot stronger than one might think.
"You might have to look harder for high-level barns, but they are there," she says.
She says there are many good trainers for young horses, like Marsha Hartford Sapp, the 2015 Western Dressage Association of America (WDAA) World Champion.
"There are also a lot of great places to start riding and lots of opportunities to learn," she says. She points to the local dressage and eventing club, South Wind Dressage and Eventing Association, for local shows and programs for budding equestrians to learn and grow.
Rick says of the area equestrians, "I don't think Tallahasseans know how big the horse community is in this area. All they know is RHHT. Other places in Florida, like Ocala and Wellington, you know it's horse country. In Tallahassee, it's not like that."
Godwin says, "I absolutely love every minute of this lifestyle. It's a lot of hard work, but I wouldn't trade it for anything. I don't mind getting up at 5 a.m. to go feed and doing 10 p.m. night check. I just love it. I love every bit of it."