China Luxe
First-Class Tour Makes Your Visit More Enlightening — and Enjoyable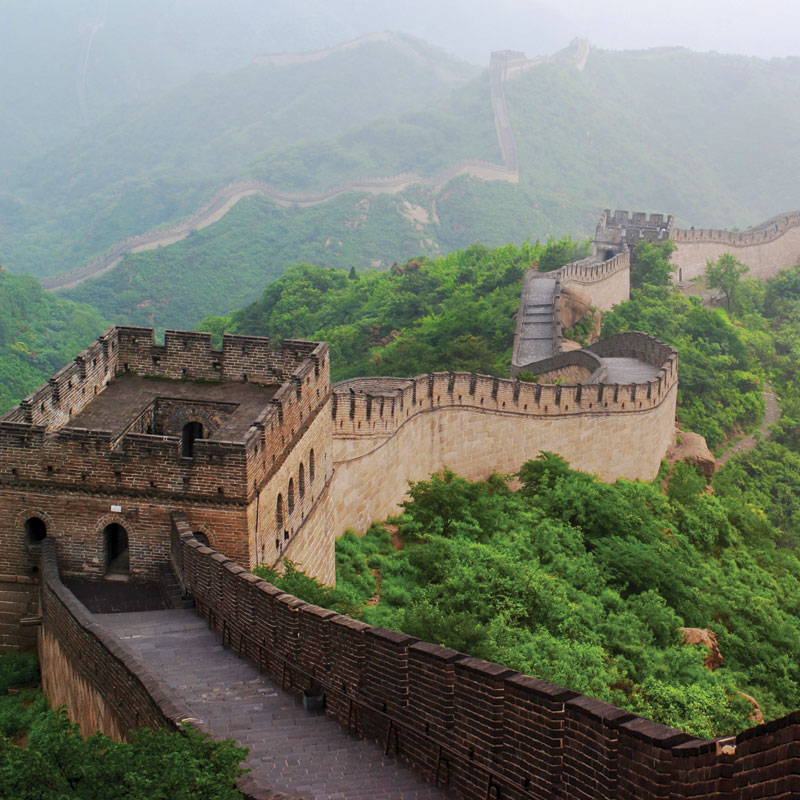 Here's how I define "a trip of a lifetime": Successful planning and then a journey to a unique destination where you can experience the culture, the food and the people with a minimal amount of stress and difficulty. And, while there, having the opportunity to see the major sites and cities from a "backstage" perspective — having knowledgeable guides and handlers who will see to your safety and comfort so you can experience everything from as local a perspective as possible.
China — one of the world's most mysterious and exotic destinations — reopened its doors to international travel in 1974. Even the most seasoned travelers find it very difficult to travel to and within the borders of China because of: the distance — a 13-hour flight and full-day's time change; the sheer size of the country and the pure challenge of getting around; the extreme difference in language and ability to read and decipher signage. There's really only one viable option — group travel.
Over the past decade, international tour operators have set up and operated pricey cruise-like tours to the country. Folks are herded in large groups, packed on buses and taken to the doors of many notable sites. It can be nightmarish: hard work for the traveler and a "cattle call" experience that is oftentimes disappointing.
There is an alternative to the traditional mass experience that, without question, is an enjoyable, once-in-a-lifetime trip. Beijing-based Imperial Tours has polished and perfected a two-week guided experience of China that from all perspectives is an intimate, in-depth, five-star, first-class, stressless experience.
The company was developed and is owned by Guy Rubin and Nancy Kim, who have been called The Power Couple of Beijing by ChinaDaily. They have assembled a team of travel specialists who — from your first call of inquiry about the trip, to escorting you personally to the departure gate on the day of your return home — will handle every logistical detail and all your personal needs.
Their small group trips are limited to no more than 12 to 14 people to ensure every aspect of your experience is taken care of. Imperial Tours has been written up in prestigious titles such as Travel + Leisure, Conde Nast Traveler and Saveur.
When you deplane from your arriving flight, dazed and confused, an escort meets you at the gate and personally shepherds you to immigration and customs and then through baggage claim. For an additional fee, one can receive diplomatic status and be whisked through a private area of customs with no waiting.
The towering Park Hyatt Hotel offers a spectacular perspective on the tiered top of the Jin Mao Building and a panoramic look at Shanghai. Photo courtesy Hyatt Hotels
Our 20-day trip would include 36 flights — 30 of them within China alone — and the tour company's attention to the smallest details that would make the experience easy and enjoyable.
On flights within China, you are met by a limo driver at the bottom of the plane's stairs and driven over the tarmac to your next flight rather than boarding a passenger bus and being taken to the terminal. In addition, your bags are taken from your hotel room to the airport — and delivered to your room at the next hotel. You never have to wait in line for boarding passes; they're processed in advance and given to you at the airport where you're escorted through VIP security lines.
Upon arriving at several destinations within China, Imperial Tours secures full-sized 50-plus-seat buses for the entourage of 14 guests and three or four handlers, so everyone can just spread out after the flight. One can also pay an additional fee to be upgraded to first class seating on flights within the country. In addition, Imperial caters special food for your flight so you can avoid airline food.
An invaluable part of the tour is the personal guide who travels with the group for the entire trip. He or she learns your individual preferences and proactively accommodates them. In addition, at whatever city you visit, a local expert guide greets the group at the airport and brings each destination alive with intimate knowledge of the area's history and culture.
For example, there are two ways to see the Great Wall — you can drive an hour out of Beijing and see it with 5,000 others in a small area filled with souvenir peddlers who constantly surround you. With Imperial, you drive in a luxury bus for two and a half hours and enter the Great Wall in a remote area where you are almost alone as you walk along the wall and gaze out at vistas stretching for 20 miles. Inside one of the ancient guard towers you'll find a white-tablecloth luncheon set up for your group with a chef awaiting. The floor and table are sprinkled with rose petals. The food is five-star quality, and the local guide brings the history of the wall alive as you dine and relax in the centuries-old fortress.
Should you decide to make the trip to the other side of the world, might I recommend to go a week early and have Imperial set up an individual itinerary for you. It allowed us to decompress from the trip, relax and adjust to the new time zone and place.
We first chose to go to Hangzhou, called "by far the most glorious city in the world" by perhaps history's most famous tourist, Marco Polo. We stayed at the Aman Fayun, a peaceful hillside retreat surrounded by tea fields. One of the region's oldest Buddhist temples was just a 10-minute walk away. We also enjoyed a drive through the tea plantations and were guests of honor at a private tea ceremony and tea tasting. Our "take-it-easy" time included a boat tour of the romantic West Lake, featuring pagodas, causeways and landscaped islands.
After three nights in Hangzhou, we flew to the historic city of Lijiang, which 500 years ago was a trading spot on the tea and horse caravan route. The small town center is situated on the dry soils of the lower Tibetan plateau and stream water has ingeniously been channeled through its ancient, paved streets.
After our restful idyll, we flew to Bejing to begin our tour in earnest.
Our first day's itinerary included a visit to one of ancient China's most sacred sites, the Temple of Heaven, used by the Emperor to mediate affairs between God and man. But a special Imperial Tour treat was a visit to one of China's largest outdoor antique markets where you could pick up an antique for only a few dollars.
We visited the must-see sights — Tian'anmen Square, the Summer Palace of Empress Dowager Cixi, the Great Wall and the antique Forbidden City. As its name implied, in years past, visitors were not allowed in the Forbidden City, but the tour gave us special access to the emperor's personal residence, which is normally closed to the general public.
If you want to shop for pearls, your guide can take you on an after-hours visit to a showroom where you'll see images of their customers — Nancy Reagan, Hillary Clinton, Tony Blair, George H.W. Bush and a long list of Hollywood and international celebrities. They guarantee a 20 percent discount — and coach you through the process of getting it up to 50 percent.
A visit to Guilin included a bamboo raft ride on the Li River was well as glimpses of rural life including children and rice terraces.
After three days in Beijing, we flew to Xi'an, home to the famous Terracotta Warriors. This underground army guarding the vast mausoleum complex of Emperor Qinshihuang is incredible and usually viewed at a distance from above. Our group was taken down to the excavation site, and I was able to stand next to one of the "soldiers" and speak to an archaeologist — just one of so many incredible experiences during the tour.
We then flew to Guilin, where we enjoyed a ride on traditional bamboo rafts along the Li River and had the opportunity to see traditional village life of rural China. We spent time with the local guide's parents and watched them make tofu, visited a school during recess and had a private chat with the "mayor" to ask any political or leadership questions.
From there, we finished up our tour in Shanghai, which was like traveling from the past to the future. Our "in the clouds" accommodations were at the spectacular Park Hyatt Hotel. In a city of skyscrapers, we were above it all, with commanding, unforgettable views of the Pearl Tower and the rest of the city.
We slept on the 90th floor, visited the spa and swimming pool on the 96th floor, dined on the 99th floor and finished up with a nightclub on the 101st floor.
While much of the city is thoroughly modern, we toured Shanghai's colonial architecture, including the French Concession, whose sycamore-lined boulevards add a distinctive French panache to this "Paris of the Orient." We learned about Chinese art at the Shanghai Museum and visited the Yu Gardens.
One highlight of my visit was meeting with an 80-year-old Chinese doctor who assessed what was ailing me. He took my pulse and told me I had lowerback issues and a chronic overactive acid output problem with my stomach — both of which were right on the mark. He sent me home with a selection of custom-made herbs.
Yes, it is more expensive — a 12-night tour plus airfare to China will cost about $10,000 per person (about 20 to 30 percent more than the usual) — but if this truly is a once-in-a-lifetime visit, your days will be filled with deep, enriching experiences you'll always remember