Children's Healthcare Embraces the Future
In Pensacola and the Emerald Coast, change is on the horizon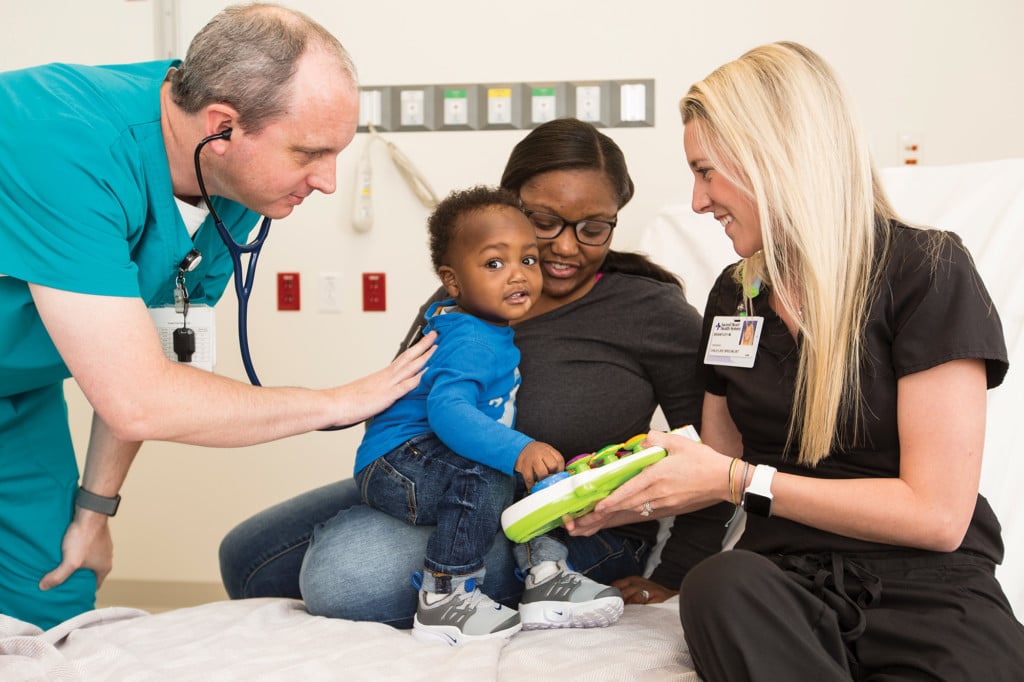 The data said no way: The Pensacola area was not large enough to support a Children's Hospital 50 years ago, and it still didn't have the population to justify building a new children's hospital.
Only large metropolitan areas could support a children's hospital, the data said. And only cities that count themselves as major academic centers could support a children's hospital.
Yet today, Pensacola says: Behold our brand new children's hospital.
"Nobody believed this hospital was ever going to come up," said Will Condon, president of The Studer Family Children's Hospital.
But it's up, and it's open.
The new Studer Family Children's Hospital welcomed its first patients on May 4, more than five years after Ascension and Sacred Heart embarked on an ambitious plan to raise $30 million in donations and build a state-of-the-art children's healthcare facility. More than half of the funds came from Ascension, one of the nation's largest nonprofit and Catholic health systems.
The four-story, $85 million hospital represents the vision of Susan Davis, the former Sacred Heart CEO, who concluded that Sacred Heart Hospital needed a bigger and better space to care for children.
Davis wanted a facility that offered the best in comfort and technology and had the ability to improve and expand the scope of specialized pediatric care across Northwest Florida and into South Alabama.
The April 1 ribbon cutting came precisely 50 years after Sacred Heart, with inspiration from pediatricians Dr. Reed Bell and Dr. John Whitcomb, opened the city's first facility dedicated to the care of infants and children.
"Truly, every day is a gift for us to be able to care for kids in this region," said Condon."We don't take it lightly. We are very proud that pediatricians came to us 50 years ago asking us to care for children."
The new Children's Hospital includes 126 beds and offers patient and family amenities that the previous Children's Hospital couldn't offer: bigger patient rooms for more privacy; a Ronald McDonald House family room where families can eat, sleep, relax and do laundry without feeling as though they're leaving their child; and state-of-the-art technology.
Hospital officials emphasize that the new facility puts a premium on the mental and physical well-being of children and families, from its colors and design to its doctors and staff.
"You don't just care for the patient," said Condon. "You also care for the patient's family. Any time a kid is in the hospital, it is a tense situation. So not only do our caregivers have to be very good at caring for the patient, they also have to be very good at educating and also caring for that family that's worried."
Inspiration for the Children's Hospital came more than five years ago. Sacred Heart Hospital had 55 beds in its neonatal intensive care unit, or NICU, yet it consistently cared for about 60 babies.
That meant increasingly cramped and uncomfortable spaces for children, families and staff.
Officials first considered adding space to the building but saw long-term limits to that option.
Davis championed a grand idea: Build a new facility that would provide space for more children and bring all children's healthcare services into one building. Pediatric care had spread throughout the Sacred Heart Hospital campus, with NICU units in two buildings and the operating room far from other children's units and services, for example.
Henry Stovall, former president of Sacred Heart Hospital, says Davis approached him in a 2015 meeting.
"She pulled me out of the meeting, looked me in the eye and said, 'We're building a new children's hospital,' " Stovall said. "I started laughing. I thought she was kidding."
She wasn't. Ascension hired global design firm HKS Architects, which had designed children's hospitals, and got to work.
Officials brought in staff, physicians, therapists, pharmacists and members of the hospital's patient-family advisory council — the latter of which played an especially key role in the emphasis on care and consideration of children and their families.
"All of those experiences," Condon said, "those are what built this hospital."
Ascension committed $55 million to the project and asked for an additional $30 million from donors. The nonprofit organization touted it as the largest investment and largest community-funded campaign in its 104 years.
The Sacred Heart Foundation said it reached its $30 million goal weeks before the hospital opened. The Foundation says it will continue to raise money for the children's hospital, including a $5 million campaign to expand the pediatric cancer center in the children's hospital.
"For a community to raise $30 million, it had never been done in Pensacola," Condon said. "I mean, that's unheard of."
The result: a facility that adjoins Sacred Heart Hospital and includes a pediatric pharmacy, an inpatient rehabilitation gym and a pediatric imaging department, plus playrooms, themed interactive play stations, outdoor gardens and a family dining area.
In terms of technology, officials and staff celebrate a pediatric CT scanner that performs a complete CT scan in just seconds — greatly reducing the need to have the child sedated.
"For every aspect of the building," Condon said, "an enormous amount of thought went into calm."
That includes outside the building and the hospital entrance road, Bubba Watson Drive. Next to the front entrance, the Mother Seton Children's Garden includes shrubs, gazebos, benches and playground equipment.
"Right when you pull off 9th Avenue, we want a playful, less-anxiety, less-stress environment," Condon said.
Hospital leaders and designers also focused on making the children's hospital look less like a hospital. They also wanted parents and children not to feel as though they were in one.
"So the days of calling a name or number and having people queue up — gone," Condon said. "When a child and family comes through those doors, they're going directly to a treatment area, period."
When you enter the children's hospital, you immediately encounter openness and warmth via wide walkways and calming colors. Light shades of blue dominate.
Walls feature murals that mimic the ocean and sea life. Each floor carries a theme, beginning with sea turtles on the first floor.
Such features intend to promote the feeling of a family day at the beach, including "things that we in Pensacola hold dear, that relaxing moment you get watching a sunset or a sunrise or putting your feet in the water," Condon said.
The new hospital also allows a family to experience the outdoors. Condon shared the story from the previous children's facility of a mother whose baby was about to die. She requested that her baby first see sunshine.
He said the new hospital offers private outdoor respite areas that give families "what they want and need at their most critical time."
Officials say every hospital feature aims to fulfill Sacred Heart's mission of "caring for all people regardless of their ability to pay, with special attention to those who are poor and vulnerable."
"The thing I'm most proud of is the fact that we have never and never will turn a child away, period," Condon says. "A child comes in, and they're going to get care. We'll figure out the bill later."