Celebrating the 'Glory' in Us All
Patriotism, Compassion and Courage are Themes of Martha LaGuardia-Kotite's Books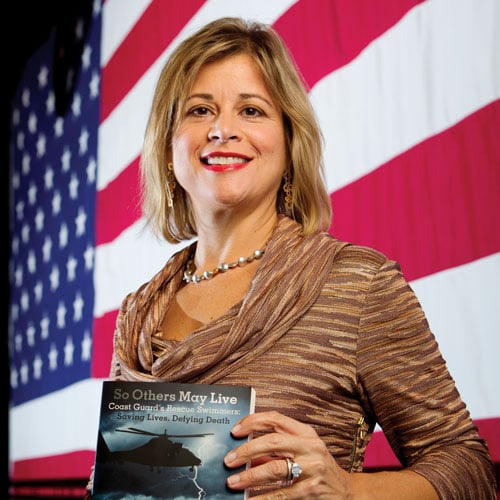 For much of her teen years in Destin, Martha LaGuardia-Kotite was in survival mode. The World's Luckiest Fishing Village was an idyllic place to grow up, but forging her journey toward the American dream after a devastating family tragedy would take this blonde, brown-eyed dynamo sheer guts and lots of determination. Luck didn't have much to do with her story. Nor the many heroic and patriotic stories she'd grow to tell as a 46-year-old mother, wife, author and Commander in the United States Coast Guard Reserves.
When her brother died her senior year in high school, it was a life-changing event for LaGuardia-Kotite. The lesson of the frailty of life made young LaGauardia-Kotite merciless in the pursuit of what became her single focus — "to make a difference in some way and, hopefully, save lives."
Martha LaGuardia-Kotite holding her first book at the Air Force Armament Museum.
By the looks of her, LaGuardia-Kotite would more likely turn heads with her "girl-next-door" looks than save them. But after a lackluster year in Auburn University's Navy ROTC program, the Coast Guard Academy called to LaGuardia-Kotite, who saw the opportunity for an appointment as the life preserver she was reaching for. She grabbed on, held tight and has been on quite a "boat ride" ever since.
The feisty teen plunged headfirst into a life of change and challenge with zeal. "The Coast Guard Academy taught me to be a survivor. The fact that I was honored with an appointment to the academy made me determined to complete whatever I needed to do to get that commission despite how hard and challenging it was."
The national average of active duty women within all branches of military services currently numbers only 14.6 percent. The percentage of aspersions cast by LaGuardia-Kotite's male peers and their spouses, however, was much higher. Despite the fact that she and her female colleagues were called "bad luck," and made unwelcome at the Officer's Wives' Club, she let most of it roll off her back like the bad waves she learned to sail. For this sailor, being female never meant asking for any special treatment. "My focus was to do my job to the best of my ability and show that even though I am a woman, I can do this," she says.
Some of the brave on-the-job actions of her military brethren that she witnessed inspired LaGuardia-Kotite to write her first book in 2006, "So Others May Live, Coast Guard's Rescue Swimmers: Saving Lives, Defying Death" (Lion Press). Each chapter chronicles a daring feat told through the eyes of the U.S. Coast Guard's heroic rescue swimmers.
Her first dive into publishing garnered many awards and accolades, including the 2010 Gold Winner for Military Writer's Society of America, Book of the Year by the Foundation for Coast Guard History and the honor of being selected to the Commandant of the Coast Guard's Professional Reading List. The Weather Channel even featured it on the television show "How Weather Changed History."
While in Washington, D.C., as a guest speaker for her first book, LaGuardia-Kotite was biding her time by paging through a memory book dedicated to military women who died in Afghanistan and Iraq. Before she closed the book, the ideas for her second book began to flow. "I felt there were many Americans who did not know who these women were, and I wanted to celebrate their service," she says.
She would not only celebrate, but document the lives and service of 17 military women in "Changing the Rules of Engagement, Inspiring Stories of Courage and Leadership from Women in the Military," due out in May by Potomac Books, Inc. By recounting the lives of these female vanguards, LaGuardia-Kotite tells the untold stories of how these female soldiers, sailors, marines and airmen overcame obstacles from the 1970s to today.
The book spotlights dynamic veterans such as General Ann E. Dunwoody, the U.S. Army's first female four-star; Lt. Col. Nicole Malachowski, the first female Thunderbird pilot; Pam Melry, one of only three female commanders of a space shuttle; and Maj. Tammy Duckworth, who became a triple amputee in Iraq while piloting a Black Hawk helicopter, but who today still stands tall fighting for veterans' needs within the Department of Veteran Affairs.
Some of the darker stories were not easy to hear, such as the first class (1976-1980) of women to go through a military service academy. "It's saddening to hear the intensity of their experience, at the same time, it was something that could be celebrated, because despite the bad treatment they received, they were brave enough to become leaders," LaGuardia-Kotite says.
Her third book, "My Name is Old Glory: A Celebration of the Star-Spangled" (Globe Pequot Press), was timed to be published this spring in tandem with the bicentennial of the War of 1812 — during which Howard Schnauber wrote his celebrated poem about the American flag. When LaGuardia-Kotite heard the simple, proud poem read aloud at a military retirement ceremony, she was deeply moved. She thought fellow Americans would appreciate a book that honors the poem and the flag it heralds. Though it took two years to find a publisher for her patriotic piece, the three-time author believes there are readers out there who'll have a heart for it. "It's something that unifies all of us no matter what our past, present or future will be," she says.
LaGuardia-Kotite never planned to become an award-winning author, but like the many challenges she has faced, there is a greater purpose for her. "I'm just a storyteller. I do it to celebrate others, because I believe in them."
Selected for promotion to Captain in July, LaGuardia-Kotite is still writing and trying to decide between all of the ideas she has waving in her mind. "I've been given a life where I have more to do, and I hope I can continue to make an impact," she says. And perhaps a new literary challenge: a fiction novel.
All of the author's books are sold at amazon.com, barnesandnoble.com and on shelves at The Hidden Lantern in Rosemary Beach, Bayou Book Company in Niceville and Barnes & Noble in Destin. Find her on Facebook at facebook.com/larguardiakotite.