Celebrate This Summer In Sequins
Adding sparkle to your wardrobe from top to bottom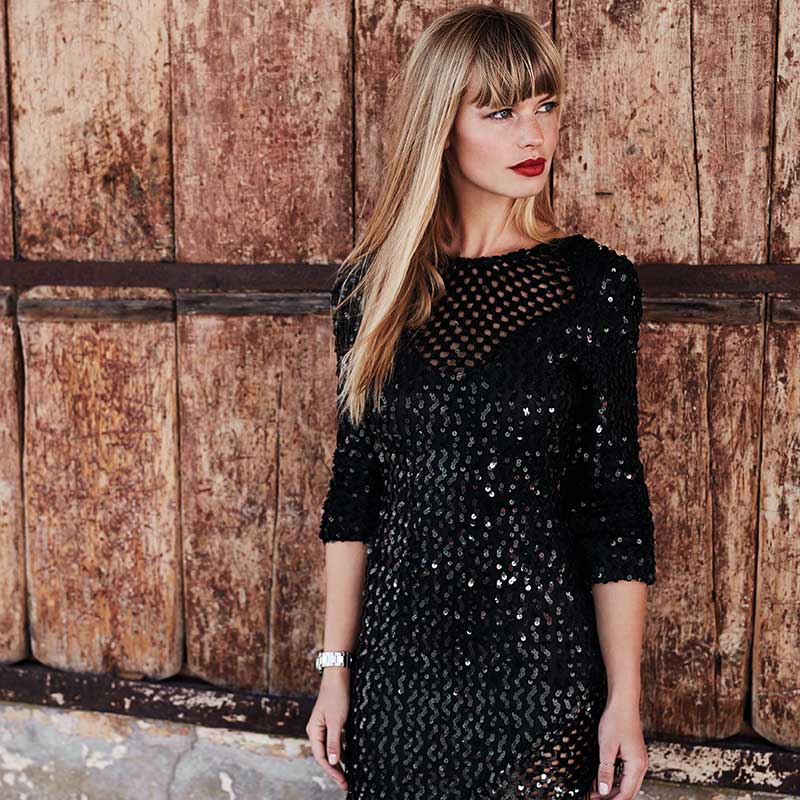 From Dorothy's iridescent ruby slippers to Michael Jackson's signature sequined glove, we've long associated glitz with glamour. Thankfully, this sumptuous style is no longer just for icons, as spangled embroidery and glitter galore have evolved into everyday attire.
While the mere mention of glitter has me flashing back to my Limited Too bedazzled jeans and the sequined scarfs of my middle-school days, my mom is reminded of the gaudy, disco era. I like to think the modern trend exudes a clever elegance (but who knows what we'll think in 20 more years?)
I don't claim to be a fashion expert, but Katie Johnson,  director of marketing and business development at Silver Sands Premium Outlets, is, and she knows just how to make your wardrobe shimmer this summer.
"This is a revitalized trend that's taking new life in the form of embellished dresses, trousers, accessories, jackets and shoes," she dishes. "At the very first show of New York Fashion Week Spring/Summer, Gigi Hadid and Kendall Jenner made their way down the catwalk in Tom Ford gowns featuring sequined sleeves. Victoria Beckham also presented two must-have shoes: a bright, sequin pump and a sequined-heeled loafer."
The transition from runway to street-style, Johnson adds, was as simple as incorporating shimmering items with go-to basics, such as jeans, flats and button-down shirts. Of course, a little bling goes a long way.
"To keep those looks chic and not costume, use your sequins sparingly," Johnson advises. "Owning this trend is all about balance, so be mindful of conflicting patternss and textures. If your statement piece features playful patterns, keep the rest of your look neutral. If the sparkly statement is monochrome, feel free to incorporate patterns elsewhere in your look."
We all have that casual T-shirt dress in our closet that's perfect for daytime follies, but pairing it with an embellished bomber or blazer instantly snazzes up your look for night. You know those sequined tanks and tees that come in all colors of the rainbow? Those really sparkle over a solid skirt or cropped jeans.
Even as we transition to fall, Johnson says pairing an embroidered skirt with a faux fur jacket and leather boots is the perfect marriage of textures, so don't be afraid to play around.
"Flashy items can easily be tamed by wearing neutrals. Instagram's sparkle filter will still pick up the shine of sequins and glitter in your look, no matter how small."
She's talking about KiraKira+, the 99-cent app made famous by both runway and insta-models snapping photos of their jewelry, metallic makeup and just about everything under the sun that glistens and gleams. When recording said objects, the app exaggerates each glint of glitter into a dazzling, Disney princess-esque animation.
Don't act like you don't want to try it.
But if you tend to be more reserved and aren't sure how you feel about all that jazz, you can start small with a statement necklace or earrings. Johnson points the way to Sak's Fifth Avenue Off Fifth at Silver Sands Premium Outlets, where designs by J. Crew and Kate Spade New York offer simple but showstopping designs.
"Incorporating sequins into a routine look turns every walkway into a runway. It's the perfect way to dress up a simple outfit without looking like you're trying too hard and add some shine to an ordinary day."