Cashing in on the Coupon Craze
Coupon experts share their secrets to saving big bucks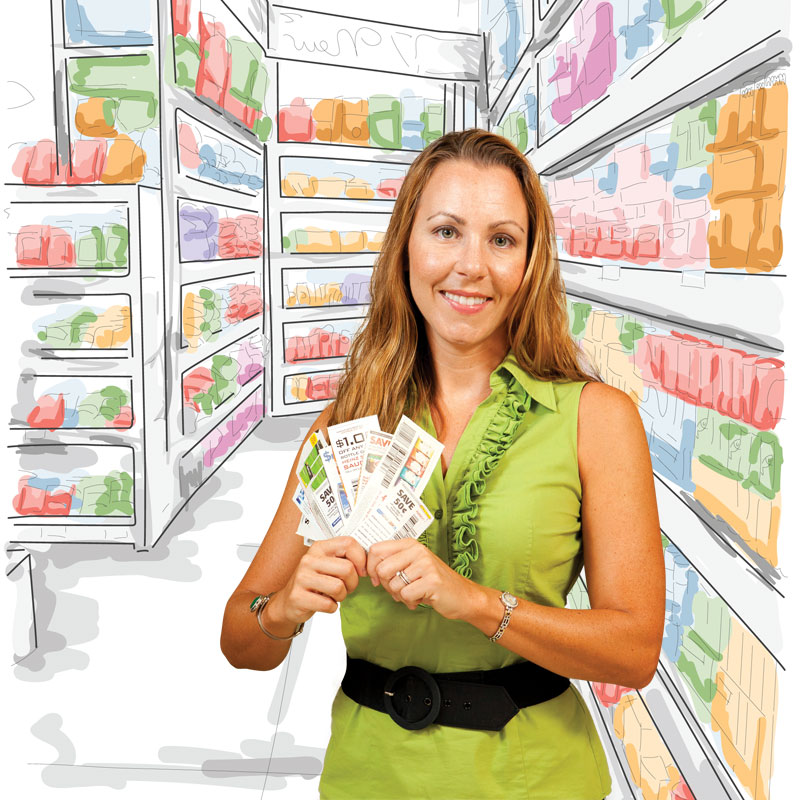 As she holds her beloved two-inch binder, hundreds of dollars worth of coupons neatly tucked within, Dana Manis boasts that her monthly grocery bill for her family of five is only $250.
Manis, a schoolteacher and expert couponer, shares her wisdom with shoppers eager to save more than a buck at the market. She's one of many instructors for Got Coupons? USA, an organization that teaches consumers how to save 50 to 90 percent on their grocery bills with coupons. The second purpose is to encourage educated couponers to support food shelters to help feed hungry people all over the United States.
"We're not teaching people to hoard," says Danielle Buenrostro, also a Got Coupons? USA class instructor. "You may acquire extra things you don't use but others do. So we give people a list of those organizations, whether it's pet shelters or homeless shelters, that take donations. Don't hoard (the products). Give them away, that's what Got Coupons? USA's motto is."
Coupons have been around for more than 100 years, and while most consumers admit to using coupons at one time or another, that number is growing thanks to the ever-so-slow economic recovery.
According to the Annual Topline U.S. Consumer Packaged Goods Coupon Fact Report for 2011, shoppers saved $4.6 billion with coupons in 2011 — $500 million more than previous years, a 12.2-percent increase. The last three years represent the highest annual volumes of coupons distributed since the pre-recession period.
With more people having to cut way back on spending, many are going to extremes by spending up to 20 hours per week clipping coupons to help the family budget. There is a reason TLC's "Extreme Couponing" resonates. With online and mobile coupons gaining popularity, people of all ages and in all income brackets are taking advantage of the savings. There are dozens of websites devoted to tips on clipping and saving. Locally, the Got Coupons? USA classes teach frugal consumers how to save big.
Some common excuses for not using coupons:
I don't have time to clip coupons and don't want to spend hours in the grocery store.
It's embarrassing to endure the sales clerk rolling his eyes while scanning dozens of coupons, not to mention my fellow shoppers in line behind me.
I don't have the storage space and would rather my home not look like a grocery store.
I'll end up buying stuff I wouldn't purchase if I didn't have the coupon, then never use it.
"I've heard them all," Buenrostro says. "There are coupons for just about anything, even gluten free and organic foods. You can save 50 percent minimum using some strategies."
All it takes to save hundreds of dollars a month is some research and a lot of organization, coupon experts say. So what's the first step? Organize in one of three ways — with a binder, a file system or a combination of the two. Within the binder or the file, make categories based on the type of coupons you will use, with labels like "Health and Beauty," "Dairy" and "Toiletries."
"And organize it based on what works for you," Manis explains, showing her binder with over a dozen categories and coupons tucked inside baseball card slots. "I tried doing it the way a coupon blogger suggested, but it didn't work for me, so I found my method works with the way I shop."
A binder with clear sleeves or pockets is great for those who want to quickly scan their coupons, Buenrostro explains. But a filing system with an accordion file could also work. "An accordion file lets you remove the Sunday flyer from the newspaper, date it and file it away, so you're not clipping. You can then go to coupon bloggers as free resources to tell you when to go into that accordion file."
Next, hunt for coupons. "The Sunday paper is your number one source for coupons," Manis says. "You may want to get one subscription for each member of your family, and get it in even numbers because of the buy-one-get-one offers. I have a family of five, so I get six subscriptions. "It's worth it just for the coupons."
Great sources are also abundant online. Websites including Coupons.com, TheKrazyCouponLady.com and BabySavers.com offer hundreds of coupons and tips. And check the websites of your favorite stores like Target, CVS, Walmart and Publix for store coupons as well.
Judy Lipham, who has been using coupons for years, enjoys shopping at Target for the savings. "I saved $70 with coupons," she says of a recent shopping trip. "Plus I got a $5 gift card to use for a future purchase."
Lipham also goes to Publix, which will accept Walmart and Target coupons. But that doesn't necessarily apply for every Publix branch, Manis warns. "You should learn each store's policy on coupons, because they vary from store to store."
Once you've gotten a handful (or binderful) of coupons, learn when to use them from coupon blog websites, whose bloggers do a lot of the work for you by finding out when items are going on sale so you can match the coupon with them to maximize savings. "They use software that does price analysis for us, and they provide information on every store you can imagine," Buenrostro says, "even the commissary."
Buenrostro recommends shopping based on what's on sale in a specific week and learning to anticipate what you'll need rather than making a hurried trip and spending too much money because of poor planning. "There's a sales cycle. Knowing when an item is in the cycle is the best time to stack coupons (use a store coupon along with a manufacturer's coupon) so you're getting it for even greater savings.
"The sales cycle for most items is every two to three months, so buy enough for what your family needs," she adds. "The bloggers help me know when that time is. So I'm going to buy not one box of cereal but four boxes and store those boxes."
Buenrostro has found the couponing strategy can be a means to an end to earn money (called an overage) when the value of the coupon exceeds value of the merchandise. "I may earn $2 for every purchase of things I don't need and then donate them," she says.
And don't feel the need to use a coupon just because it's about to expire, especially if you're not going to use the product. Buenrostro, a military spouse, is especially fond of the Coups for Troops program, (CoupsForTroops.com). "We collect expired coupons and instead of tossing them we send them to military families overseas who are allowed to use expired coupons for up to six months past their expiration dates."
And don't trash the catalinas you typically get at the cash register. A catalina is a coupon machine at the register that dispenses coupons based on your buying habits. "They are typically high dollar coupons," says Buenrostro. "Winn Dixie will have a catalina for $5 off a $55 purchase, which you can use toward produce. And take advantage of store loyalty cards. Some even have a fuel perks program where you can save on gas."
Coupons can go beyond the grocery store, too. Sites like ChaChingQueen.com and RetailMeNot.com offer coupons on a variety of brick and mortar and online stores including Kohl's, Vera Bradley and jcp, as well as restaurants like Papa John's.
But remember to make the coupon work for you, rather than becoming a slave to the coupon. "We teach you to use coupons the smart way," Manis explains. "It's only a deal if you need it, you'll use it, you know someone who needs it or you know someone who will use it."
Coupon Lingo
Stackable Coupons — when a manufacturer's coupon can be used in tandem with a store coupon.
Blinkie — manufacturer coupons dispensed by coupon machines found in the grocery aisles next to products.
OYNO — On Your Next Order
Catalina — a coupon machine located at the register that dispenses receipt-like coupons for a future purchase.
MIR — Mail-in Rebate
BOGO — Buy One Get One
Source: thekrazycouponlady.com