Calling All Fitness Recruits
Teach your body a lesson with a Beach Boot camp class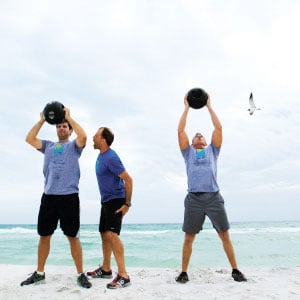 While Destin's beautiful sugar-white sandy beaches serve as an endless pastime during the summer, for some people the beach can act as their fitness playground. Members of the popular "Beach Boot Camps" jump, run and toil their way under the sun and through the sand in order to achieve the perfect body for the summer season.
For Jason Kuhn, the trainer with "The Challenge" Beach Boot Camps — the oldest boot camp workout in Destin — the program is for anyone looking for a workout that is out of the ordinary. "Our program is very intense," says Kuhn. "It's not your typical gym workout — it's very high energy. It's outside on the sand, which makes everything 10 times harder."
Kuhn says the regimen is so unique that "every day is different." Participants use body-weight exercises, combat ropes, partners and teamwork to achieve killer bodies.
"I'm going to say, in the last three years, we haven't done the same workout twice," says Kuhn. "It's never a boring workout."
The boot camp is open to both men and women of all fitness levels. Some people are trying to lose those last pesky five pounds while others may be looking for a total body makeover and rejuvenation. Whichever is the case, Kuhn's boot camp can provide results.
"We have people who haven't worked out in 10 to 15 years that come to us, and we also have people who work out every day," says Kuhn. "It's really cool because we have a big range of people on all different fitness levels."
Grayton Beach Fitness founder and fitness guru Paul Hunter barks out the orders for his boot camp recruits to take their "medicine" in the form of overhead exercises using weighted medicine balls. Photo by Scott Holstein
Leslie Pace, a "Challenge" boot camp devotee, is testament to the fast results and stimulating environment that Kuhn's boot camp provides. Pace says that Kuhn's program allowed for her body to be more toned, while taking some inches off and significantly reducing body fat. "We live in a society where we want it yesterday, but the boot camp is just a totally different environment," she says. "It's exciting. You look forward to going to it."
The outside aspect of the program proves to be a drawing factor for many participants. Price says she is always happy that it takes place outside, no matter what the weather turns out to be. "You're outside; you're not inside of a gym, which I hate," says Price. "It's amazing because it could be 30 degrees outside or 90 degrees, and it works to your benefit."
There's really no excuse not to try it as the boot camp offers multiple sessions throughout the day at various and accommodating times, ranging from 5 a.m. to 6 p.m., and even offers a session on Saturdays.
"There's 24 hours in a day," says Kuhn. "You have eight hours to work, eight hours to sleep and a couple hours to commute. That leaves six hours left in the day. What are you doing with that time? You can spend one of those hours bettering yourself — looking better and feeling better."
The boot camp at Grayton Beach Fitness is included in the membership price. Paul Hunter, founder of Grayton Beach Fitness and boot camp instructor, says the specific exercises used in his program are what provide extraordinary results.
"We do a variety of exercises, typically calisthenics, which uses your body weight," says Hunter. "Or we'll take some medicine balls down, kettle balls, or we'll use some of the hundred-foot long ropes. Any tools that we use on the beach, we carry out."
Incorporating the beach is what makes this particular workout so unique. "We run through the water — some days it's at the ankle and some days it's chest deep," says Hunter. Still, this time on the beach is reserved for what gets results. "The most important thing that we do is timed intervals, so it's never a steady state type workout," Hunter explains.
For $189 a month for a full 12-month program or $239 monthly, "The Challenge" uses a non-stop mix of plyometrics, cardio, resistance training, kick boxing, athletic intervals, running and calisthenics to help get you "beach body ready" for summer. Kuhn just asks that you provide the commitment to him and to the team.
"You're working out with all these people, and you see them every day and that's what's motivating," says Kuhn. "We all know everybody's name. It's like a big family. We all train hard, and we all have the same thing in mind, which is 'tomorrow to be better than we are today.'"
---
Give your old routine the boot and try a "camp" class offered at these local fitness centers:
» Absolute Body & Core
absolutebodyncore.com
» Bluewater Fitness and Wellness Center
bluewaterfitness.com
» Destin Fitness
destinfitnessbootcamps.com
» Destin Health & Fitness Club
destinhealthandfitness.com
» Destin Personal Trainer
destinpersonaltrainer.com
» Grayton Beach Fitness
graytonbeachfitness.com
» Her Strength Boot Camp
herstrengthbootcamp.com