Call It A Cosmetic Intervention
Brittany Sigler answers her life's calling in Destin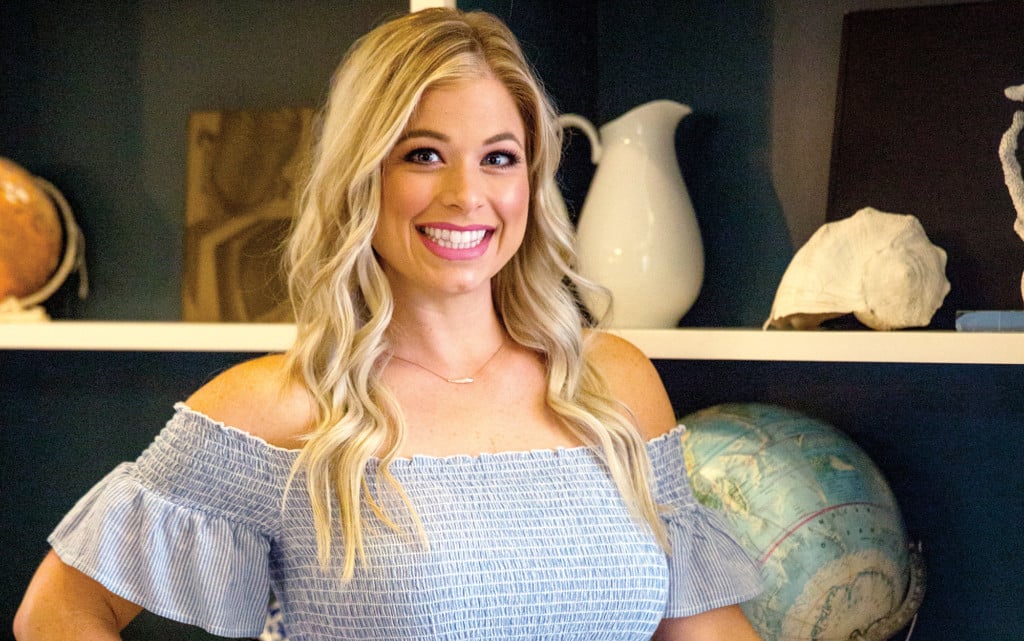 During her time as a Sephora makeup artist and manager, the request Brittany Sigler heard most often was, "Make me look like a Kardashian."
Living in an era where the likes of Kylie Jenner, Jeffree Star and the YouTube beauty guru de jour dominate the cosmetics market, this came as no surprise.
Still Sigler couldn't help but wonder, "Why try to emulate them, when you could pursue the best version of you?"
Maybe it was none of her business then, but as owner and founder today of the Destin Mobile Makeup Box and Consecrated Cosmetics, Sigler's singular mission is helping women embrace their inner beauty.
"Consecrated means for a divine or special purpose,"
Sigler explained. "My purpose is to help people feel comfortable in their own skin, something we all deserve."
Originally from Chattanooga, Tennessee, Sigler discovered the magical properties of makeup at age 12 — long before "makeup was cool."
"Before there was Instagram, before there was Sephora and Ulta, there was the counter life," she said.
"I would go to the mall and see these beautiful women who represented Estée Lauder and Clinique. All of them were older than me and so pretty. I was intimidated. But what they did fascinated me."
Sigler entered college intent on following her mother's footsteps and becoming a teacher, but by 19, landed a part-time job with Estée Lauder.
By her second year at a university, Sigler had gained a small but encouraging
clientele and told her parents she wanted to drop out to pursue beauty school.
She was met with a resounding "No." Back then, women didn't make a career out of makeup like they do now.
Sigler pushed through and, the month she graduated, interviewed for a full-time position with Estée Lauder that she never imagined she'd secure.
"When I got it, I leapt at the chance," Sigler recalled. "I began to travel around the country with them, and that's when I began to really appreciate makeup artistry."
After eight years, she said, it became apparent that a teaching career wasn't written in the stars.
Meeting the love of her life, Brandon, and having the destination wedding of her dreams in Destin, Florida, though, was.
Brittany and Brandon both grew up vacationing in Destin and
Miramar Beach with their respective families before going as a couple; the Emerald Coast was the site of their happiest memories.
Sigler corresponded with her wedding photographer, Sandy, and would often visit her while they were in the area.
It was Sandy who encouraged Sigler to move to Destin and realize her longtime dream of becoming an on-site bridal hair and makeup artist.
Two years later, the Siglers put their Tennessee home on the market. It sold within a month to one of Sigler's clients at Sephora.
"My husband and Sandy believed in me before I ever believed in myself," said Sigler.
"Everything happened so quickly, and I thought I'd have some time to make a plan. Sandy offered me a studio space to work in, and I didn't even know how I would pay her rent. But, she told me things would work themselves out.
"I'm a Southern hometown girl; all of my family lives in the same state, and I never thought I'd go so far out of my comfort zone. But I just had this feeling that God wanted me here, and I had some kind of purpose to fulfill."
As soon as they arrived, Sigler began cold-calling wedding planners, introducing herself to photographers and getting her foot in doors.
Upon attending Soothing Arts Healing Therapies School of Massage & Skin Care and obtaining an esthetician license, she was ready to advertise herself as the Destin Mobile Makeup Box.
Sigler's years in the beauty industry have culminated in her business receiving a five-star rating on Wedding Wire and the honor of receiving its Couple's Choice Award in 2018.
"I feel like I've put my heart and soul into what I do," said Sigler.
"I can give my clients the experience they crave because I've been in their chair before. Hair and makeup are so personal. My team and I want to make you feel like you're getting the best service you could ask for."
No two days are the same, Sigler said, and she loves being kept on her toes. Just like fashion, makeup fads fluctuate. Currently, glowing, dewy skin is in high demand.
Highlight, bronzer, contour and a pastel pop of color on the lip are recommended for beach weddings.
"We try to advise a timeless look as opposed to an on-trend look that will date your pictures. But we do everything from old Hollywood glam to the most bare-minimum faces.
Getting to know my subjects is a huge part of my job so I can style them to look their most beautiful."
Too, clients are partial to Sigler's line of Consecrated Cosmetics, an idea that was sparked by brides repeatedly asking for lip touch-up recommendations.
Once Sigler established a company, she began outlining everything she wanted in a lipstick: a vegan, cruelty and toxin-free, liquid formula that smells like vanilla buttercream icing.
Consecrated Cosmetics offers lipsticks, designed and vetted by Sigler, in colors such as "Peace," "Love," "Hope" and "Bliss"— well wishes for each woman who wears them.
Its rapid success spurred the expansion of Consecrated Cosmetics into matte and shimmering eye shadows, rosy blushes and scintillating skincare products.
"I can honestly say I'm living my dream," Sigler said.