Bodacious Bookstore and Café Arrives In Pensacola
The new independent bookstore aims to foster community through literacy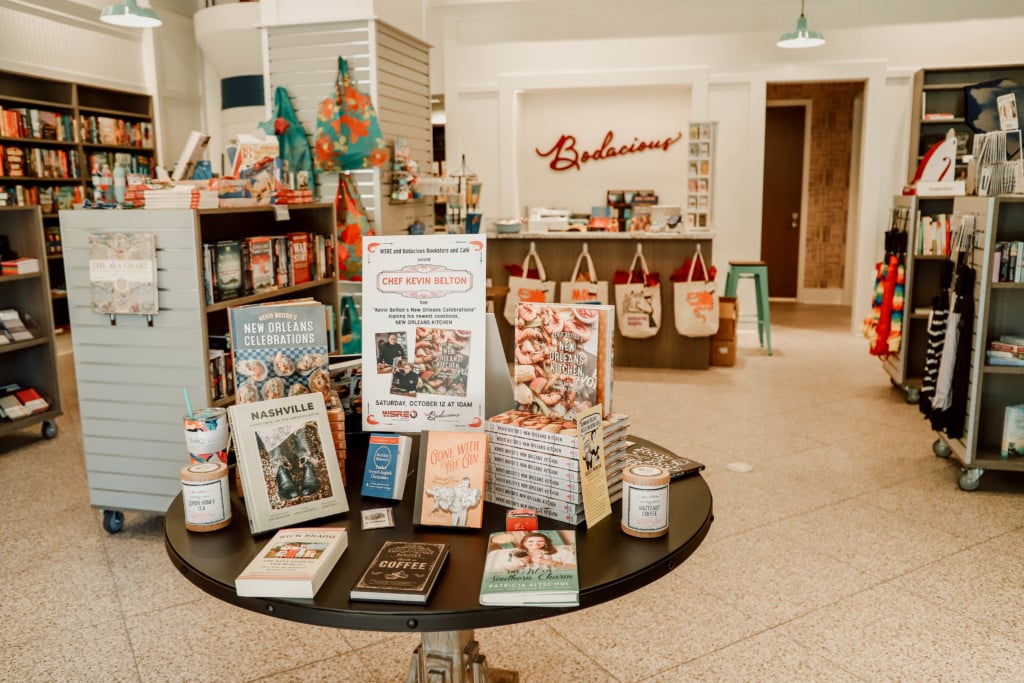 For Crissy Nettles, books are simultaneously the most isolating and unifying forces in the world.
Think of it this way: an author sits alone in a room to pen his or her novel. Said novel gets published, shipped out into the world to be sold. Someone snatches it off the shelf to purchase and, once more, the book finds itself in a quiet, secluded room to be read.
Right back to where it began.
"But then you get a room full of people who have all shared the experience of reading this book," says Nettle. "And they are all fascinated, moved and thrilled or upset, challenged and changed in some way. I love that you can have a really private experience on one end of reading a book, but can also immediately connect with someone else who loves it as much as you do."
Discovering those people and solidifying those connections, Nettles says, is the beauty of running an independent bookstore.
Previous owner of Beehive Coffee and Books in Monroeville, Alabama, hometown of Harper Lee and childhood home of Truman Capote, Nettles aims to provide for the Pensacola community a literary haven at her newest store, Bodacious Bookstore and Café.
The bookshop-meets-brewhouse hybrid has now been open for little over a month, and Nettles couldn't be happier with her new nook in downtown Pensacola.
"My shop in Monroeville was a treasure," Nettles recalls. "I loved it, but it just wasn't sustainable in the economy. Now that I'm here and have been afforded this wonderful, new opportunity, I get to take everything I loved from my last store — handselling, forming community groups and showcasing local authors — and create that experience here."
Bodacious Bookstore and Café's selection is personally curated by Nettles, who ensures there's a page-turner or two for everyone who walks through her door.
"I've looked at the demographics of downtown, and have found that it's very independent, diverse and creative," says Nettles. "So, especially in my contemporary fiction, memoirs and biographies, there are a lot international titles and different voices mixed in to compliment that."
Children's literature, says Nettles, was her "pride and joy" at her Monroeville shop. Currently, the Bodacious Bookstore and Café's kid's section is bursting with beautifully illustrated titles. Young adults can peruse meaningful works that Nettles has vetted to "explore difficult themes and important topics in an age-appropriate manner."
Indeed, when it comes to inventory, Nettles believes in quality over quantity. After all, she says, there's no point in competing with digital giants such as Amazon.
"You can go to Amazon and buy a wedding gift, a stuffed unicorn and, yes, whatever book you like," Nettles sighs. "You can get this cornucopia of things, all in one place. As wonderfully indulged Americans, it's convenient for us to get whatever we want delivered to us in 48 hours.
"But what you can find at any independent store, be it a gift shop, a mom and pop restaurant or a bookstore, is a level of individual service where people really care about you. They want to know more about you to be able to respond to your needs. It's about cultivating those relationships with you — with the community — and providing something meaningful, not just selling something in a hurry."
Though many book clubs and community projects are still a work in progress, Nettles is excited to so far have launched Story Time at the Bookstore. Beginning at 10:30 a.m. every Saturday, children are invited to listen to Bodacious Bookstore and Café's Child Librarian, Gradine, read to both early-learners and children seeking a more involved story.
"That way, smaller children who maybe don't have the longest attention spans can still enjoy, discover and be part of that experience," Nettles explains. "For children who are interested in more specific stories, and just love books and being around others who do, we can really help feed that creativity and passion for reading."
Too, Nettles aims to stimulate that same enthusiasm for adults. The Bodacious Bookstore and Café has already received a keen response from multiple local book clubs, including "Leaders are Readers," a group in which entrepreneurs, managers and those with an interest in business-oriented non-fiction can connect."Those meetings often feature works by John Gordon and Quint Studer," says Nettles. "Not only are they granted a wonderful networking opportunity, but they also get to discover a book that speaks to them specifically and offers contemporary, useful advice."
Another features a group of women who will gather monthly to sip coffee and discuss works from Reese Witherspoon's Hello Sunshine book club. But, Nettles is excited to announce she's brewing up a little assemblage of her own.
"What if you had a way to meet people who are interested in the same genre as you and form with them a book club?" she pitches. "Pensacola is thriving, so we have a lot of newcomers looking to connect with others who love to read. I thought, what if I called this the '90-second book club' where you have 90 seconds to describe your favorite book, and it turns out there are ten other people there who love mysteries as much as you?"
Nettles is also working to establish a monthly event called Love Your Local. While one meeting may feature a local author, the next month may spotlight a local artist, musician or chef.
"There's such talent in Pensacola," Nettles muses. "We're only a city of 58,000, but we have so much to be proud of here. Maybe, one evening, the director of the Pensacola Lighthouse comes and gives a 30-minute presentation on its history, and how important it is. That way, we can help drive traffic to all the things that make Pensacola so interesting and fun, because people who are readers tend to be interested in their surroundings and community as a whole."
Nettles is also dedicated to showcasing local northwest Florida and Gulf Coast writers. Her current process is to take couple copies of Pensacola authors on consignment and, if they sell well, re-order to continue distribution. If it's not a right fit for the store, Nettles gives them back and grants exposure for someone new.
"It feels more egalitarian that way," she explains. "There are people here writing everything from werewolf romances to World War II memoirs, and I want to open my doors to them all."
Admittedly, she is a sucker for books written by obscure authors who spotlight Pensacola as the setting. "It's a special feeling when you meet someone who's here on vacation and watch them walk away with a book they can only find here."
But the best feeling, Nettles says, has been watching her bookstore grow into something of a meeting ground this past month.
"How cool is it that I get to watch my amazing staff, who are all huge readers of extremely diverse genres, interact with and make recommendations for customers," she says. "And knowing that our customers are genuinely interested in knowing who is selling them a book, or making them a cup of coffee? That has been an unexpected delight that, from the sidelines, I'm so happy to be a part of.
"I'm constantly reading and learning and immersing myself in worlds completely different from my own. From isolation to isolation, it's special when you can share that with others."
For business hours and more information, visit facebook.com/bodaciousbookstore.