Bob Dylan Gets into The Whiskey Business
Favoring Shakespearean storylines and Tennesee bourbon, the musician has a new adventure ahead.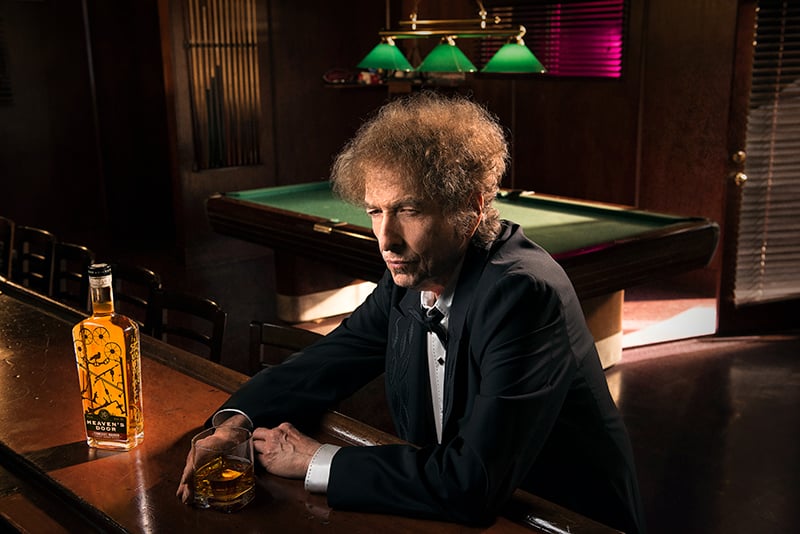 Nob Dylan, in a nod to his birthplace, Minnesota's Iron Range, creates metal gates and sculptures of objects both created and found.
In such a way, they resemble his songs in the way that Dylan favors Shakespeare as an appropriator of storylines.
Dylan is in the whiskey business these days: double barrel, straight rye and Tennessee bourbon contained in bottles — I am looking at one now — that are decorated with samples of his welded art such as a montage made up of chains and rails and valves and bloodless tracks and a bird in silhouette that in aspect suggests a crow — Dylan owns 100 acres on the Crow River 40 miles from Minneapolis as the crow flies — and four wagon wheels, a complete set.
Dylan, as it happens, contributed the melody and refrain to Old Crow Medicine Show's "Wagon Wheel," a song that Darius Rucker won a Grammy with.
The art surfaces thoughts of Charlie Chaplin in the factory scene from "Modern Times" and Jules Verne and whoever it was that invented that time-honored children's game, "Mousetrap."
And that is before you so much as uncork the bottle.
Dylan, on the advice of a consultant, abandoned plans to brand his blends, "Bootleg," instead opting for "Heaven's Door." In that, I think he missed an opportunity; I would have advocated for "Blowin' in the Wind."
In any event, the Bard of the North Country has turned his impulse to make a contribution to the world's pool of fine whiskeys into a product that is smooth and very fine and, unlike Dylan, requires no work.
My liking for the stuff was immediate. It is a nice change from my volume-production whiskey habit, a tendency that earns me jeers from booze aficionados, who are almost as bad as beer snobs.
(Mind you, there is a suggestion in Dylan's stream of unconsciousness, Tarantula, that Jack Daniels, back in the day, could give you the confidence to meet James Cagney — with a "swinging armadillo for a friend, your faithful mob and Mona Lisa behind you." Like that.)
The developers of Dylan's whiskeys, reports The New York Times, received little direction from the boss who, upon sampling the double-barrel whiskey, for example, said something was missing and offered only, "It should feel like being in a wood structure."
At least one reviewer of Bob's bourbon found that it offers a chorus of oak-derived notes.
I looked for the wood, but rather than oak seasoned and charred, I detected something more like green aspen.
No matter. Everyone arrives at the same (slightly) bitter finish.