Bluewater Bay
A Very 'Nice' Place to Call Home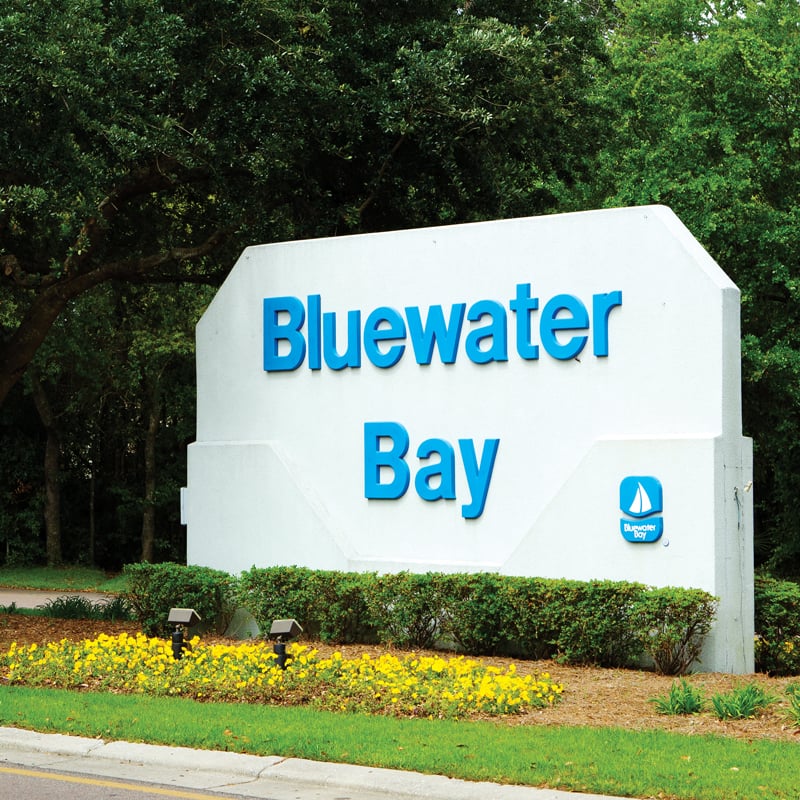 This friendly town lives up to its name. Once known as "Boggy," Niceville (population 11,874) is situated along the scenic shores of
Choctawhatchee Bay. It has the best schools in the county, picturesque parks, a youth center, sports fields and is home to the Boggy Bayou Mullet Festival, which attracts thousands of attendees each year. With so much to offer, it's no surprise that Bloomberg's Business Week (January 2012) named Niceville "The Best Place to Raise Kids in Florida."
The heart of Niceville and one of the most desirable areas to live within the city is surely a development called Bluewater Bay. With its utilities tucked neatly underground, the focus is on the 19 manmade lakes and ponds, wildlife sanctuaries, private community parks and greenbelt areas. Recreation facilities include ball fields, playgrounds, five swimming pools, private bayside and bayou beaches. Susan Rood, a realtor with Keller Williams Realty and director of the Niceville Chapter of the Emerald Coast Association of Realtors (ECAR), makes her home here and says, "Bluewater Bay is a community for those who enjoy the outdoors. It is the Florida lifestyle."
With a focus on the simple pleasures of life, Bluewater Bay is a safe, family-friendly idyllic residential location made up of about 30 small, tidy neighborhoods. This scenic and well cared for 2,000-acre development was first established in late 1970s and is currently home to about 3,000 families. 
According to Rood, many who call Bluewater Bay home are retired and semi-retired military looking to enjoy life away from the hubbub of the tourist towns that line the Gulf Coast. She would know. Her husband was a retired Major in the U.S. Marines Corps and they were living in New Orleans when Katrina hit in 2005. They sought refuge in Northwest Florida. After looking for more than a year, the Roods and their five boys settled on a five-bedroom/three-bath home in Parkwood Estates. "We loved the location and the schools," she says.
One of the attractions for homebuyers considering Bluewater Bay are the many convenient resort-style amenities that immediately add value to any home. The resort community boasts a 36-hole golf course designed by Tom Fazio and Jerry Pate. If a home overlooking beautiful championship greens appeals to you, Bluewater Bay Resort golf homes will offer this and more.
A five-star tennis facility and two large swimming pools are also popular features of this Emerald Coast community. For the walker, runner and cyclist, there are more than 50 miles of paved roads (bicycle lanes have been designated on either side of Route 20 as it runs through the community) and seven miles of paved bike paths. For the kids, there are plenty of playgrounds and green spaces for running and playing. And there is even resort dining for a night out or a convenient way to entertain family and friends. 
Water lovers are welcome and flock here. There is a 120-slip marina as well as a number of waterfront homes that offer boat moorage, allowing the avid boater or fisherman easy access to the open waters of the Gulf. For those who want the pleasures of looking out onto the ocean without the hassle of home maintenance, waterfront condos in Bluewater Bay provide stress-free home living.
Residents appreciate that these amenities are easy to access. "The walkability factor is great here. You see people jogging and walking to the grocery store, marina and tennis courts. It's just easy," Rood says. 
The many varied neighborhoods have created an inviting community that has a surprising number of home styles and locations. The area features estate homes, patio homes, condominiums, homes on the water, homes on the golf course and a number of other location options. Says Rood, "Bluewater Bay is a community that fits nearly every level of lifestyle. You have beginner homes at $150,000 to $200,000 and then you have waterfront property at $700,000 on up as well"
With a median home price sales price of $268,000 (for single-family detached homes), Bluewater Bay is priced below Destin and South Walton and above inland areas of Freeport, DeFuniak Springs and Crestview. The average per square foot price of $143.38 is affordable, so homes here don't sit for long. Currently, the average time on the market (not including short sales) is just 64 days — fewer than many communities on the Emerald Coast. ECAR reports that 45 Bluewater Bay area homes sold in the month of March alone! With 67 active single-family home listings, your dream home may be waiting in Bluewater Bay, but it may not be here for long.