Blogger Zulma Berenice Is Full of Life
Practicing sustainability and intentional living both on and off Instagram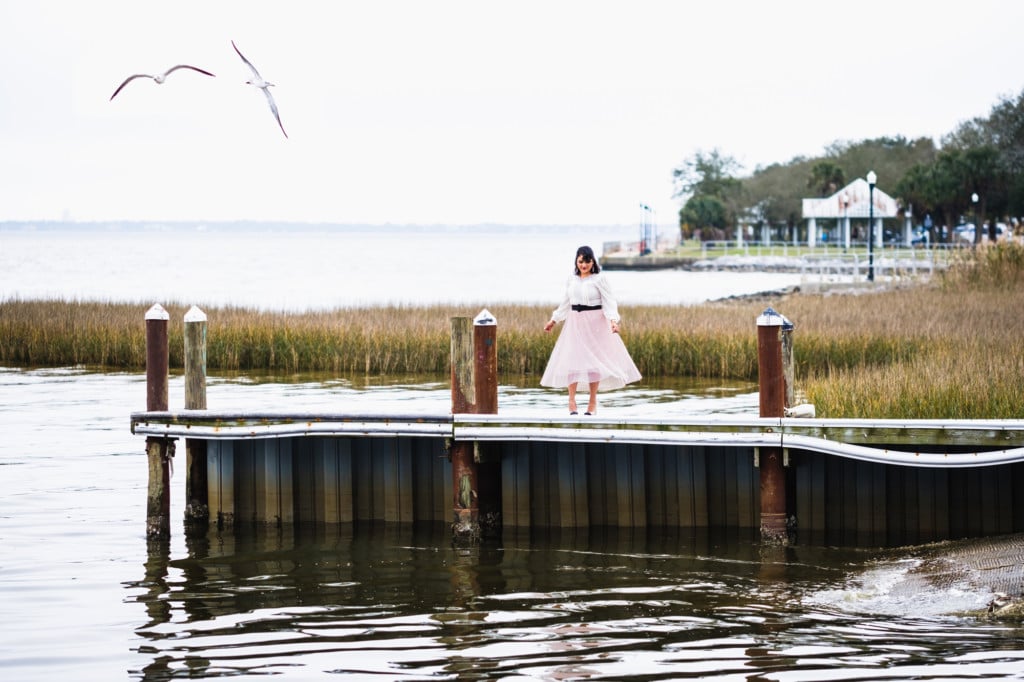 Why?" For certified life and holistic health coach Zulma Berenice of Gulf Breeze, that simple question is pivotal.
"Once you start looking internally at your problem and establish what you have control over, then you can decide how you want to work on it," Berenice said. "It's really not about what is happening to you; it's about why and how you choose to react."
Berenice's life changed when, shortly after giving birth to her first child in 2003, she was diagnosed with fibromyalgia.
She experienced chronic pain, which was later determined to be the result of lupus.
Her symptoms exacted both a physical and mental toll, and she became apathetic.
"I realized the reason I was so sick and miserable was because I was allowing it," she said.
Berenice began seeking therapies and sticking to a holistic diet. In 2010, her journey led her back to her birth nation of Mexico, where she underwent Biomagnetic Pair Therapy, a practice that uses magnets to balance pH distortions within the body and neutralize toxic pathogens.
A year later, Berenice gave birth to the second child she had long wanted. She went back to school, became a certified life coach and earned a bachelor's degree in alternative medicine.
Today, she is lupus-free and Northwest Florida's first Biomagnetic Pair certified therapist.
"There's a quote I love that says a healer is not someone who heals people, but one who teaches people how to heal themselves," Berenice said.
"I think allopathic medicine and holistic practices are complementary, so it's important to find that balance. What I do is how I show gratitude for what came my way."
One of Berenice's main objectives is to present herself as approachable in both her professional and personal life.
Her life-coaching business, Inner Soul Designer, is grounded in her belief that our primary job as individuals is to become the person we wish to be. Material items are just a means of obtaining those goals.
Berenice's Instablogs, @zulma_berenice and @zeebeeyoutiful, promote stylish sustainability, be it through all-natural, cruelty-free beauty products, or secondhand fashion.
"There's an energetic charge that comes with being mindful of your resources while shopping," Berenice said of her vintage lifestyle.
"Even in finding something that's been used or repurposed, you realize that it has value. Otherwise, it would have been discarded."
Berenice is confident that when you find your place and purpose, there will always be a person there who loves you.
And, if an Instagram post can mean something to at least one of her nearly 130,000 followers, Zulma has no doubt she's where she's supposed to be.
"My Instablog is me inviting you into my home. For me, it's important to balance being public and having a private life. Social media is an asset. It's a representation of you, but you can't let it become all that you are."
Berenice's profile includes recommendations of her favorite, environmentally conscious products, such as chemical-free, magnetic false lashes and underwear fabricated from recyclable materials, as well as glimpses of her hobbies and family life.
For followers, it's just as enjoyable to read about Berenice's organic skincare regimen as it is about her love for Korean pop music and television dramas. She plans to travel to Korea this year.
Today, she is working on a Ted Talk and scrambling to gather healthy munchies for an elementary school class.
Too, she is finalizing plans for her newest venture, Onesta Holistic Home Cleaning & Green Living Consulting, which aims to cleanse the community of harmful chemicals and promote an eco-friendly, non-toxic method of housekeeping.
With her extensive repertoire, Berenice is often met with quizzical looks upon telling people what she does for a living.
"But, really, I'm just Zulma," she laughed. "Which reminds me, my name is of Arabic origin and translates to 'full of life.' It took me a while to grow into that, but now it makes sense."
A recent Instagram post — a snapshot of her at a bookstore — showcases a sunny, vivacious smile, and is captioned: "I love my body, and I love my mind. The more I tell myself this every day, the more I will come to believe it."
Zulma, she is.
Inner Soul Designer
Zulma Berenice is in the business of facilitating people's journeys to lives of intention and success.
As lead ambassador for Caroline Cole's Life Redesigned and Modern Productivity courses, she employs a thought-based approach in restructuring personal and professional endeavors.
She is also available for private health consultations at Empathic Practice in Pensacola.
Learn more at innersouldesigner.com, or contact Zulma at innersouldesigner@gmail.com.