Blanket Your Home in Fall
Simple design swaps for a cozier interior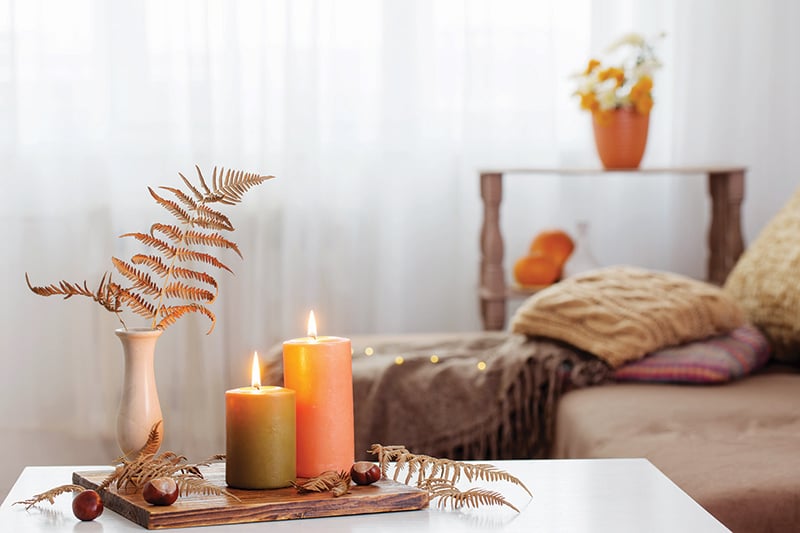 Fall is the perfect season to focus inward on a home's interior. After all, family-friendly holidays are right around the corner, and it's nice to have a cozy space prepared for gatherings.
Decorating for fall can be quite affordable because it relies on natural elements found at farmers markets or local shops. Adding a few extra accessories shouldn't break the budget by adding a little intriguing texture, ambiance and warmer colors.
Designer Andrea Maulden of Nest Interior Design in Panama City Beach said that one of the easiest ways to bring a house into fall is through scent. "This doesn't have to mean exclusively pumpkin-scented candles," she said. "Cinnamon apples, caramel and vanilla can take you straight to the holiday season. One of my favorite things about this time of year is lighting an autumn candle, turning on a football game and curling up under a cozy, plush blanket."
Well-loved quilts or heirlooms are also fall-appropriate. Draping this simple piece over a sofa or chair, or using it as a table cover, can add the perfect touch of color. "I'm personally not a big fan of fall colors, so, I like to incorporate neutrals that have a fall vibe," said Maulden. "A tartan or plaid throw in ivory, khaki or taupe, as well as some faux fur pillows to curl up with is a beautiful way to get that cozy, fall feel."
Also, a warmer color scheme isn't limited to pumpkin orange. The classic colors of fall can transform into claret, cranberry and harvest gold, for example, and brighten up a neutral color scheme.
Bringing in Nature
Inevitably, pumpkins pop into the center of one's mind when envisioning fall decor. However, they shouldn't just be limited to the porch or front steps. Pumpkins deserve their own space indoors, and there are many ways to enliven their decorative value. Andrea Manning, head of design for Michaels, tells of interior designers adorning pumpkins and gourds with paint, beads, pom poms, tinsel or glitter.
"A pumpkin might be treated to a pattern, painted solid gold or given another dimension with beads," Manning said. "I have seen a lineup of white-painted gourds on a mantel, a magnificent gold-painted pumpkin nestled on a console table among other keepsakes, and blue and white painted pumpkins as a centerpiece on a festive holiday table."
This is not to ignore the decorative talents of pumpkins au naturel. Both the classic orange ones and their albino cousins are brilliantly decorative. Unexpected ways to use them include placing one in the corner of each step on a staircase, grouping different sizes on a coffee table or console, incorporating them as part of a bookcase display and topping candlesticks with mini versions. "However you choose to use them — even just some mini-sized ones in a wooden bowl — pumpkins and gourds can make an autumnal and very chic statement."
Of course, fall doesn't end with pumpkins. They're only the beginning. Some designers prefer to use apples, quinces, pomegranates, figs, acorns, dried leaves and other fall-blooming flowers.
"A huge trend this year is using pampas grass as a decorative element," added Maulden. "Cut a circle off the top of a fake pumpkin and fill with pampas grass stems, line it along your mantel or dining room buffet table, or use a pampas grass wreath on your door."
When it comes to fall foliage, good choices are the Florida maple, sweet gum, sugar berry and persimmon trees. Display branches in vases or collect leaves to be dried and displayed in a bowl or made into wreaths. If collecting the real thing is a little too time-consuming, paper cuttings can add seasonal foliage to spaces in a pinch.
Make it Personal
Whatever your tastes, Manning and Maulden welcome all designing for fall to infuse their own personalities into the space. There is no better time to incorporate your favorite keepsakes, such as travel mementos, art, crafts projects and homemade candles.
Maulden likes to display her collection of seasonal dishware for family gatherings, while Manning shares that Michaels crafters have been known to transport homemade wooden toys, such as a toy truck, carrying acorns or mini gourds into their fall rooms.
Beyond the natural elements produced in the fall, candles are unquestionably stars in any room. Manning shares that Michaels customers love them, both store-bought and homemade. The latter often displays lots of creativity and can be fun in the process. Home candlemakers typically prefer oversized tapers and add elements such as crystals and floral elements to make the candles their own.
Finally, don't forget the porch in your summer-to-fall routine. Line up the pumpkins and fall flowers, bring on the throws and quilts, and set up lanterns and flocks of candles. Anything that encourages snuggling and lingering is comme il faut, perfect for crisper fall evenings.