Birds Of a Feather
Old friends have their eyes on the skies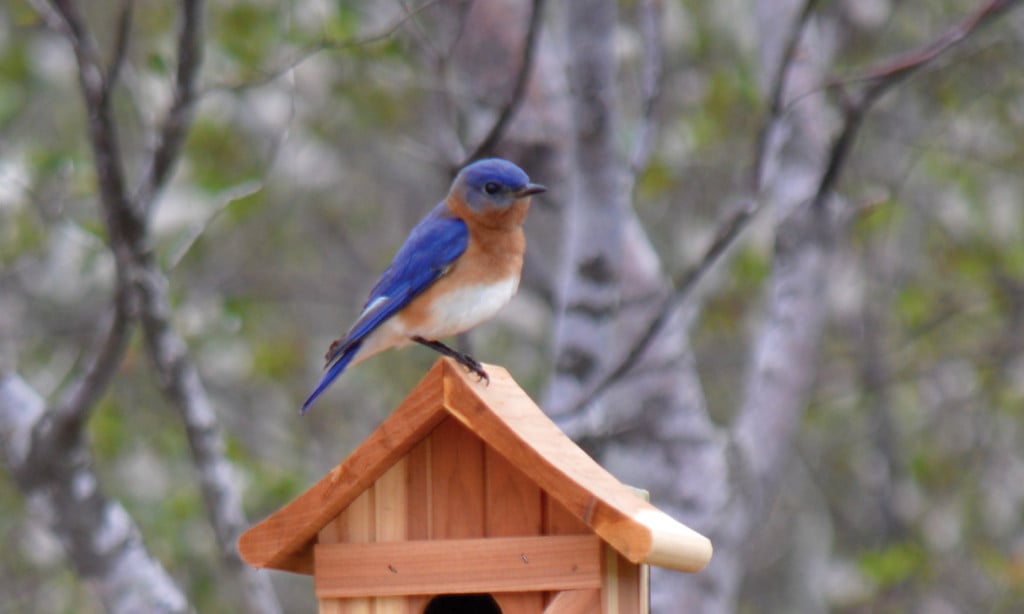 Like fathers trading progress reports on their children, John and I exchange updates on bluebirds.
It hasn't always been like this.
For five or six years, John had a bluebird house in his yard. No takers. Annually, he would explain to me that nesting boxes have to season for a time before birds will move in. Gotta get the human scent off them.
Meanwhile, the birdhouses at my place were attracting the wrong kind of tenant. I was excited when first I saw a head poking out of one of the boxes until I trained some binoculars on it and found that it was a palm rat.
At the time, I was living in a house with a wood-burning fireplace. So it was that I had stacked firewood in a corner of my yard at all times. The wood supply served as a rat tenement. And King Rat, I supposed, claimed the single-family residence intended for bluebirds. Chickadees, versus rodent vermin, would have been fine, too.
Even before moving to Tallahassee and becoming an apartment dweller for a time, I gave up on the rat houses ever becoming bird sanctuaries.
Meanwhile, John's birdhouse remained in place and unoccupied through wind, rain and hurricanes.
Until last spring.
He didn't trust his eyes at first. Bluebirds. A male perched on the roof of the house while the female checked out the interior. They would take it. Over the next couple of months, John sent me scores of bluebird photos. Nest-building activity. The incubation period. Chicks.
And, I'll confess, I was a wee jealous. I had never had a relationship with a bluebird. Indeed, I had convinced myself that they preferred houses mounted on fence posts at the edges of Midwestern soybean fields. But John had somehow attracted a pair.
Darn him. He gets all the birds.
John and his wife, Leeann, bought two lots when they built their house way back when. Over many years, the unimproved lot, through benign neglect, grew to be overrun with beautyberry bushes and bracken ferns and brambles nearly impenetrable — a paradise for birds.      
I moved into my current home, in Panama City Beach, in August of last year. I almost immediately put out a bird feeder suspended from a shepherd's hook but went for months without attracting anything but doves. Finally a cardinal or two. And, you most always can attract blue jays with goobers.
Then, unaccountably but unmistakably, on a brilliant, cloudless day, I spied a male bluebird at my feeder and was inspired to one more time put out a house.
I bought a $12 cedar model, a length of 4-by-4, and a 50-pound bag of Sacrete and set them in the yard along with a bucket of water, a level, a screwdriver and a piece of hard plastic sheeting that I found down the street. It may have blown in from Port St. Joe on Oct. 10. In digging the hole, I would place the spoils on the plastic to avoid suffocating grass.
Bob Vila was never more meticulous about his planning.
John stopped by at my request. He supplied me with encouragement and a shovel. I sold my garden tools upon moving to that apartment and haven't replaced them all yet.
In fairness, I should say that John did help level the post before I watered the Sacrete. After it had set a while, I screwed the birdhouse onto the post and we were done.
It was then that John produced a sandwich bag and its organic contents from a pocket. He proceeded to sprinkle a pinch of whatever the bag contained into my bird feeder and placed another pinch at the base of the post and gave me the rest of the bagful of …
Dried mealworms. Stink like hell, but bluebirds love them. What a magnanimous gesture on his part. This is what true friends are for. Only John could have caused me to make a new habit of buying $13 bags of beetle larvae.
The bluebirds are back for Year 2 at John's place, I had move-ins three days after my house went up and we now engage in a Bluebird Dialogue via texting and tweeting.
It is March as I write this and we agree that the chicks should be here any day now.
We can't wait. We are older now and post storm.
Bird's the word,
Steve Bornhoft