Big Dogs and Their Owners Share Big Love of Life
Why these gentle giants are the best pups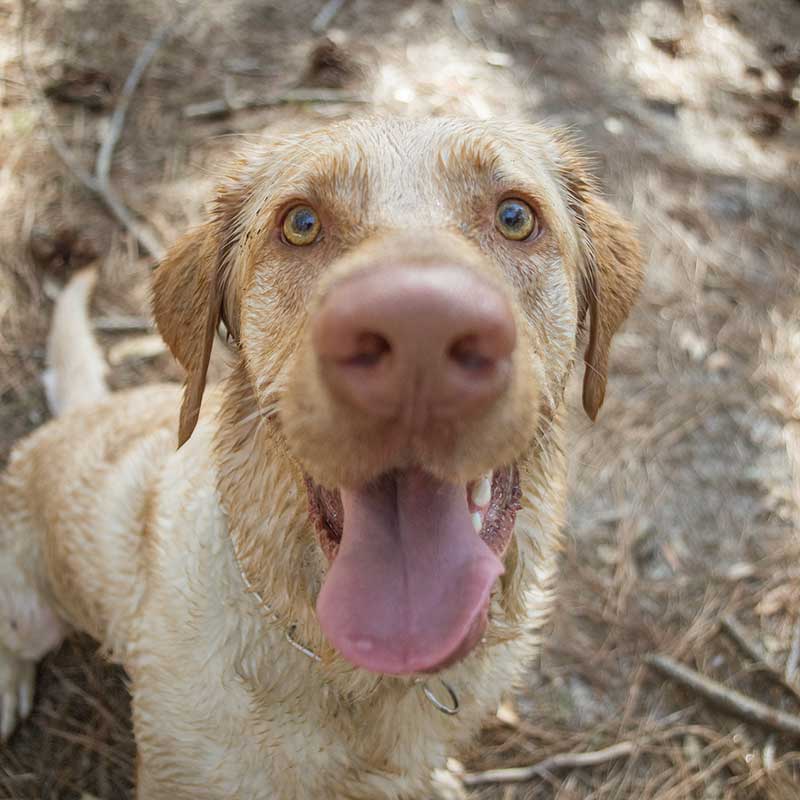 When you welcome a big dog into your home, you're essentially agreeing to bring up a perpetual toddler that has the stature to see over the counter, outruns you and bellows its bark to get your attention.
While that may sound terrifying to some, those are quirks that make our adult hearts swell with love for supersized canines.
Having spent 15 years and counting with a Miniature Pinscher, I was accustomed to the low-maintenance, lap-dog lifestyle.
Then I rescued an eight-week-old Golden Retriever/Irish Setter mix named Fargo, who was already the size of my senior dog.
As the weeks went by and he kept growing, so did his appetite for extra kibble and activity.
But these needs aren't as demanding or as expensive as one might think.
The Destin Dog Park is a venue that grants your pooch the freedom to run and socialize safely, as gates divide a small-pup play area and an ample field for larger breeds.
The latter is the stomping grounds for your Malamutes, Mastiffs and Shepherds.
When you come across these fellas, your hefty hounds and retrievers suddenly aren't as big as you thought.
Take Tucker, a sleek, black Great Dane who frequents the park and towers over both Fargo and my person.
Tucker, just 1 year old, weights 115 pounds and is expected to pack on another 40 before he fully matures.
The biggest challenge with that?
"Finding room on the couch," owner Patrick Moore laughs. "He thinks he's a lap dog, but he's the biggest dog at the park. I don't ever have to worry about him being aggressive with other dogs because he's already bigger and doesn't feel threatened."
Moore, a Fort Walton Beach local, makes the drive to Destin almost daily so Tucker can romp around with his furry friends, as socialization is extremely important in acclimating your big buddy to daily life.
Though Great Danes are one of the largest dog breeds in the world, their internal organs are similar in size to the average Fido's, so there isn't an abundance of extra energy as you might expect.
After an hour at the park, Tucker tuckers out and lazes around for the remainder of the day, as his heart has been working overtime.
Tucker is also content with a walk around the neighborhood, but like fellow big dogs, he has a major problem with leash-pulling.
That's where Blake Pilgreen steps in.
A veterinary technician with Barry Veterinary Hospital in Miramar Beach, a dog trainer, and owner of Swell the yellow lab, Pilgreen is quite familiar with correcting common, boisterous behaviors in colossal canines.
"Your larger breeds are happiest when you give them a job or activity to focus on," Pilgreen explains. "They crave mental challenges, so if you're thinking about getting a big dog, you can't just let them roam around your house. They'll go crazy. Think about how you'd be if you grew up in your parents' house without ever being challenged by school or social activities."
This summer, Pilgreen is opening his own business in Santa Rosa Beach, called The Prodigal Pooch, where dogs will undergo behavioral correction, obedience and confidence-based training — all essential to coexisting with your furry toddler.
While all dogs are keen on playtime, Pilgreen adds, he finds burlier breeds are more eager to play fetch, test their agility and splash around in the ocean with you.
Something to consider is the effects of all this activity on their bodies.
"Since they have such large frames, you'll see things like hip dysplasia and arthritis arise. Once your dog reaches the age of 2 and his growth plates set, you can have your vet check him out and identify anything that may become a problem. Immediately, you have the hot temperatures to worry about where we live. Try not to exercise your dog more than 30 or 45 minutes at a time, to avoid overheating."
Most importantly, do your homework before adopting one of these humongous love bugs and don't get one for aesthetics alone. Make sure you can put in the work.
Be their companion. Take them new places. Let them experience different situations.
Your dogs will be happier, and you'll have a better life with them in it.