Beth Ann Fennelly Talks About Sand, Sun and Her Micro-memoirs
A poet laureate in South Walton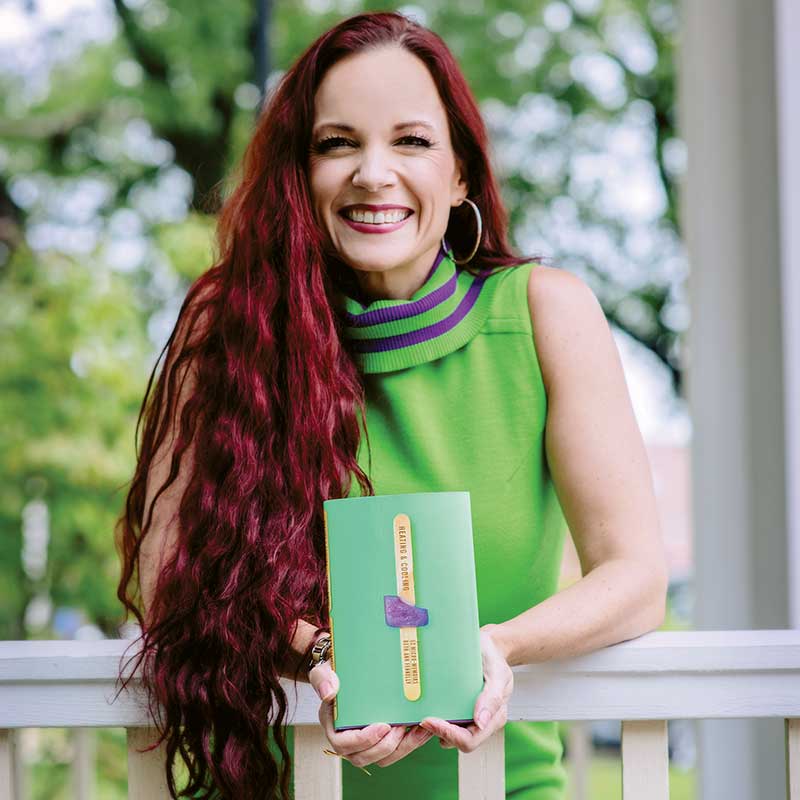 Seaside recently welcomed Mississippi's poet laureate, Beth Ann Fennelly, to Longleaf Writers Conference as part of Art Week South Walton.
Fennelly has published three poetry books: Open House, Tender Hooks and Unmentionables, all with W. W. Norton; a book of essays, Great With Child: Letters to a Young Mother (Norton); and The Tilted World (HarperCollins), a novel she co-authored with her husband, Tom Franklin. Her newest book, Heating & Cooling: 52 Micro-Memoirs (Norton), is a collection of "essays that are sometimes as short as 10 words … but add up to a surprisingly maximalist portrait of a life (New York Times Book Review)."
For a week in May, this poet laureate and professor in the MFA program at the University of Mississippi taught essay writing to a group of fortunate writers at Longleaf Writers Conference. We caught up with Fennelly to talk about the micro-memoir form and why conferences like Longleaf are important for writers.
Emerald Coast Magazine: How did you become involved in Longleaf Writers Conference?
Beth Ann Fennelly: Matt Bondurant, one of the founders of the conference, is a professor here at the University of Mississippi, and he talked about his involvement and wanted the university to be a partner in it. It seemed like a great opportunity — an in-depth and dedicated conference in a beautiful place. I loved that there were opportunities for our students to attend, to increase their professionalization, meet contemporary writers and have dedicated time to focus on their craft.
EC: As Mississippi's poet laureate, you're working to bring poetry into more lives in your state. How did you become a poet? What is poetry's role for you?
BAF: I always did creative things as a child and didn't really know what I wanted to do with my vague, inchoate urge to engage in the world in that way. When I was in college, I took my first class in contemporary poetry, my first creative writing workshop. I just fell in love and thought I would never do anything but poetry my whole life.
For me, poetry is a way of feeling through things, whereas essays are a way of thinking through things. I think poetry helps educate the emotions. We think our emotions are perfectly clear and accessible, but that's rarely the case.
By reading poetry, we educate our emotional lives and prepare ourselves spiritually and cognitively for the scenarios that life presents to us. Now I'm deeply in love with prose writing,as well. I have published six books: three of poetry and three of prose. When I write essays, I'm a little more conscious of writing to thinkers and readers, I'm working through my own thoughts as I go, and I'm more aware of an audience. When I write poems, I'm not really thinking of an audience until much later.
EC: Was it a natural transition to writing nonfiction?
BAF: It was. There was no motivation or anyone urging me to do anything but poetry. I just found myself wanting a wider canvas, wanting to think through some thornier issues that seemed to function better in the expansive sentence as opposed to the music of the line.
EC: What was your experience writing Heating & Cooling?
BAF: My husband and I had finished this long novel (The Tilted World) that required a lot of research and frankly was pretty high stakes, because we were both working on it for four years. I thought afterwards I would write another novel, but I couldn't seem to get anything started. I was writing weird little thoughts in my notebook, tiny little memories. Nothing was adding up.
But I didn't have that terrible, frustrating feeling that I would expect of writer's block. I felt like I was enjoying what I was doing. That enjoyment led me to question, is there something that's working here? I think I'm not writing, but maybe I am writing, and I don't recognize it as writing because (these pieces) don't look like the other things I've written, like poems or a novel or a memoir. I came up with the term micro-memoir, and that helped me conceive of the book.
EC: How are the micro-memoirs in Heating & Cooling organized?
BAF: I wanted them to stand alone. I didn't conceive of them or write them chronologically, so it was tricky to organize them — it was like organizing a book of poems. Ultimately I organized them for maximum variety. For instance, I didn't want to group all the short ones together, or all the adolescent ones together, or all the sad ones together. I wanted the experience of reading the book to be the experience of working through very diverse emotions, with crisp edges, very rapidly.
EC: By crisp edges, do you mean the borders of the tiny form?
BAF: If you're writing a novel, you can work through many emotions in one piece. (In the micro-memoirs,) I wanted there to be tonal variation, for one to be difficult, one to be silly, one to be sexy, etc. … Because they were small, I felt I could go as far into an emotion as I wanted, but the next piece wouldn't have to go into that emotion or address it. I liked that they could be discrete.
EC: Many writers struggle to gain time for their writing. How do you do it?
BAF: I understand that the world is never going to say, "Beth Ann, did you write a poem or an essay today? Were you thoughtful?" The world is just going to say, rush, rush, rush and buy, buy, buy. One has to create a new narrative about privileging the imagination and respecting the necessary time commitment to write. Not just talking about writing, or not being someone who has written but someone actually writing. That puts the demand on me to find a dedicated time. I've become a morning writer ever since I had kids. I try to make sure I get my writing done before I do other things.