Best in Glass
Sommelier, Myers Mcdougal, Pours Over Wine Books to Keep His Wine List Fresh and Fun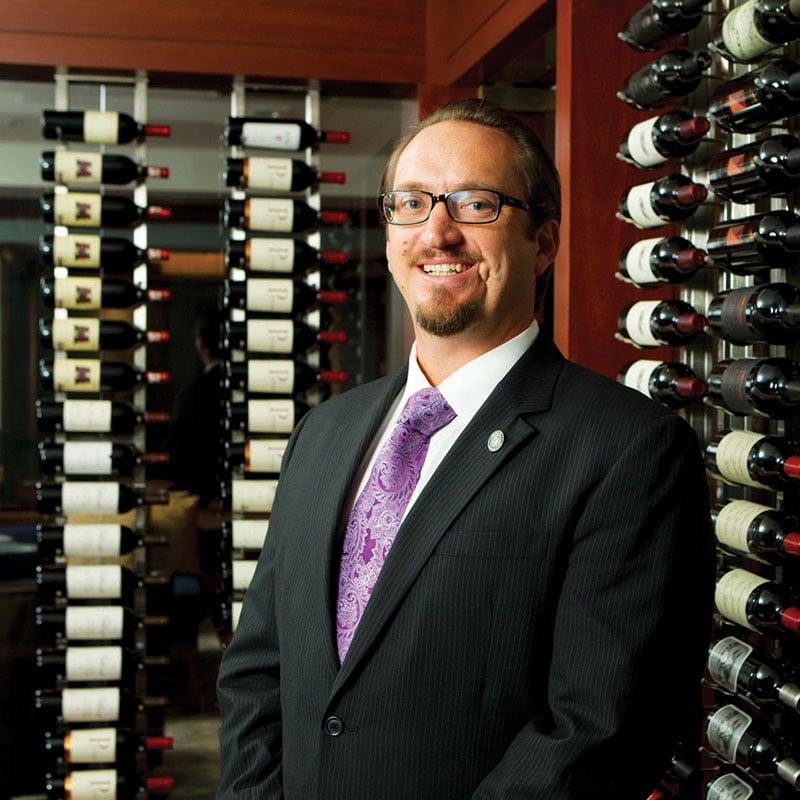 While the words "sommelier" and "geek" don't seem to belong in the same sentence, Myers McDougal admits to a fascination with wine minutiae that is positively nerd-like.
For the past seven years, McDougal, an Advanced Sommelier and the Director of Wine for Seagar's Prime Steaks & Seafood in Destin, has been tasting and studying wine — growing regions, flavor profiles, vintages, even the chemical compounds that can make a wine smell like bananas or green peppers.
"I was geeking out going through a book that has the breakdown for all the different chemicals. And I thought, 'Should I learn this?'" he says.
McDougal is now actively seeking the Court of Master Sommeliers' ultimate distinction — Master Sommelier. He failed the invitation-only exam on his first try, but he had a lot of company — only 10 percent pass the test.
"In my exit, they said I was close, but I need to work on France a little bit more and on my test-taking skills," he says.
After graduating from Tulane University, McDougal worked at French Quarter restaurants in New Orleans, including Arnaud's, where he waited on owner Archie Casbarian.
"He would drink some wonderful wines, and my appreciation kind of started there," McDougal recalls. "He'd offer me tastes of wines like a 1986 Château Beychevelle, '89 Beychevelles and older Latours."
But he got serious about wine after moving to San Diego, working in restaurants whose wine lists earned them top-tier honors from Wine Spectator magazine and falling in with "a really good group of people" who decided to study and climb the sommelier ranks together.
In his position on the award-winning team at Seagar's, McDougal is responsible for curating the collection of more than 600 wine labels that has earned the restaurant Wine Spectator's Best of Award of Excellence for 10 consecutive years.
He's also on hand during dinner service to answer questions and make suggestions — whether it's coaching a novice on how to taste the oak in a Cabernet Sauvignon or suggest the perfect bottle for the most wine-savvy oenophile.
McDougal says his job is made easier by the iPad wine list available at Seagar's.
"It's great," he says. "It is so functional, and it helps me give the guest so much more information in a quick little snapshot. They can read about it and ask me questions. Or, if they're looking for something specific, then they can ask me."
One of the best tools on the tablet for finding a palate-pleasing wine, he says, is narrowing down the list to wines in the 90-point club.
His job, says McDougal, is to find wines that are "delicious and fun and unique."
"When you go to that restaurant and you have a bottle of wine that you've never heard of that's hard to get … that's what you remember for 10 years."