Bert Little Celebrates 17 Years with Silver Sands Factory Stores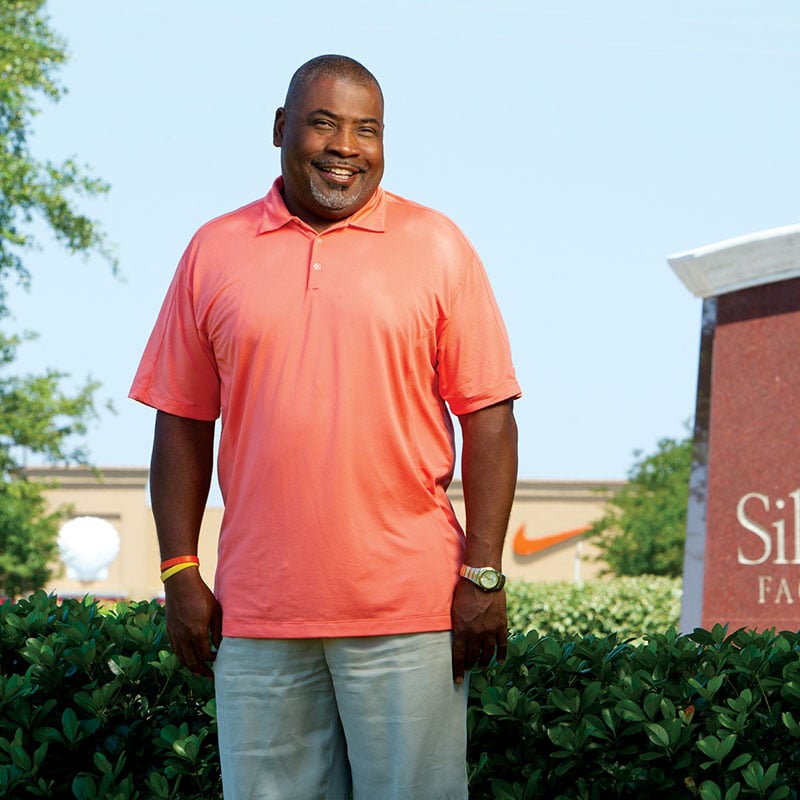 If you see Bert Little on the job in the Nike Store at Silver Sands Factory Stores — which marked its 20th anniversary in August — you'll notice two things. He's not "little" and he's smiling.
At something over six feet tall and weighing in at 275 pounds, the operations manager projects a veritable force field of positive energy that has won over customers and set an example for colleagues and employees for 17 years at the Miramar Beach discount designer store mall.
"I enjoy what I do," Little says. "There's nothing better than to roll out of bed and look forward to work. I tell my employees all the time that this is one of the best jobs they could ever have. Why not smile and make people smile?"
Little's first day on the job was March 17, 1995, opening day at the center's Reebok store. The Fort Walton Beach native and former high school football player recalls the mall before its multiple expansions, when eager shoppers parked on the grass where eateries are now located. Little's career, like the shopping center, has grown exponentially from a part-time temp to a regional operations manager who brings his customer-centric approach to nine stores from Panama City to Little Rock, Ark. As operations specialist for the international athletic outfitter, Little oversees back-of-house operations such as human resources and payroll. He admits to being good with numbers, and in college had set his sights on obtaining both law and accounting degrees. "Law school went out the window early on," the University of West Florida graduate says. "And to be a CPA, you lose that customer connection. I enjoyed business management, not accounting."
No matter if he's visiting a regional store or in his Silver Sands home base, 47-year-old Little is on the sales floor every day during his 50-hour-plus work week. "I can't not have that interaction," he says. "I've got to see customers having that good experience."
Plenty of Change
As Silver Sands added new stores, Little moved from Reebok to Izod and then Bass shops, joining Nike nine years ago. Nike store manager Steve Doan said if he had it all to do over again, he'd hire Little in a minute. "His ability to communicate with the staff and customers, plus his community involvement, make him outstanding," Doan says. "He brings nice energy to the store and the team."
Some of Little's fond memories of earlier times at Silver Sands include the former Morgan's restaurant court and arcade, once located in the building that now houses Saks Off Fifth. The Howard Group center has evolved, the long-time employee says, from being known as an "outlet mall" to a consumer-driven factory store center. "There are no seconds here," he says. "For example, Nike makes products specifically for direct-to-consumer stores like us."
The price tag for both Little's and Silver Sands success involves time spent in vehicles. Little now spends alternate weeks on the road, driving for long hours to other regional Nike stores. Silver Sands' popularity creates traffic tie-ups on U.S. Highway 98 and often puts parking at a premium. Some 22,249,924 vehicles have brought shoppers to Silver Sands in the last decade, according to the center. That's a lot of cars on Highway 98 and an impressive number of parking spaces.
Silver Sands' standards for its retailers are what draw in shoppers, Little believes. "Silver Sands has changed the whole culture of shopping in this area," he says. "There's nothing else like this mall. The high standards and demand for excellence make the difference."
Little instills those same lofty standards in employees. A large part of managing people involves teaching, he believes, perhaps inspired by his 82-year-old mother, a retired Okaloosa County school teacher. Little prefers to motivate employees rather than stand at the front of a social studies class. "Most of them get it, how to communicate and improve the customer experience," he says. "Those are the successful ones." Currently, 10 employees have been with him more than three years, an impressive track record in the retail industry where employees frequently migrate.
Little scores an "A+" in customer loyalty and boasts shoppers who have followed him from store to store. He is most proud of disgruntled folks he transformed into repeat customers. "One woman came in the shop so angry with me," he says. "Her husband and son had picked out shoes, and she was not happy with them at all. I very quickly found out who the real buyer in the family was! I helped her, and she has stayed in touch ever since. She came in the first week I was at Nike. She has me call her now when something new comes in that I think she will like."
Satisfied Shoppers
In 17 years at Silver Sands, Little has become close to generations of shoppers. One family started doing business with him when their youngest child was 3-years old. She has now graduated high school. Another young girl who frequently shopped with Little is now a parent with two children of her own. He cites several regular shoppers who drive in from out-of-state to shop with him and at Silver Sands. "They prefer to shop here," he says. "They have money to spend. They could shop anywhere they want. But they prefer here. That's not accidental."
Don't discount the value of the occasional rainy day when beach-goers typically become Silver Sands shoppers. "I have a rain dance," Little says. "At least one day a week during Spring Break and summer we need a really good rain."
Little feels strongly about giving back to the community, a principle shared by Silver Sands, he says. He has been a tireless volunteer for many years and is the 2013 Board Chair Elect for the Boys & Girls Club. A regular at the gym between 5 and 6 a.m., Little is a strong proponent of the organization's effort to get kids "off the Xbox and on to the basketball court or soccer field."
Nike and Silver Sands have been huge supporters of the Boys & Girls Club efforts, he says. "They support so much in the community. They invest in anything that helps kids. [Howard Group marketing vice president] Myra Williams and [Silver Sands marketing manager] Katie Johnson are always asking me what they can do to help. If I need help with a organization's project, they are in."
Mention retirement and Little shifts uncomfortably in his seat. He plans to retire with Nike, sometime in the distant, nebulous future. The manager prefers to think in terms of continuing to evolve, just as Silver Sands has evolved to meet economic and consumer demand. "I guess I'll retire when I can't bring a smile to customers' faces," he says. "I feel like I am really part of something here." He can't imagine what retirement might hold. For now, he is looking forward to another decade or so at Silver Sands and in our community.