Beer Here!
A New Generation of Craft Beer is Brewing Up on the Emerald Coast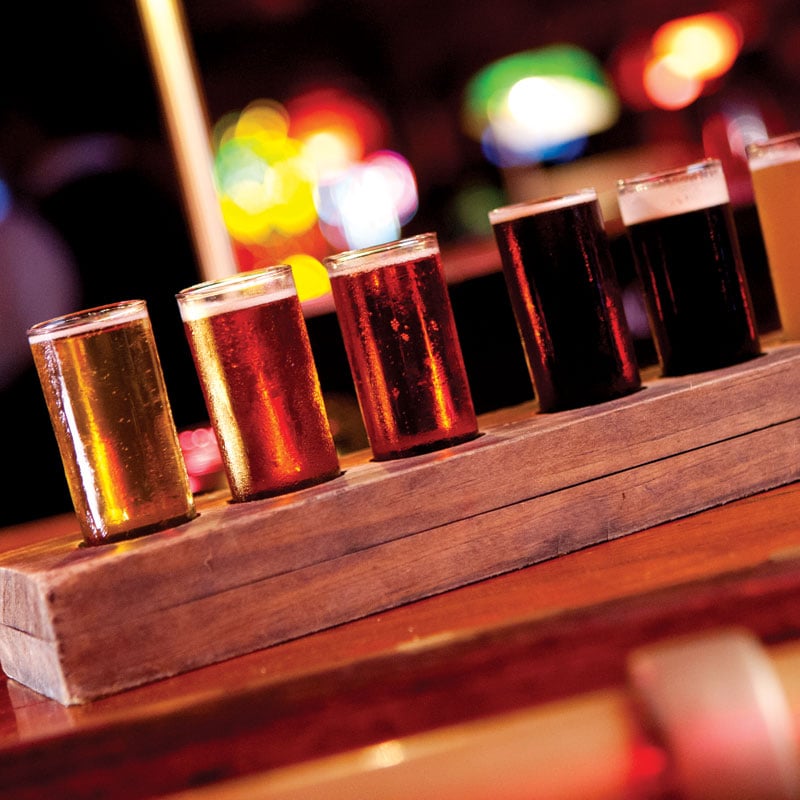 No doubt about it, craft beer has become big business on the national and regional levels in recent years. Whether you prefer to tap into domestic, imported, local labels or your very own brewed "basement" batch, you are not alone in your love of suds here on the Emerald Coast. Since it is Oktoberfest season, we thought we'd fill our pages — and a stein or two — with a sampling of the pubs, brewers, beer-laden events and recipes we have found along the Emerald Coast. To all of them we say, "Prost!"
---
Raising the (Underground) Bar
It really wasn't that long ago when the term "homebrew" might have involved images of moonshiners distilling "white lightning" in remote rural areas while remaining ever wary of federal government agents known as "revenuers."
But for at least the past 30 years, there have been some bold homebrew innovators proudly involved in what they will tell you is "zymurgy," which Mike Nelson of Fort Walton Beach is quick to mention is the last word in the dictionary, defined as "the branch of chemistry concerned with fermentation processes in brewing."
Nelson is president of Homebrewers Underground Emerald Coast Florida, which deliberately shares its HBU acronym with the term "Hop Bittering Units."
This club has been around since the early 1980s, according to Nelson. Sometimes referred to as "a drinking club with a brewing problem," it has about 30 dues-paying members who live anywhere from Navarre to Ponce de Leon, and meetings are held on the second Saturday of each month.
"Everything in the craft has gotten better," Nelson said, "mainly because of the availability of ingredients. Any brewer can go Internet shopping for supplies at 3 a.m., and we do it. Anything you can want your beer to taste like, you can make it happen."
Anything? "Quite a few of us have tried garlic beer," Nelson replied with a chuckle. "It sounds like a good idea, but some things just don't work."
But while some homebrewers enjoy bonding and sharing, others find a certain appeal in doing things on their own, without joining a club. Someone like Luke Girman is an example of this generation on the rise.
Girman recently moved from Crestview to Destin because of his position as assistant manager and beer expert with Kelley's Beach Liquors.
Introduced to homebrewing by a fraternity brother at Bowling Green State University, Girman has been making his own beer for nearly three years.
In that time he's produced more than two dozen 5-gallon batches, ranging from ambers to stouts to an Irish red and a vanilla porter. "But no India Pale Ales or pale ales — that's not my style," he said.
A 5-gallon batch can cost anywhere from $20 to $60 to produce and the process can take from four weeks to two-and-a-half months, according to Girman. Basic ingredients are available in kits and involve grain (barley, rice, wheat or rye), yeast and hops.
First comes making the "wort," which is what becomes beer. The grain is boiled at a temperature of about 150 degrees and then left to sit for about an hour. This helps pull the natural sugars from the grain. Then the wort is brought to a full boil, and the hops are added at three different times.
First comes the bittering hop (the most pungent) at the point of boiling. With about 15 minutes left in the boil is the flavor hop. When the boil is topped comes the aroma hop. Then the wort is left to cool to about 70 degrees, and this is when the yeast is added. This begins the fermentation process that turns the wort into the finished product of beer.
"You can do different things to get the alcohol content up, but in doing so, you sacrifice flavor," Girman said. "You can use more sugar and the stronger yeast, or you can even add table sugar or honey."
Just before and during fermentation, a hydrometer (a calibrated flotation device) measures the amount of sugar and the density of fluid. Sugar is dense, alcohol is lighter. Then comes a second stage or fermentation, in which the liquid is transferred to another vessel. This helps to clarify the beer and get rid of the sediment. Once that process is complete, the brewer has to decide whether the beer will go into kegs or bottles.
"I bottle all my beer," Girman said. "A 5-gallon batch yields about 48 12-ounce bottles. The good majority I give out to people. That way I can get feedback on what they like or dislike. It also helps to get people interested in brewing themselves. I had a couple batches where I was not overly thrilled," he recalled, "but the unwritten law is, 'You brew it, you drink it.' So you're not being wasteful."
But success apparently makes up for any failure while learning. "Vanilla Porter is by far my favorite," Girman said. "It had just the right amount of sweetness and the right amount of bitterness. It went down very, very easy."
Where to Belly Up to the (Micro Brew) Bar
If you don't have your very own brew in a barrel in your basement, don't worry, there are plenty of other options to fill your mug. While one local restaurant has patiently produced its own brew for almost 25 years, several other operations have recently tapped the Emerald Coast market.
"When we started out, craft beer was 1 percent of the overall beer market," said Tom Anderson, the brewmaster at McGuire's Irish Pub, which has locations in Pensacola and Destin. "Now we're at 11 percent and still growing."
McGuire's offers six of its own beers on tap at all times, and annual rotation can mean it offers as many as 10 selections. So strong is their local identity that Anderson says of regional craft brewers such as Terrapin, SweetWater or Sierra Nevada: "We're not chasing them, they're chasing us."
Mainstays for McGuire's are beers such as Millennium Ale and Scotch Ale, and six-packs of its Irish Red can be found in many local retail stores.
Anderson is particularly proud of his Imperial Stout, the ingredients of which include cherry wood smoke malt, ancho chilies, Hershey's extra dark cocoa and 84 pounds of extra cherries.
"It's the port wine of beer," he said. "It's 9.5 percent alcohol by volume, and it has such a depth of character."
And, of course, Oktoberfest is always a seasonal favorite. "It's a little different every year, but we've got it pretty well dialed in," Anderson said. "When you've got that Munich and Vienna malt and German hops, you can't go wrong."
Located just off Seville Square near downtown Pensacola, is the Pensacola Bay Brewery, which belongs to Elliott Eckland and Mark Robertson. It is not a restaurant or a pub, but you can get chips and a cheese platter if you visit the tasting room.
"Once you get used to drinking a good craft beer, it's very hard to go back," Eckland said. "It's like drinking fine wine and then going back to MD 20-20."
Pensacola Bay Brewery's products are traveling as far as Tampa and Clearwater, and demand creates expansion.
"We're brewing four batches a week, sometimes more," Eckland said. "We've got five tanks and three 30-barrel fermenters. (A barrel is 31 U.S. gallons). We plan on brewing two batches five or six days a week."
Raspberry Berliner Weiss was a big summertime hit, and a special Oktoberfest is being produced for an inaugural Oktoberfest event to be held at New World Landing in downtown Pensacola.
As far as competition is concerned, Eckland stated: "There are no secrets in the brew business. We all help each other … there's plenty of room for everybody."
It took five months for Dane Randall to produce the first product at Props Craft Brewery — a Fort Walton Beach pub owned by Air Force pilots Nathan Vannatter and Michael Kee, which opened near the Brooks Bridge in late 2011. But the debut of Four Kings (an American brown ale) and Flying Coffin (an IPA) has been successful.
"We've got about 160 gallons in two tanks," Randall reported earlier this year. "We spend one day brewing, seven days of fermenting and the last three days carbonating each batch. It wasn't as easy as we thought to produce, but it's been very well received. It has its own niche market. Like steak or like seafood, it has its own following."
Jamey Price is two years into his dream project and reports that construction of Grayton Beer's first brewery has begun in the South Walton Commerce Park. Making its debut in 2011, Grayton Beer's Pale Ale and India Pale Ale are being produced under contract by a third-party brewer.
"The response has been extremely positive," Price reflected. "You will always have naysayers. We don't have to make beers that everybody likes, but at least one they will love."
The footprint of the brewery calls for 15,000 square feet located on almost two acres, with options around it that would allow for expansion. "We've doubled our projections so far," Price said. "The key to our success has been owners, managers, bartenders and servers, along with retail outlets, being able to relate who we are to the consumer."
Once the brewing becomes local, plans call for American-style Kolsch called "Land Cruiser," which would be 4.2 percent alcohol by volume. "We've been working on that beer for about two years," Price said. "The key to us is consistency. It needs to be real clean and crisp. We are at the beach trying to get a beer that people can consume more than a couple of."
Cooking with Beer
Why limit your favorite beer to a frosty mug? Here are a few sweet and savory recipes from local chefs that allow you to pour on the flavor. Cheers!
Smoked Chicken & Andouille Sausage Gumbo
5 lbs. pulled smoked chicken meat
4 lbs. Andouille sausage, cut into quarter-size medallions
4 ½ cups canola oil
4 cups all-purpose flour
2 pounds diced yellow onions
2 pounds diced green bell peppers
1 gallon beef broth/stock
72 ounces beer, Bud Light (or similar)
⅔ cup Cajun seasoning (unsalted)
½ cup garlic powder
⅓ cup celery salt
1 teaspoon round black pepper
1 teaspoon ground white pepper
Dash of cayenne pepper
Pour oil into a stock pot and set on high/medium high heat. Once the oil becomes hot, and before the smoking point, add the all-purpose flour. Using a whisk, stir until the flour and oil are completely combined and smooth. Turn heat to medium/medium high and continue stirring with the whisk until the roux becomes a peanut butter color and begins to have the aroma of toasted peanuts (approximately 45 minutes). Add the diced green bell peppers and diced yellow onions to the brown roux. Continue using the whisk and stir until vegetables are coated evenly with the roux. Cook vegetables until they become soft and roux becomes darker, about the color of chocolate (approximately 15 minutes). Add the beef stock, beer and seasonings. Stir well until the soup is smooth and there are no lumps. Raise heat to high and bring to a boil. Add the smoked pulled chicken meat and the andouille sausage. Lower heat to low-medium and allow gumbo to simmer for 25 minutes.Remove from heat and serve immediately or cool immediately. Serve with rice. Yields 3 ½ gallons. Recipe courtesy of Chef John Sallman of Salty's Seafood Rolls & Gumbo
---
Blueberry Beer BBQ Chicken
Serves eight
1 whole chicken cut into eight pieces
6 12-ounce bottles Wild Blue beer
½ cup brown sugar
½ cup ketchup
¼ cup Worcestershire sauce
1 pint blueberries
1 teaspoon garlic, chopped
Salt and pepper to taste
In a sauce pot simmer the beer until it has reduced by 75 percent. Add the brown sugar, ketchup, Worcestershire, blueberries and garlic. Simmer for 10 minutes or until the blueberries pop and cook down. Season with the salt and pepper. Preheat a grill to medium high heat, place the chicken on the grill skin side down. Cook until ¾ done, then turn the pieces over. Once chicken is almost done baste the barbecue sauce mixture over the chicken pieces. Repeat frequently.
Note: If this is done too early, the sauce will burn and have an undesirable flavor.
Serve with the remaining barbecue sauce for dipping.
Recipe courtesy Chef Dan Pettis, One 20 A Modern Bistro
---
Warm Guinness Spice Cake With Lemon Custard Ice Cream
1 cup Guinness stout
1 cup molasses
½ teaspoon baking soda
2 cups all-purpose flour
1½ teaspoons baking powder
2 tablespoons ground ginger
1 teaspoon cinnamon
¼ teaspoon allspice
¼ teaspoon nutmeg
1 pinch cardomon
3 whole eggs
1 cup brown sugar
1 cup granulated sugar
¾ cup vegetable oil
Pre-heat oven to 350°, then butter and flour your bundt cake pan. In a saucepot, bring the stout and molasses to a boil, turn off and whisk in the baking soda. Then cool to room temperature. Mix the flour, baking powder and spices in a large mixing bowl. Whisk together the eggs and sugars, then whisk in the oil. Then whisk in the molasses to the egg mixture and mix well. Add the wet mix to the flour mix and mix just enough to incorporate, but don't over mix it. Pour the batter into the bundt cake pan and rap the pan on the counter to release any air bubbles in the batter. Bake cake until a pick comes out smooth, about 50 minutes.
---
Lemon Custard Ice Cream
1 quart heavy cream
1 cup sugar
½ cup lemon juice
3 tablespoons lemon zest
2 teaspoons vanilla extract
7 egg yolks
In a non-reactive saucepot combine the first  five ingredients and bring to a light simmer. Whisk in the egg yolks and continue to whip until the eggs thicken the sauce slightly. Strain the ice cream through a fine mesh. Cool the ice cream in the cooler and freeze according to the ice cream makers instruction. Recipe courtesy of Chef John Jacob of Vintij Wine Boutique