Ballet Mistress Dorothy Lister is Still On Her Toes
Six decades after dancing in the Northwest Florida Ballet, beloved Ballet Mistress Dorothy Lister shares memories of Ballet Russe de Monte Carlo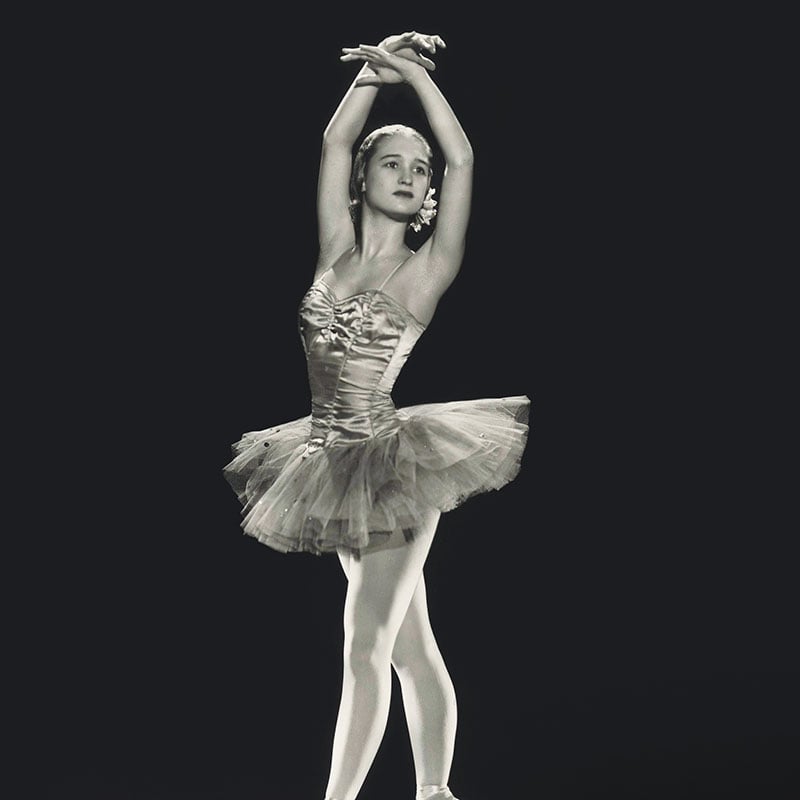 "This is dance history right here," Northwest Florida Ballet artistic director and CEO Todd Eric Allen says affectionately as he nods to his 82-year-old mentor, teacher and pseudo-mother, Dorothy Lister. In 1998, Allen invited Lister to serve as NFB's Ballet Mistress upon her return to her hometown of Pensacola, where her love of dance and her formal dance training began.
Lister continued her training in New York at the Swoboda School, with Ballet Russe de Monte Carlo. She performed many of the famous pas de deuxs from various ballets across the country. Lister began her teaching career at the Brooklyn Academy of Music and joined the Joffrey Ballet Company, where she taught technique to children for 25 years. She continued to coach dancers (including Allen), performed on and off Broadway with the likes of Bernadette Peters, Mickey Rooney, Elaine Strich and Joel Grey and co-authored "Conversations with Choreographers" (1996).
Lister has worked professionally in the world of dance for more than six decades. This is not typical, but neither is she. Petite, fiery and funny, she has shared the stage with every notable dancer, choreographer and artistic director in the worlds of dance and musical theater, from Alicia Alonso to Leonide Massine.
"She really has taught every major artistic director," Allen says. "Nearly everyone (in the business) has a story about Dorothy." And so does Allen. At the age of 15, Allen honed his technique at the Joffrey School of Ballet in New York, beginning each day with Lister's class.
"She's really tough," he says. "Her dancers are really strong, because she has a lot of attention to detail. … If you make it through her class, you have a shot."
Over the course of her extensive career as dancer-turned-teacher, Lister has kept hundreds — if not thousands — of children "on their toes" … literally. Feet are a point of pride for Lister, who was lauded for her "pretty feet" by many, including Ballet Russe choreographer Frederick Ashton. But beyond good feet, Lister says a good dancer also has to have "ballet ears, eyes and a ballet brain" — meaning, the capacity "to put things together better than any computer … plus a passion for doing it."
After all these years, Lister's joy for dance still sparkles like the delicate diamond swan pendant she wears around her neck. Dance isn't something she does, it's who she is. "My mother swears I was born dancing," she quips.
Perhaps the only thing she loves as much as dancing is teaching. "I love children," she says. "I find that children love to learn. It can be a challenge. It takes discipline and focus, and for some reason, they listen to me."
All ballet-lovers' ears will be tuned to Allen's refreshing spring staging of "From Russia With Love," which will include live orchestra accompaniment from the newly formed NFB Symphony Orchestra, led by David Ott.
"It's amazing. Ideally, it's the way classical ballet should be enjoyed," Allen says.
"From Russia with Love" features three of the world's most celebrated works from the legendary Ballet Russe de Monte Carlo: "Firebird," "Scheherazade" and the pas de deux from the balcony scene of "Romeo and Juliet." Each love story is lavishly staged with stunning sets and costumes. Lister has performed them all — including the first two in the Ballet Russe de Monte Carlo — which makes the show especially exciting for her to "set."
"It takes me back to my performing years. Luckily, I still have the capability of remembering, and I was smart enough to take a few notes," she says with an impish smile.
Allen feels honored to have worked alongside his beloved mentor and teacher for the last 18 of his total 21 years leading the NFB. "(Lister's) level and expectations are of the highest caliber. That's the place she comes from," he says. "She's always pushing me in some way." And surely it's from her core: her ballerina's heart.
---
"From Russia With Love"
April 1, 7:30 p.m. & April 2, 2:30 p.m.
Mattie Kelly Fine Arts Center, Niceville
Purchase tickets online at nfballet.org.
---