At 83, Audrey Bailey Is the Shining Star of the Theatre
The senior usher enforces respect for theater at the Mattie Kelly Arts Center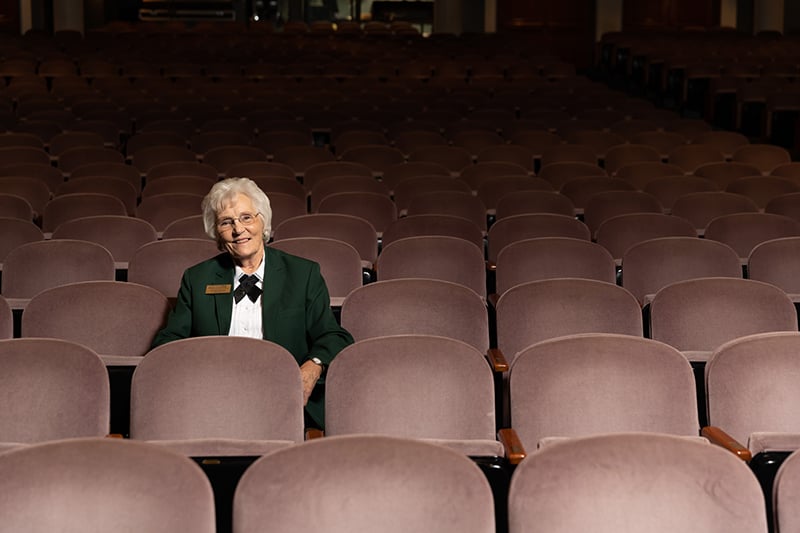 An hour before curtain time, patrons begin arriving at the Mattie Kelly Arts Center at Northwest Florida State College in Niceville for a scheduled performance.
As they enter, head usher Audrey Bailey jumps into action, greeting people as though they were entering her living room.
She jokes around as she directs them to the theater entrance and answers questions. She points them toward the box office, restrooms, elevators and the concession stand.
Whenever a disabled patron needs assistance with seating in the front of the theater, she guides them toward a special lift.
The Arts Center has become a second home for the 83-year-old Bailey, a native of England.
She knows every inch of the building — from the shop where sets are built to the room where costumes are sewn to the vast prop area in the building's basement.
She spends a portion of every day making sure the theater is always in pristine condition.
On performance days, Bailey is the first usher to arrive at the theater and the last to leave.
"I grew up in London, so I always loved the theater," Bailey said. "And I love this place. I've been volunteering here for more than 20 years. This theater and the people in it mean a lot to me. I get more out of being here than anyone realizes."
That's in part because Bailey's past is filled with sadness and tragedy. Her three siblings and a nephew succumbed to either health problems or accidents at a young age. Her husband of just 15 years suffered with cancer and passed away in 1985.
"When I became a widow, I needed a way to go on," Bailey confided. "I needed to be around people and get involved. I just couldn't sit at home. The people at this theater are my family now."
Bailey began her ushering duties in the old gymnasium on campus before Mattie Kelly was built.
"I was at the symphony one evening and a college employee announced a need for ushers," said Bailey. "I came forward, and I've been hooked ever since. Two of us took the lead, and we started soliciting people to work as ushers at various performances.
"Everyone was thrilled when Mattie Kelly was completed in 1997." Bailey said. "It was a real theater."
After a period of time in the new theater, Bailey became the sole head usher when her partner moved away.
It wasn't long before she expanded her volunteer duties. She began bargain shopping for soft drinks and snacks for the concession stand, purchasing T-shirts to sell for local productions and promoting an "usher's fund" for a student scholarship.
Soon after Mattie Kelly's opening, Bailey was approached by Clint Mahle, the scenic design coordinator.
"He needed help painting scenery for the local productions. I figured I could do that. He told me what he needed, and I've done it every year for as long as I can remember. They even bought me my own ladder to use.
"I am so inspired by all the talent here," Bailey said. "I am constantly amazed by the technical crew and the performers."
All who work at Mattie Kelly agree that they are just as enamored with Audrey.
"She is no ordinary volunteer," said Suzanne Flood, Mattie Kelly's house manager. "She is so dedicated. I really count on her. She volunteers long hours and helps solve problems as they arise."
"I would never criticize the patrons," said Bailey in her thick British accent, "but I do wish I could teach some theater etiquette to a new generation. I know times have changed, but theater is not a movie. It is special. Some people get irritated with me because I won't show them to their seats until a natural break in the performance. And then there are the cell phone issues and unruly children to deal with.
"But the patrons are generally wonderful. I tell people when I like their outfits or they have pretty jewelry on. It makes the theater less stuffy and more friendly."
With pride, Bailey noted, "I have a key to this theater, which means the staff have a lot of trust in me. I'm not afraid to be here when the place is empty or dark."
Several years ago, Bailey stayed overnight at the theater when a hurricane hit.
"I knew that this building was much safer than my own house. And, I wasn't the only one here. The college president and a few others also stayed."
"People think that at my age and because I have a pacemaker, I should rest and slow down," Bailey said.
"That's not me. If I am not at the theater, then I am on the golf course. Those are two places where you find really nice people."