At 790, Jeremy Johnson Puts New Spin on an Old Fashioned
His complex syrup elevates this classic bourbon cocktail.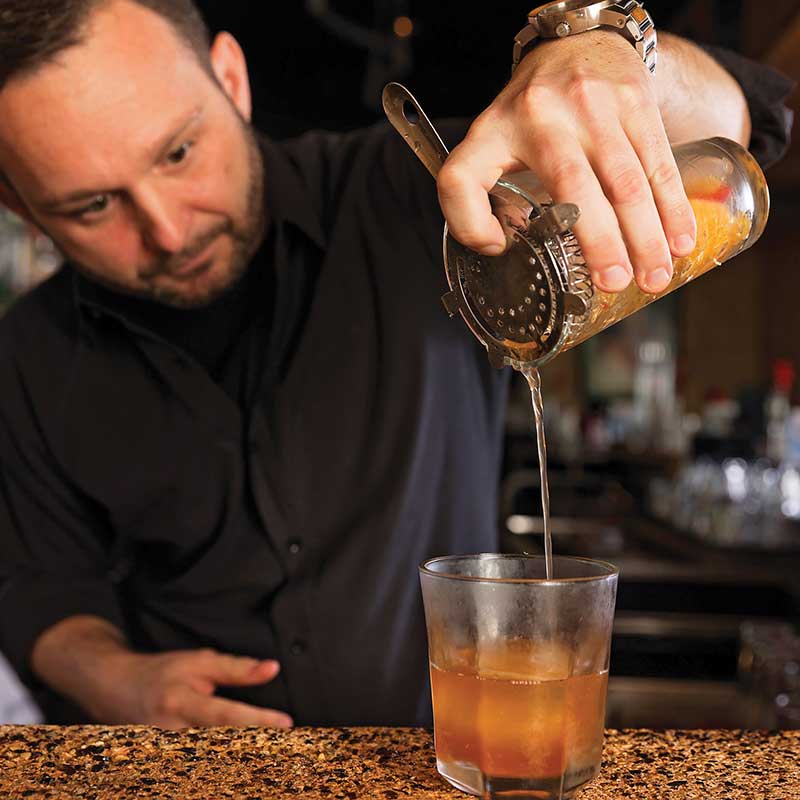 Jeremy Johnson grew up in Louisiana. When he moved to Destin five years ago, he quickly made a major Cajun connection.
After growing up in restaurant kitchens, he went from "the back of the house" to "the front of the house" at 790 On The Gulf, which is located inside The Inn at Crystal Beach.
Louisiana natives Ed Ward and Christine Paris own and operate 790 on the Gulf, and they saw something in Johnson that moved him into a bartender's role.
So it was only natural that "JJ" would connect with visitors from back home. And this connection would produce a recipe that would give new dimension to a cocktail established early in a previous century.
Say hello to the "Cocodrie Old Fashioned."
"One of my awesome (customer) families came from right outside Baton Rouge and they owned a fish camp in Cocodrie," Johnson explained. Located far southwest of New
Orleans close to the Gulf of Mexico, this fishing village takes its name for the Cajun word for "crocodile."
Turns out the husband of that family wound up sharing something special with Johnson.
"We're were just talking about cocktails, and he's a big bourbon man," Johnson recalled. "He loves Blanton's and I love Blanton's."
In 1984, the world's first single barrel bourbon to be marketed commercially was released under the label "Blanton's Single Barrel Bourbon," named in honor of Col. Albert B. Blanton.
What sets the Cocodrie recipe apart?
Instead of using sugar water (simple syrup) along with bitters to muddle the fruit, it involves a "complex syrup" made from one cup of cane sugar, one cup of brown sugar and one cup of honey, all of which is heated and reduced with water in a skillet.
"Regulars say 'JJ, let me get your mix,' and I know exactly what they're talking about," Johnson said. "For first-timers, I tell them: 'If you don't like it, I'll make you a new one."
And how has that worked out?
"I've never had to make a new one," Johnson said, and his smile said the rest.
One of 790's regulars is Tim Collins, who lives in Miramar Beach's Seascape Resort. Accompanied by his wife, Lydia, he visits several times a week.
"I'll tell you what, man, I don't order anything else when I go in there," Collins said. "It's just the perfect mix of bourbon and sweet and all that wrapped into one."
And what makes it taste so special?
"It's smoother, and the complex syrup is absolutely the difference-maker," Collins said. "It's different than anything you ever had, and if you're a bourbon drinker, it's going to be better than anything you ever had. All the elements connect."
Cocodrie Old Fashioned
➸ Combine complex syrup and five dashes of Peychaud's Bitters to muddle a maraschino cherry and an orange slice.
➸ Add 11⁄2 ounces of Blanton's bourbon.
➸ Pour into a mixing glass with ice and stir with a spoon until chilled.
➸ Strain over one large ice cube into a 10-ounce cocktail glass.
➸ Garnish with a Luxardo cherry and the rind of the orange slice.