Aromas by the Room
Home, sweet-scented home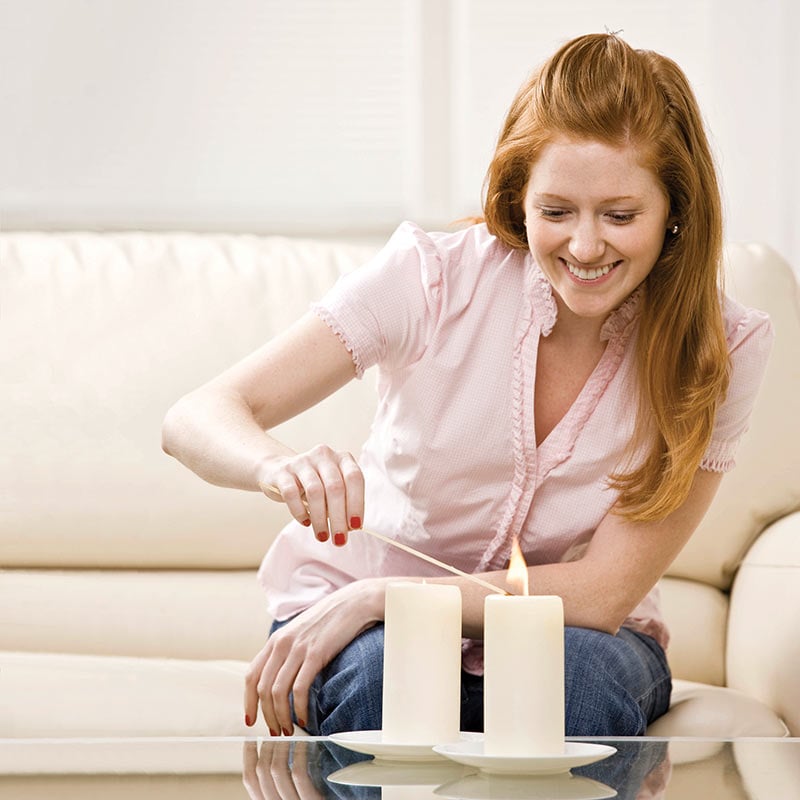 Certain scents evoke memories that transport us to times past. They can affect our moods and appetites. They can relax, seduce and inspire. But when they are combined with the gentle glow of candlelight … the result is pure ambience. No small wonder, then, that scented candles have emerged as essential home accessories. 
The trick is to pick the right candle. That's a tall order, first because of the thousands of choices out there, and second, because the names of scents, like paint colors, can be a bit too creative. It's easy to understand a fragrance like "Warm Sugar Cookies," and we can even wrap our minds around "Summer Linen." But a name like "Angel's Wing" leaves us shaking our heads. Who in the world knows what an angel's wing smells like?
"You'll just have to sniff your way to a favorite," says Jared Waites of The Honey Pot, a Destin company that creates beeswax candles and other products from the yield of local hives. "Our products are completely natural, and we think straight-forward names suit our scented candles. We do scents like 'Pumpkin Pie' and 'Cherry Cobbler' that evoke instant memories of visits to Grandma's house. … Other scents of ours, like 'Herbal Essence,' 'Cucumber Lemon' and 'Coconut Lemongrass' have outdoorsy, very Floridian connotations that add freshness to every room in the house."
Of course, candles aren't the only sources of fragrance for the home. Others include reed diffusers, room sprays, incense, potpourris, wax melts, oils and even cleaning products, all of which come in a variety of scents.
Fragrance expert Rayda Vega says that it's helpful to think of a scent as if it were a piece of music. "In a living room, you'd usually want soft background music," she says. "A subtle floral is the scent-equivalent to that. … For the kitchen, something that's a little bit mouthwatering — apple, fresh pear, or thyme — works well. Avoid florals, here. They'll get in the way of food aromas."
For the man-cave, try something like "Icon," from the Tyler Candle Company. This fragrance has notes of sandalwood, ambergris, iris, violet and verbena. And don't forget fragrances for the car! If you travel with a pet, try a Febreze car-vent clip.
---
DIY Scents
Create your own home fragrances year round by simmering waters infused with herbs, fruit and spices. Bring 3 cups of water to a boil. Add the ingredients of your choice. Boil the infusion for 3 minutes, then turn it down to a simmer. Add water throughout the day, as it evaporates. Infusions will last two weeks in the refrigerator and can be reheated. 
Autumn:
3 cinnamon sticks

Rind from 1 orange

Core of 1 apple

1 Tbsp. whole cloves, dried
Winter:
1 cinnamon stick

Handful of green pine needles

1 Tbsp. vanilla extract
Spring:
2 whole lemons, sliced

3 sprigs rosemary

1 Tbsp. vanilla extract
Summer:
4 sprigs lavender

1/2 cup eucalyptus leaves, torn

2 bay leaves