…And Baby Makes Eight
Family Provides Special Needs Children with a 'Forever Home'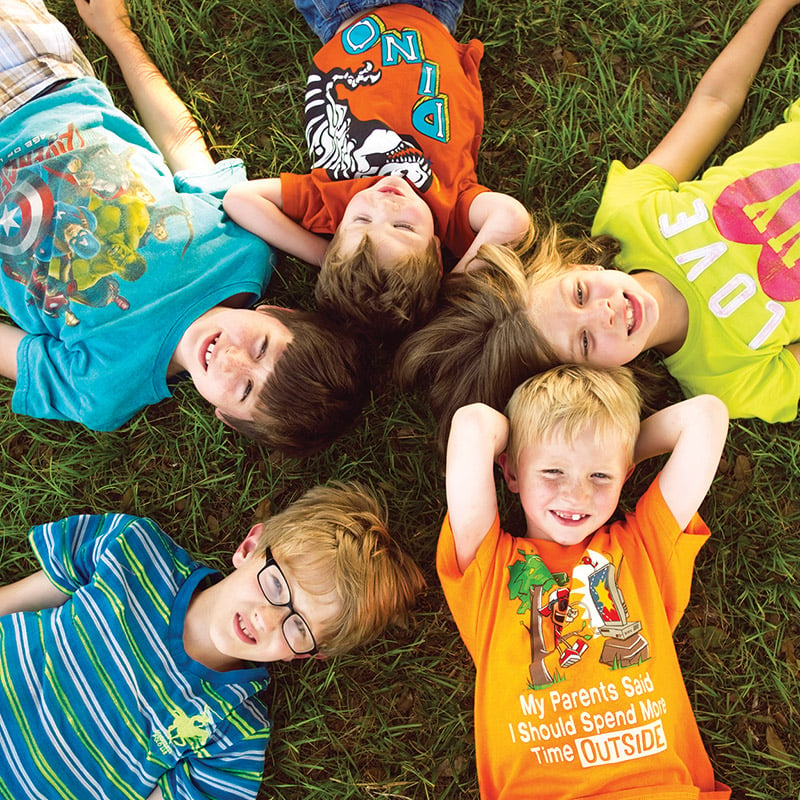 There may be a two-seat Ferrari in James Raffield's future, but for the time being the Milton resident is perfectly content behind the wheel of his eight-passenger vehicle.
Raffield, who has an infectious laugh and quick wit, and his wife, Julie, are the proud parents of two boys — one 7 and the other 9. Like most families, the day-to-day hustle and bustle keeps them busy, whether it's preparing breakfast, rushing to get ready for school, planning an outing to the Gulfarium or getting ready for bed.
But for the Raffields, a family of four wasn't a destination. You see, James and Julie had known for quite some time that they wanted to adopt, and after all the t's were crossed and i's dotted on June 2 in front of a local judge, the Raffield family officially grew by three. James and Julie were now the proud parents of a 2-year-old, two 7-year-olds and two 9-year-olds.
"When we talked about children, we knew we wanted to have our own, but we also knew we wanted to adopt," James said. "There's so many children out there that need to be adopted."
"We went in wanting to adopt a single girl," he added.
Well, we see how that worked out, but that's perfectly fine by James and Julie, who were matched with their new children back in May of 2015. Later that month, the Raffields met the kids for the first time at a park.
"It just felt right," James recalls of their initial meeting.
In June 2105, the three children moved into the Raffields' home on a foster/legal risk basis. Over the next year, the Raffields and their children patiently waited for the adoption process to play out ahead of the June 2 finalization.
Although it had taken quite a bit of time to get there, James said he and Julie, as well as the kids, were calm as they stood before the judge.
"We had anticipated this for so long," he said. "The kids were all excited."
While the Raffield family may have just expanded from four to seven, there is another adoption in the works. Once finalized, the Raffields will officially welcome a 7-month-old baby to the family.
It's been years since James and Julie have had to change diapers, but James said he's an old pro when it comes to changing a baby. For James, it's the baby spit-up, not the diapers, that has him a bit uneasy.
Although the Raffields knew they wanted to adopt early on, they had no idea where to even begin the process.
In the state of Florida, there are four types of adoption: entity adoption (an agency or intermediary facilitated adoption), step-parent adoption, close relative and the adult adoption, according to adoption information found at floridabar.org.
"A guy named Travis Hill had come to our church and was talking about the adoption process and a program that was going on," James said.
Tim Skipper
Julie and James Raffield had two children of their own when they committed to adopting one more. But one became four. "We saw a need," James Raffield said.
Hill connected the Raffields with the team at the Families First Network, which is associated with the Baptist Health Care system. Families First Network works in partnership with the Department of Children and Families to provide a variety of foster care and related services with entities such as the Lakeview Center, judiciary subcontracted service providers, foster parents, the District One Community Alliances, agency stakeholders and the community, according to its website. Their services include case management for out-of-home and in-home placements; foster home recruitment, training, recommendation for licensure, and support; adoption support; independent living program; dependency court resource facilitation; subcontract management; and other related services to abused and neglected children and their families.
Children that are placed in foster homes and with adoptive families through the Families First Network have had their parental rights suspended by the judicial system and are considered to be "special needs," as they can come from homes or situations where they didn't have a proper upbringing or family setting.
But that doesn't mean these children are problematic or will be difficult to raise and nurture.
"A lot of people have a misconception that a child did something wrong or they are broken," said Linda Roush, director of community relations for the Families First Network in Pensacola. "That's simply not the case."
In Florida, statistics show there are more than 1,000 children waiting to be adopted. Many are located on the Emerald Coast and are older, school-aged children and part of sibling groups who want to grow up with their brothers and sisters. While they may have been abused or have physical or emotional challenges, Roush says all they want is to find their forever home. The Families First Network, which has been working in foster care and adoptive services since 2002, finds forever homes for about 200 kids a year on average.
"Every child needs a place they can call home," Roush said. "They are going to experience life events where you want a family to be there to experience it."
When it comes to adopting children through the Families First Network, there are specific requirements that must be met by a prospective adoptive family. Both married and single adults may apply to adopt, and prior parenting experience is not required to adopt. Adoptive families must have sufficient income to meet their own expenses, as well as those of the adopted children, but there are no set income limits for adoptive families. Adoptive families must have sufficient room in their home for an adopted child, but there are no set requirements about housing. Adoptive parents must have sufficient physical and emotional ability to meet the needs an adopted child, but otherwise there are no restrictions on the age or medical conditions of an adoptive applicant. Finally, individuals convicted of certain crimes of violence such as child abuse, domestic violence or murder may not adopt.
As for the adoption process itself, all prospective adoptive families must complete a two-hour orientation and a 27-hour training program called PRIDE, which stands for Parent Resources for Information, Development and Education. The program, which has no cost, helps prepare prospective foster and adoptive parents with important information on how trauma impacts a child's growth and development. The program also helps families know what will be expected of them as foster and adoptive parents. Adoption applicants must also participate in an adoptive home study. This process includes family as well as individual interviews, police background checks and child abuse clearances, references and income verifications.
"We want to make the best choice" when we are pairing children with adoptive families, Roush said. "Ideally, we want to make sure they get along and have some similar interests.
"You are looking for those little nuances that will help make this a permanent home," she added.
The adoptive families and children spend time together so they have an opportunity to feel each other out. This allows both sides to see if there is good chemistry. The last thing Roush and her team want to do is place a child in a home where the comfort level is not close to 100 percent.
"The process can start over if the child comes back and says they don't feel comfortable with a family," she said. "Because most of them are older, they have preferences and they can verbalize what they want and don't want in a family. Some kids don't want siblings, so that has to be taken into account."
But not all children will find a forever home.
"It's just so heartbreaking when we cannot find a good match for them," Roush said of children in the foster care system who may spend extended time in the program.
For those who may not find a forever home by the age of 18, the Families First Network does offer assistance programs geared toward life skills training, vocational learning opportunities and housing placement assistance. A lot of the young adults who turn 18 will go back to the family they were removed from before they entered the foster program, but they ultimately come back to the program, Roush said.
But why would someone want to adopt a foster child instead of a child from another adoption service? Well, there are no legal fees involved, adoptive parents are vetted and matched with children that are good fits, the child receives a tuition waiver for college from the state of Florida, the child is covered by Medicaid until the age of 18, and funds for counseling or special medical attention are available to help offset those expenses.
"Most of our children are perfectly healthy and they look like any other child," Roush said. "They are not bad kids, it's just more than likely something was wrong with mom or dad."
So it's families like the Raffield's that can make all of the difference in the life of a child in the foster care system, and sometimes that difference can manifest quickly.
On the first night the Raffields' adoptive children spent the night in their home, they had already started calling James and Julie their mom and dad.
"The foster parents had told them we were the people that were chosen to be their forever family," James said. "I guess they were already mentally ready."
While it seemed a bit awkward at first, James said they didn't correct the children. If the youngsters were comfortable calling them mom and dad, that was perfectly fine by the Raffields.
"At this point they were technically not ready to be adopted yet, they were still a legal risk case, which means they could have been reunited with their legal parents," James said.
But it all worked out for the best.
With the June 2 adoption finalization behind them, and the pending adoption of their 7-month-old in the works, the Raffields are turning their focus to the day-to-day activities that any family would enjoy.
"We just want to bring the new kids up to speed, as we need to teach them all the life lessons and expectations that we want them to be familiar with," James said. "That's probably been our biggest challenge so far, teaching them what we expect of them and how to be their best.
"These are children who may not have had the best home life or upbringing, so they are at a disadvantage compared to our biological children who have had seven and nine years to learn our way of doing things," he added.
Looking back 10-15 years, James said he definitely didn't imagine he would have six children, but that's part of the fun and his growth as a man and father.
"These children need help, whether it's educational, spiritual or just plain love," James said, "because they may not have experienced that in the past."
If you look at the day-to-day life in the Raffield home, it has changed just a bit. Or maybe quite a bit now that the family has grown. Everything takes just a little bit longer when it comes to outings. Instead of planning outfits, car seats and bags for two children, the Raffields now have to pack up their eight-seat vehicle for three extra children. Just think about it, with six children ranging in age from seven months to nine years, that's a lot of laundry. In order to accommodate for the expansion, James laughs and says he went out and purchased the largest washing machine and dryer he could find on the market without having to go with a commercial model.
Although it's going to take some time for the Raffields' new children to completely adjust to their new home and new parents, life is amazing for James and Julie, and they are absolutely thrilled with their adoption experience.
"We tell people considering adoption that you have to ask yourself two questions: Have you always loved children? And have you always loved being around children?" James said. "Those two answers should be the same."