Ancient Grains Are Making a Major Comeback
Healthful old-school bites are packed with more protein and nutrients than their modern counterparts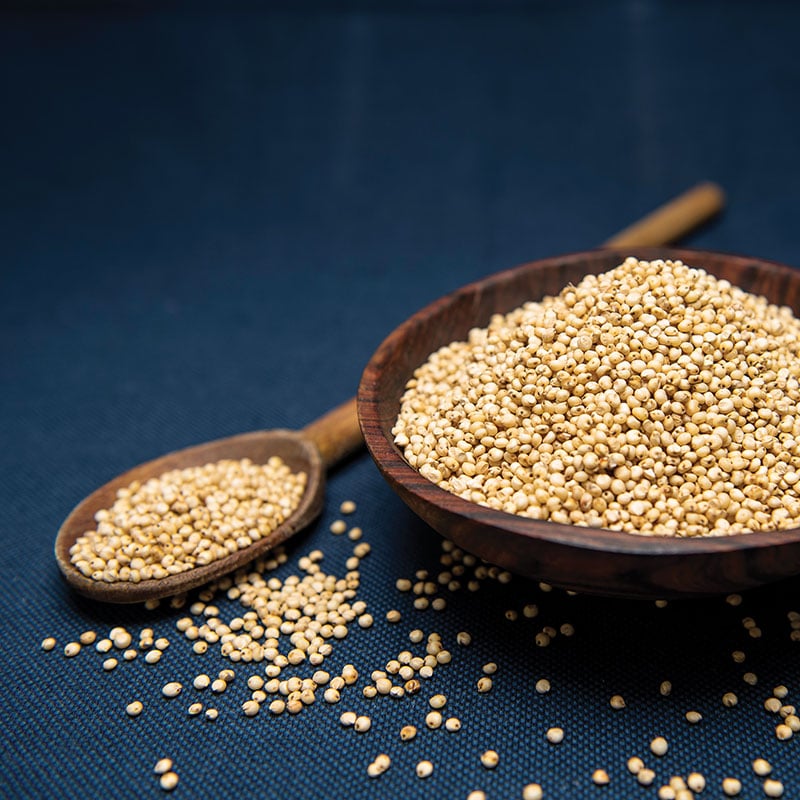 These days, the usual lineup at any potluck dinner is sure to include a flavorful rice pilaf dish, a fresh corn salad, honey wheat hamburger buns and, if you're lucky, maybe even a few oats tossed into a sugary treat. A side dish here, an easy meal there — contemporary palates are no strangers to the readily adaptable qualities of modern grains.
For most people, the consumption of such traditional starches is completely fine in moderation. However, experts caution that processed grains offer
limited nutritional value. For true healthful-eating connoisseurs, there's a
whole delicious world out there — one as rich in history as it is in nutrients.
Cue the Ancient Grains
The term "ancient grains" is a relatively new-age catchphrase for an old-world staple. Seeming to have surfaced in the 1990s, the term gained serious traction in the late 2000s. Bringing with it a certain level of intrigue, the mysterious label packs just as much connotation as it does crunch and refers to various grains and sprouts more prominently found in the Middle East and South America.
In reality, the title is nothing more than a clever marketing ploy — a simple rebranding of its predecessor, "whole grains."
"They've been around for thousands of years," said Heather Fisher, a nutritionist in health promotions at Florida State University. Part of Fisher's job is to help students learn healthy eating habits. For students with more mature tastes, ancient grains are always on the menu.
"Over the course of time, these grains really haven't changed in terms of their composition," Fisher said. "You know, (they haven't been) genetically modified or anything like that. They're pretty clean."
According to Fisher and other health science professionals, the only "ancient" part of grains such as spelt, barley, teff, millet, quinoa, amaranth and many of the other less commercialized morsels are the harvesting techniques used in cultivating them. Because of their relative obscurity in the Western world, they've avoided the high-tech farming methods of the last century. So while ancient grains don't possess any mystical powers or secrets to longevity, as their romanticized nickname might suggest, by remaining unbleached and unprocessed, these tiny crops have been left unadulterated.
If you ask Amy Likins, a nutritionist and the owner and operator of Synergy Organic Juice Bar and Café in Fort Walton Beach, that's a really good thing.
Alpha Omega Bars
"Through commercialization of food, we started seeing wheat everywhere," Likins said. "We started seeing soy, we started seeing corn … But the ancient grains are going to be found more in their whole state."
Compared to eating processed starches (for example, white rice), ancient grains are proven to have more of a cleansing effect on consumers' digestive tract — easily adding much-needed fiber to diets. With elevated counts of valuable vitamins and minerals, including iron, calcium, folic acid, magnesium and many B vitamins, unless you're operating under a severe gluten intolerance, there's really no reason not to cook up a pot full of amaranth for an easy weeknight side dish.
Plus, with just a splash of olive oil and a pinch of salt, ancient grains can be delicious.
"With regard to the health benefits," added Fisher, "the fiber, the vitamins, the minerals, the phytochemicals — these are going to be important for optimal functioning of our bodies and overall wellness. And also for the prevention and treatment of nutrition-related diseases, such as heart disease, diabetes and cancer, and that's just to name a few. Certainly the nutritional benefits are there."
For those looking to lead a more healthy lifestyle, these fiber-full grains have another added bonus — they fill you up, making midnight snacks a thing of the past.
"One major benefit of just trying to incorporate these ancient grains into your diet means that just by default you're going to probably be eating less processed food," said Likins, a longtime yoga teacher on the Emerald Coast.
"Another thing that's going to happen because the grains are less processed and haven't had all the fiber stripped from them is that people are going to be getting more fiber," she said. "That's really important. The ancient grains, the more whole grains, they're going to provide that satiety in fiber."
For curious diners, there are plenty of ways to incorporate ancient grains into one's diet. Whip up a tabbouleh salad, for example. Or revisit Mom's famous cookie recipe. Many well-known consumer brands (Likins recommends Kashi) also utilize these sprouts.
"There are some products out there that use ancient grains," Likins said. "The benefit to using those products over more conventional processed wheat products is that if they're refined at all, they're not going to be as refined (as traditional grains). They're going to have a lot more nutrients available because the nutrients will have been preserved."
When purchasing ancient grains for the first time, Fisher recommends starting small. Playing with recipes and flavor profiles is crucial to determining one's preference when it comes to these less-than-traditional grains. Many natural grocery stores in the area, including Synergy, allow you to purchase grains by weight. Don't see what you're looking for? They'll gladly order it for you.