An Award-Winning Life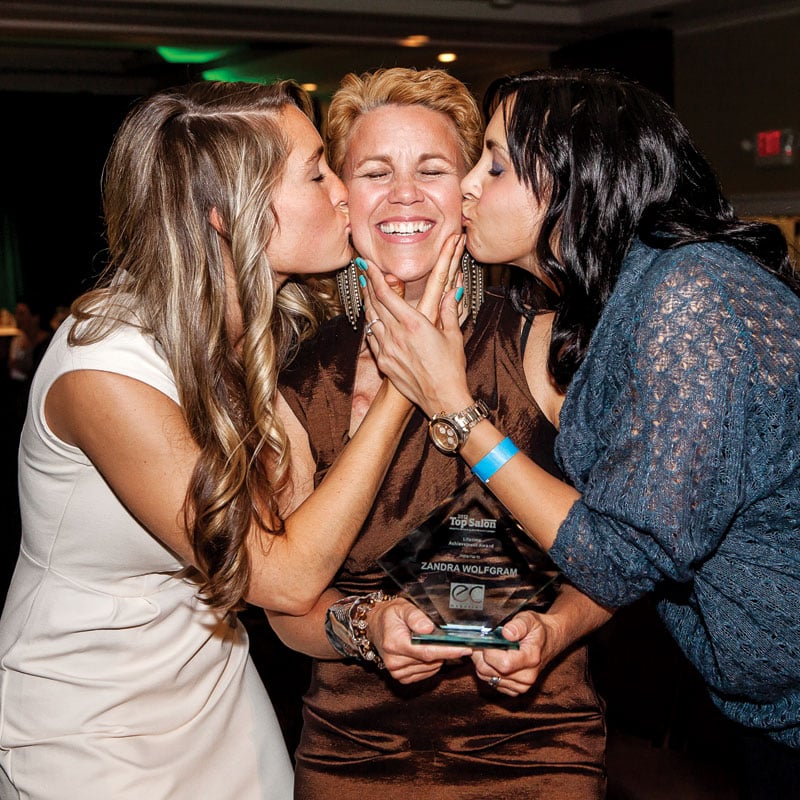 So there I was, walking through the aisles while snapping pictures of Emerald Coast's most fabulous and fashionable in the salon industry. They are indulging me with beautiful smiles across freshly made up faces when I hear my name called over the microphone. In my head, I hear the sound of the needle screeching across a record. Rrrrrroooot.
Everything stopped. Including me. My camera dangled from my neck as I stood up in the middle of the audience and looked back at the stage, where two of my magazine colleagues stand at the podium, beaming at me.
What? They are calling my name and just a few minutes ago they were announcing an award. The award. The Lifetime Achievement Award. (It is supposed to go to someone in the salon industry who has made a difference. If you've seen my kid's homemade haircuts, you know they made more than a big exception this year.) What the … ?
I'll let you in on a secret. This was a first. Yes, of course, a first to receive a Lifetime Achievement award. (I did just have a birthday, but how old do you think I am?) But I was referring to another first. A first time I've ever been … yes, I'm saying it: speechless. For a professional communicator, this is pretty much like being naked, only worse. Being naked gives the audience something to respond to.
I should have been paying closer attention. I mean, I am the editor of the magazine the event is named for: Emerald Coast Top Salon. I'm in a daze. I hear them summon me to the stage, where there is a huge spotlight and everyone is clapping. What exactly did they just say? Who wrote that speech? I make my way to the podium and stutter and stammer something that I hope expressed my gratitude. Because honestly, I was so stunned I'm not even sure I said a simple "Thank you."
So I would like to say it now. To everyone at Rowland Publishing Inc., and especially to publisher Brian Rowland and my sales and marketing colleagues McKenzie Burleigh and Rhonda Lynn Murray, who said such kind things about me. And to the gracious (and gorgeous) audience for enduring my deer-in-the-headlights moment: Thank You.
Being given an Achievement award is something. Being given a Lifetime Achievement Award is quite something. I can only live this life. If my choices and efforts over the years have been interesting enough, creative enough, caring enough or courageous enough for you or anyone to take notice, then I am glad. I don't think I deserve an award for it, but I do appreciate it.
I don't feel quite old enough to deserve this honor, but if you subscribe to the notion "Life is short," then this award couldn't have come soon enough. In a sense aren't we all living on borrowed time? I feel as though I'm just getting started, and certainly there is so much more I can and should do. I can only hope the rest of this journey is just as exciting and meaningful as the very special moment in the spotlight you gave me.
I don't imagine I'll ever receive a Lifetime Achievement Award again. But I am inspired to do my best to live up to this one. We all might not be recognized on a stage in a sparkling room full of people we admire, but we can do our best to live deliberately. Do this, and you win every day.
---
Editor's Picks
A Monopoly on Fun
Roll the dice and collect $200 as you "Go to the Beach" to "buy" your favorite South Walton beach properties. Featuring over 75 local businesses, 30A-opoly is produced by the parents of The Tree House Episcopal Montessori School at Christ the King Episcopal Church as a fundraiser, with proceeds from the wholesale of each game to benefit early education efforts in Santa Rosa Beach. Available at retailers along 30A, including Sundog Books in Seaside.
A Homerun
It's baseball season. Soon the Maritime Park stadium in Pensacola will be filled with Blue Wahoo fans. The first home game is April 4 at 7 p.m. against the Tennessee Smokies. You know what that means? That's right. Time for stadium hot dogs and cold beer! And while you're at it, pass the peanuts and Cracker Jack!
---
CLARIFICATION
In the February/March 2013 issue cover story we published photos of a lovely bridal couple that were captioned incorrectly. They are Megan and Bobby Allen, who were married at St. Rita's on April 28, 2012, followed by a reception at Bentley's on the Bay. The photos were taken by Kansas Pitts Photography. On page 13 you will find wedding photos of another lovely Emerald Coast couple, Leslie and Tim Horst, photographed by Michelle Castle Photography. We sincerely apologize for the error, but we are thrilled for the opportunity to include beautiful photos of one more breathtaking bride and her handsome groom.
Also, on page 39 Gary Mauer is pictured performing with Morgan James in Sinfonia's Broadway Holiday.