An Aerial Artform on the Rise
A fitness trend that is as individual as you are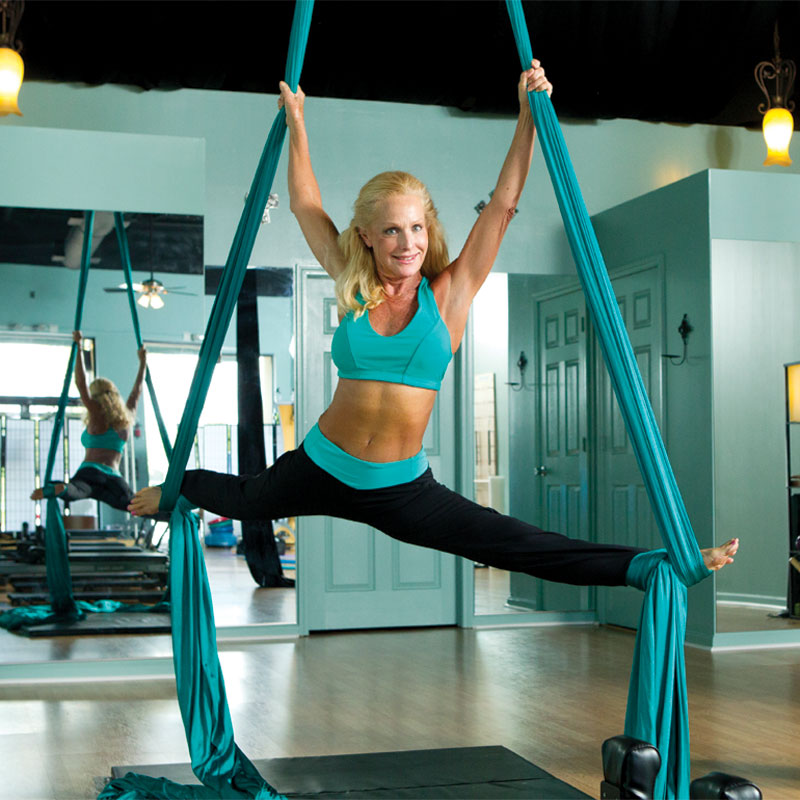 With the New Year come new life experiences, resolutions and a plethora of new trends. And one trend that is literally on the rise in the exercise arena is aerial fitness.
Viewed as more of an art form than a traditional workout, this Cirque du Soleil inspired genre, which includes aerial yoga, aerial silks and aerial hoops, is gaining traction nationwide and bringing new highs to fitness and yoga enthusiasts on the Emerald Coast.
Destin Pilates Center is the first to bring it to the Emerald Coast, offering a level one teacher/training program that is attracting aerialists from across the country. Aerial yoga has been available on the Emerald Coast since October 2011, and aerial silks and hoops made their debut in March 2012.
Aerial yoga is a great option for beginners looking for a gentle transition into aerial fitness. Performed on a soft fabric hammock suspended from the ceiling, aerial yoga practices traditional yoga poses and allows for a deeper stretch since gravity is no longer in the equation.
"Aerial yoga completely changed my awareness of yoga postures because you approach each pose with added support and stability from the hammock," said Lesley Vaughan, an aerialist from Los Angeles and instructor at Destin Pilates Center. "This allows you to sink into the movements and forces you to use your core more, pulling everything up and in. Plus you can go upside down, which is awesome."
Imagine inverted sit-ups, standing poses with an extra lift or inversions without the need for a wall. Inverting in the hammock lengthens and stretches the body, decompresses the spine and has been said to help cleanse the lymph nodes.
"Every time I go upside down, I feel like my back is an inch longer," said Destin Pilates Center owner Susan Authement Dunnam.
"There is a lengthening in my lumbar spine every time, and it's fun getting off the floor."
While aerial yoga strengthens the legs and provides more of a full body workout, aerial silks require tremendous upper body and core strength. The silks involve two fabrics hanging from the ceiling that aerialists climb to perform acrobatic tricks and poses. To learn this art, aerialists start by climbing the silks with their arms, and then learn to wrap and hook their feet, waist and wrists in the silks in order to spiral, swing and suspend from the air.
"When I do the silks, I feel like I am performing, and I get an adrenaline rush," said fitness and dance guru Diane Page of Santa Rosa Beach. "It's the most incredible feeling when I climb up there and find a beautiful pose."
Another form of aerial fitness is the aerial hoop, also known as the lyra. This steel hula-hoop type apparatus suspends from the ceiling and often has wrist holds allowing aerialists to use the hoop to perform acrobatics.
"You can crawl into the lyra like a girl in the moon," said Page. "It's difficult but also fun, because you are trying to balance your spine on a big hula-hoop. I've wanted to try silks and the lyra for a long time, but until recently there has not been a commercial outlet unless you ran away with the circus."
Whether you prefer the hammock, silks or hoop, aerial fitness is expected to be a huge craze and, according to Page, it's here to stay.
"Aerial is all about individuality and is very much a new art form that is personal, creative and individualized," said Vaughan. "You can tap into creativity that you never really get to use as an adult, and aerial provides a whole new expression of who you are."