American Marine Research Company Eliminates Lionfish With Drones
Pensacola start-up is using underwater technology to save native fish populations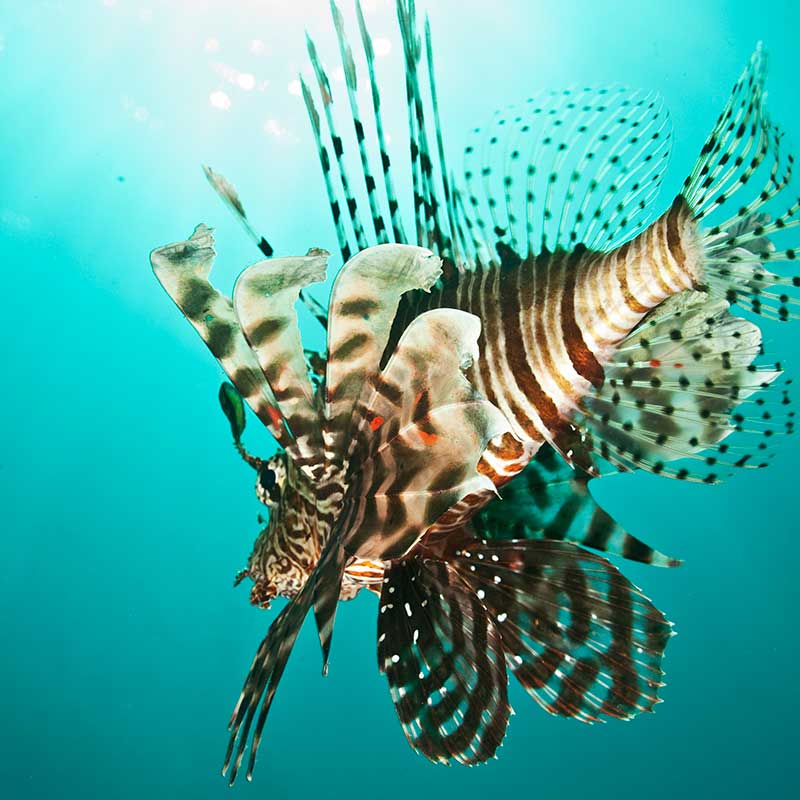 Like most recent college graduates, Yuan Wang wants to make a difference in the world, and he's not starting small.
His Pensacola-based technology start-up, American Marine Research Company, is tackling a major ecological crisis right out of the gate.
Its target? The invasive lionfish decimating native species across the Gulf of Mexico.
"We're building a synthetic predator for a species that doesn't have a natural one," says Wang, who earned a mathematics degree from Princeton University in 2017. "There are simpler tools for catching fish, but with a robot, you dramatically reduce the risk of exposure to injury, and it's very much scalable."
Yes, in case you missed that, the AMRC team is building a super-cool, underwater drone to incapacitate the little buggers with electroshock or suck them into a containment unit.
They actually don't want to kill the lionfish because they're exploring ways to harvest the species to the economic benefit of coastal fishing communities.
"We have this long-term view that once we reach that tipping point, cloning the machines is just a matter of cloning the software," says Wang, who serves as president of AMRC.
"Our hope is to provide not just a cool piece of tech but a true solution."
The red and brown zebra-striped predator presents no small challenge. Native to the Indo-Pacific region, lionfish were first reported off Florida's southern Atlantic Coast in 1985 and have since spread rapidly.
Today the active hunters with voracious appetites are a common sight in coastal areas stretching from Texas to New York. As they consume virtually everything within reach — more than 50 different species of fish — lionfish are steadily destroying native fish populations.
They also reproduce year-round, and a single mature female is capable of releasing roughly 2 million eggs a year.
"It's not enough to just clean off one reef," says Wang, who grew up in Manhattan Beach, California. "If you wanted to just clean off one reef, you pay for a diver. We're trying to bet big that this can be scalable."
'Close to the problem'
Like so many innovations these days, Wang's lionfish drone was conceived in an Ivy League dorm room well before graduation. Unlike his peers, in what he calls a "contrarian" move, Wang intentionally steered clear of Silicon Valley to chart his own path. After making a short list of active fishing communities in the Southeast — including New Orleans, Sarasota, Charleston — he settled on Pensacola in June 2017.
"We wanted to be close to the problem," he says. "We had a really good experience on our first visit to Pensacola. … It seemed like a really good place to land. There's a strong dive community, a great seafood wholesale industry and the cost of living is low."
Choosing to locate on the Emerald Coast also was an opportunity to redistribute human and intellectual capital to a more economically depressed part of the country, Wang says.
"This country has increasingly become more and more divided and stratified," he adds. "Talent is increasingly being concentrated in a handful of centers."
Wang's hope, while ambitious, is to "build one tech unicorn in a city outside Silicon Valley" that has the power to diversify a local and regional economy by driving investment and development.
In the past year, the AMRC — a six-member team comprised of mathematicians, mechanical engineers and software engineers from a variety of universities, including UWF and the University of South Alabama in Mobile — have come to see Pensacola as a place where they could easily put down personal and professional roots.
Wang says early on several local leaders — including University of West Florida President Martha Saunders, developer Collier Merrill and landscape architect Steve Dana of Jerry Pate Design — went out of their way to make him feel welcome.
"There have been many people in the community who were supportive, very gracious," he says. "As a young person, to be welcomed so quickly, was very inspiring."
Merrill, after meeting Wang, learning about his company's mission and even lunching with Wang's parents at Jackson's Steakhouse in downtown Pensacola, donated a year of Seville Tower office space to AMRC.
"I've been very impressed with Yuan," he said. "He's a friendly person. He likes our values."
Merrill says Wang's interest in Pensacola reflects a growing trend among millennials and recent college graduates.
"We now have people with no connection to Pensacola who are wanting to come here," he says. "That's what's happening. … Millennials know what they want," he says, adding that many young people are attracted to the city's bustling downtown and small-town charm. "They go where they want to live. They start with quality of life."
Merrill sees AMRC's lionfish drone as having an "intrinsic benefit" to the entire Emerald Coast and was happy to provide them with space because he's excited to see what they'll accomplish.
"You could just tell these guys were genuine," he says.
Starting from scratch
That office space is where the magic happens — the research, innovation and 100-hour workweeks that go into building AMRC's drone prototype.
And as it turns out, the hard part isn't constructing the drone — it's creating the software that will operate it.
"A lot of the firmware and operating systems you kind of take for granted with a personal computer or aerial drones, they just don't exist for marine robotics," he says. "Having to build that from scratch is a lot of foundational work. … We're having to build systems people haven't had to build for years."
It's high-level programming, and they read anything they can to give themselves an edge.
"Like manuals from the 1980s and 1990s!" Wang says. "It's not like we can download an operating system like Windows."
The hard work has paid off in many respects. In late 2017, the Florida Fish and Wildlife Conservation Commission awarded AMRC a $50,000 grant for a proposal outlining test equipment and various methods of controlling lionfish at depths exceeding 130 feet. Earmarked for parts and labor, the money was a huge boost in light of Wang's decision to forego venture capital or outside investors, preferring to "boot-strap it for a bit longer."
The additional funding has allowed the team to make progress on the prototype, which when finished, would not be made available to general consumers.
"We intend to be very careful about who actually operates these," Wang says. "There's a lot of potential for abuse."
For now, he's optimistic about what's ahead for AMRC and Pensacola.
"What started as a dorm-room project turned into a dorm-room startup, then turned into some of the most rewarding work I have pursued," Wang said. "We're very motivated, and I think some exciting things are going to happen."