All Out for Independence Day
Trick out your backyard with accents that spell USA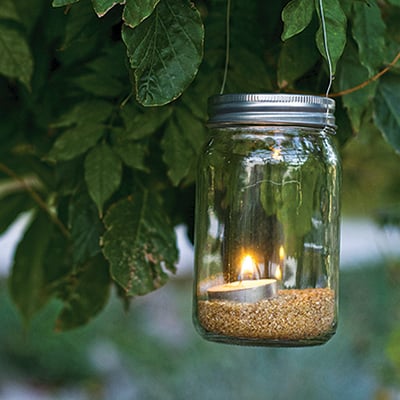 Fire up the barbecue and crank up the mower — America's favorite holiday is just around the corner. This Fourth of July, transform your backyard into the land of the free for a patriotic blowout that's sure to make Uncle Sam turn red, white and blue. 
Nothing says summertime quite like eating out on the porch, sweet tea in one hand and a burger in the other. Welcome guests to an outdoor meal in cheerful backyard dining space. Arrange picnic tables and benches with red-checkered tablecloths for a classic American look. Or go for a more rustic vibe with mismatched chairs and haystacks. Why not ditch the formality completely? Lay out blankets and throw pillows for a picnic-style experience reminiscent of the 1770s — minus the Founding Fathers. 

You don't have to be Betsy Ross to make stars and stripes look good. Salute Old Glory with a handmade twist on traditional bunting. Just place a length of red-and-white-striped fabric along the porch railing and tie it off with a strip of blue rope every two feet, creating a curving effect as you go. If DIY is not your forte, opt for carnival-style pennant flags available at craft stores. 

Festoon your patio with patriotic blossoms in red, white and blue. Americana geraniums thrive in the summer heat. Plant these red blooms in your garden alongside blue and white flowering hydrangeas. Lack a green thumb? Head over to the store for white Baby's Breath. Tuck bunches of these pretty buds into mason jars or picnic baskets for a charming centerpiece.

Star spangle your lawn with easy-to-make embellishments — all you need is cardboard, water and flour. Cut a star shape out of cardboard and place the stencil on the grass. Then, spritz the area with water and sift over with flour. This is a star treatment you'll want to repeat.

The party doesn't have to end with the sun. String café lights over the patio or twist old Christmas lights around the porch railing for a soft glow. Battery-powered tea lights can also ensure a lasting glow. Place them inside mason jars and arrange along the walkway. Rejuvenate last year's tiki torches with a fresh coat of paint in red, white or blue. Fireworks alone won't fight off twilight's last gleaming — pun intended.
It's not too late. Start planning now for an electrifying Fourth of July you can definitely pledge allegiance to.