All-American Beach Town
Panama City Beach is a reliably fun place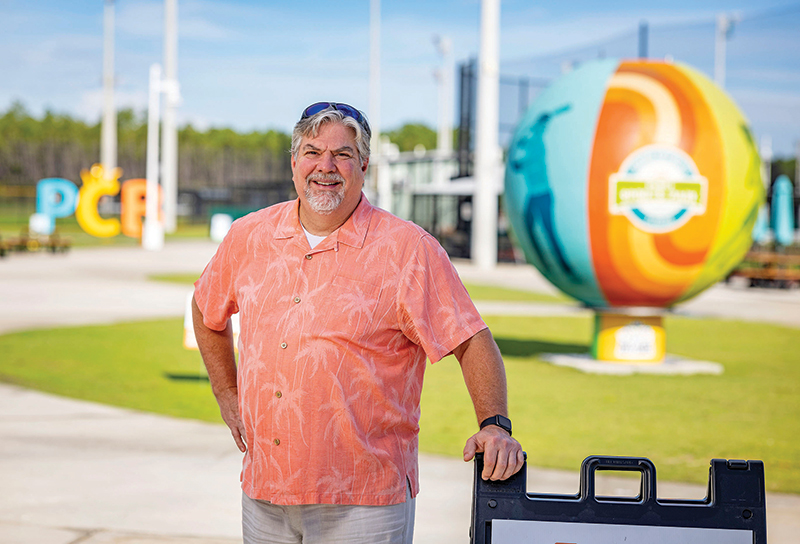 For a few years now, Visit Panama City Beach, a tourism promotion organization, has maintained a three-word brand position: Real. Fun. Beach.
It's ambiguous. Is "Real" meant to qualify "Fun" or is it meant to signify authentic or genuine?
"It works both ways," said Dan Rowe, Visit Panama City Beach's president and CEO. "Real fun is not necessarily the most grammatically correct, but it is true. Real stands alone, but it also amplifies fun. Those three little words are incredibly important as we look out into the world and the world looks into us."
Rowe isn't inclined to tinker with the VPCB motto — even if the practice of separating words in a stance line with periods so as to add emphasis to each word passes from view — but his outlook on the World's Most Beautiful Beaches suggests that he wouldn't object strenuously to the addition of Reliable.
"Panama City Beach for generations has been one of the truly all-American beach towns," he said during an interview. "It goes all the way back to the 1930s. This has been a place that people have come to, year in and year out, because the quality of the experience is always so high. There are a lot of beaches in the nation that you go to for a very specific purpose, but this is a beach where you come to relax, chill out and have fun."
Rowe holds in special regard the early developers of Panama City Beach, including Gideon "Gil" Thomas.
Thomas recalls Harvey Jackson III in his fine history, The Rise and Fall of the Redneck Riviera, "bought a little over 100 acres adjacent to J.E. Churchill's Long Beach Resort and named it Panama City Beach. Selling the project wasn't easy, but Thomas' enthusiasm was contagious. He raised the money, laid out the streets and made them passable with oyster shells brought in from Apalachicola. Then he built a two-story, 12-room hotel along with a few tourist cottages. Gated with an arch, the development was so brightly lit at night that it could be seen from the downtown Dixie-Sherman Hotel, located across St. Andrew Bay."
Said Rowe about Thomas, "When he opened the first hotel on the sand at Panama City Beach, people ridiculed him. His response was, 'I'm not here to grow vegetables, I'm here to grow people.' He had an insight that really helped define our destination."
On, in, under
Rowe spoke to the natural assets that account for Panama City Beach's enduring appeal.
"The old adage is that when you get our sand between your toes, you'll be back," he said. "That has to do with the quality of the beach and the sand and the whole experience of being out on the Gulf. J.E. Churchwell came up with the tagline 'World's Most Beautiful Beaches,' and it stuck because it ain't braggin' if it's true. Our water is spectacular. When there is no weather system in the Gulf, it is just stunning. We don't have the big river systems flowing into our bays, so our water clarity is phenomenal."
That clarity makes Panama City Beach a Florida diving destination second only to the Keys in popularity.
"The beach is our No. 1 attribute, and we show up on best beach lists all the time, but we encourage everyone to get on, get in and get under the water while they are here," Rowe said.
Amid the sun, the sand, the water and the salt air is fun, and that, Rowe said, "is the glue that holds it all together.
"You come here and you have a smile on your face. The definition of fun will change at different times of the year, but fun is always the centerpiece, whether it's a family in the summertime, a jazz aficionado during the Seabreeze Jazz Festival, winter residents coming down here to beat the bitter Midwestern cold or a country music fan. Everybody is coming here to have fun. It is really cool to be able to market that because as the world gets crazier, people need to be able to reconnect and be able to put it all aside for a while."
In Bay County, first Hurricane Michael and then a global pandemic reminded people of the preciousness of connections with others and the importance of good times "because there are some things that are out of our control," Rowe said. "We've done quite well in the aftermath of the pandemic because our fundamentals are very strong: You can come down here, go outside, hang out on the beach, be socially distanced and make sense of the world."
Even as the Panama City Beach area has begun to become home to large-scale residential developments and is seeing a proliferation of branded hotels, Rowe said, its homegrown small businesses remain foundational to the PCB experience and the renewal of traditions each year among regular visitors. Dusty's Oyster Bar, Goofy Golf, Half Hitch Tackle, the Shell Port and countless other owner-operated businesses are permanent fixtures of the landscape.
Expanding on a traditional market
The summer months when children are out of school will always be peak season in Panama City Beach and an area defined by Atlanta, Birmingham and Nashville figures always to be its primary market.
"But we are now seeing a lot of visitation from up the I-65 and I-75 corridors — Tennessee, Kentucky, Indiana, St. Louis," Rowe said. "And Texas is a very important market for us. One market that is interesting to me is Orlando. We get a lot of people who come up here from there. That's a testament to the experience we provide. Because living in Orlando, you're just a few hours from everywhere in Florida."
Visit Panama City Beach's marketing efforts have evolved and expanded over time in response to the ways in which people obtain and consume information.
"We are a digital-first marketing agency and as such, we're able to introduce Panama City Beach to audiences that we couldn't reach back in the days of TV and print media," Rowe said. "Now, we can talk to a much larger audience much more efficiently."
Given the resumption of international travel, Visit Panama City Beach is relaunching its marketing efforts in the United Kingdom.
The pandemic's effects
The COVID-19 pandemic both disrupted and benefitted Panama City Beach.
On one hand, it forced the postponement of events owned and sponsored by VPCB. At the same time, people altered travel plans and extended their stays.
"If you are able to work remotely and your kids are going to school virtually, well, a lot of people chose to do that here," Rowe said. "We have a safer environment than those in a lot of large metro areas. As an economic downturn, the pandemic for us lasted just about 60 days beginning in the middle of March 2020. When the governor reopened the state to short-term rentals, we were able to get back to business in the middle of May, and we have been growing strong ever since."
The pandemic meanwhile spurred the popularity of vacation rentals that enable visitors to "control their environment," Rowe said.
"You can decide when you are going to engage, you don't have to eat every single meal at a restaurant and you have more space. That sense of space and being able to get away from the crowd is incredibly important. Even though in the summer there are a lot of people on the beach, you still have the ability to enjoy your own little slice of heaven."
For Rowe, Panama City Beach is an unpretentious place.
"Our visitors look like the average American," he said. "People of different socio-economic levels come here — we have people who save up to come on vacation to the beach once a year, and we have other people who come here all the time and for whom money in no object. You'll see Ford F-150 pickup trucks, and you'll see Range Rovers. But this is one of those great places where everyone is welcome."
Visit Panama City Beach owns the new Panama City Beach Sports Complex at the eastern end of an area that has come to be known as Breakfast Point, and it is working on plans to develop an indoor sports center that will adjoin the complex's baseball diamonds and rectangular fields of play. That indoor facility — it will host volleyball matches and gymnastics meets, and VPCB is looking at wiring it for e-sports — will contribute to making visitation in Panama City Beach less seasonal.
Panama City Beach doesn't drive off a cliff when school resumes anymore, and that, Rowe said, is a change that has occurred gradually over time.
"It used to be that the 100 days of summer were it," he said. "There was a reason why Panama City Beach got into Spring Break when it did. It was an economic development strategy so businesses could start to bridge the gap between Labor Day and Memorial Day. Now, we have more year-round businesses. Many shopping malls are having a hard time given the advent of online shopping, but Pier Park is an exception. It's an attraction. Retailers there are doing well, and there is very low turnover from year to year."
Where does Rowe, promoter-in-chief of Real. Fun. Beach. go to find his little slice of heaven? He fly fishes but not for pompano or bream.
"I prefer being in a cold mountain stream," said Rowe, who grew up in the West as the son of a National Park Service employee.
"I lived off and on for a decade in Colorado and fished many of the trout streams there," Rowe said. "I went to Colorado State, and the Roaring Fork was my home water. I have not fished any of the streams up in the Yellowstone area, and the Madison and the Jefferson are definitely on my bucket list."
Rowe recalled a time spent fishing a pool beneath the Navajo Dam in the desert in southeastern Colorado.
"The trout — big ones — were eating little flies. It was hard to see the flies we were using, much less tie them on. You would see the fish and float a fly by them and all of a sudden, one of them would hit it and those fish would just take off and you would pop more of them off than you could turn. But it was so much fun."
At his mention of fun, Rowe's thoughts come back home.
"Panama City Beach has been tested, and we have weathered the storm and withstood the test of time," he said. "The staff here are dedicated to this place because they love what they do, and they love where they are."
So does Rowe.