Ballplayers visiting PCB Sports Complex can look forward to staying right next door
Homewood Suites by Hilton will offer 120 rooms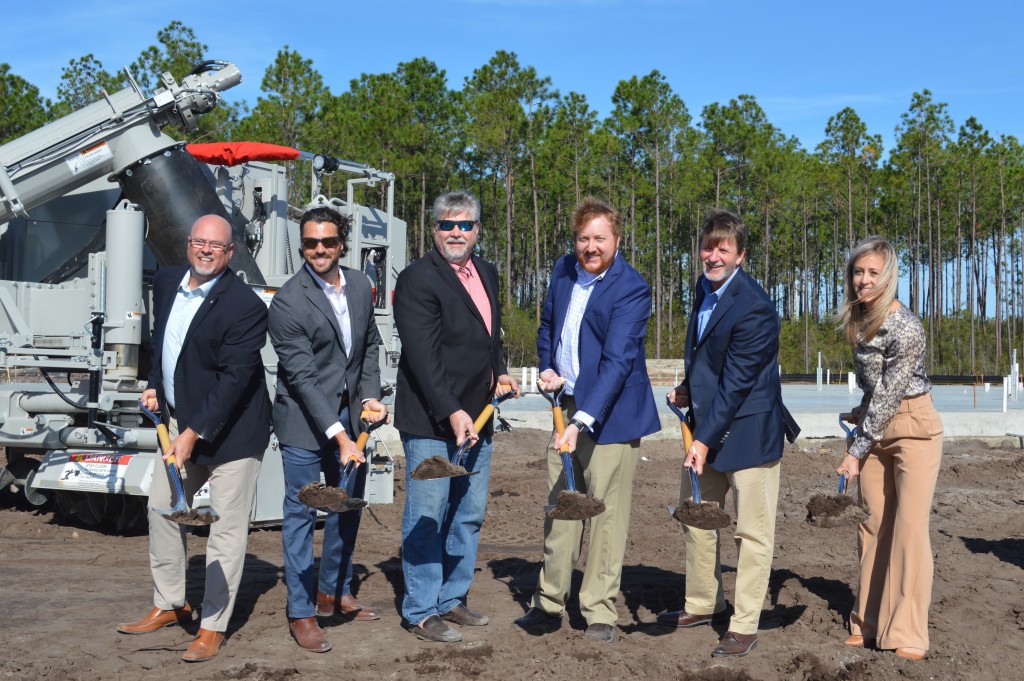 In an exercise becoming increasingly familiar in Bay County, the St. Joe Company conducted a groundbreaking ceremony on Thursday. This one concerned a 120-room Homewood Suites by Hilton hotel already under construction just south of the Panama City Beach Sports Complex that opened earlier this year.
The four-story hotel will include one- and two-bedroom suites equipped with refrigerators and full kitchens. It is expected to open, said Andrew Czarnecki, managing director for St. Joe Club & Resorts, late in 2021 or the first quarter of 2022.
Czarnecki noted St. Joe's continuing partnership with Hilton development and acknowledged project architect HC Architecture out of Atlanta and contractor Cardella Construction, headquartered in Plantation, Florida. Speaking from experience, he said that having a hotel within walking distance of tournament ball fields is a convenience valued by traveling players, parents and coaches.
Patrick Murphy, St. Joe's senior vice president for operations, spoke to cooperation among the company, the City of Panama City Beach, Visit Panama City Beach and Bay County and introduced Dan Rowe, the president and CEO of Panama City Beach's bed tax-funded tourism promotion organization.
Rowe saluted St. Joe as a corporate partner that is serving to diversify the economy in Bay County, generate employment and make projects including the Sports Complex and the A. Gary Walsingham Academy possible. The school, located across Chip Seal Parkway from the hotel site, will receive students in grades K-5. Its construction is projected to be complete in the summer of 2021.
"We can look forward to St. Joe announcing more projects including office space," Rowe said. "They are strengthening all of the legs of the stool."
Rowe said the Sports Complex has had a good first year despite the disruption caused by the COVID-19 pandemic and can be expected to perform even better in 2021. In combination with fields at the city's Frank Brown Park, the complex is capable of accommodating tournaments larger than most facilities around the country can handle.
And, developments like Homewood Suites by Hilton figure to further enhance the experience of all who flock to the fields.