All Ages, Fitness Levels Love the Balance This Simple Water Sport Gives Their Lives
Get on Board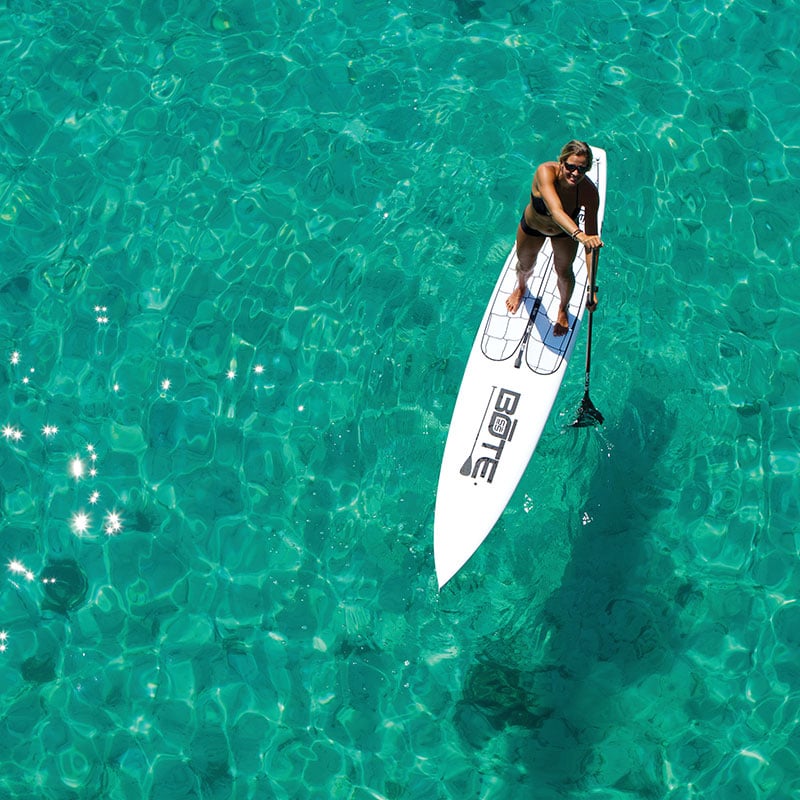 Paddle boarding has people of all ages standing up and paying attention to this new way to play on the water. To say the sport is "new" is not technically correct. The subset of surfing was practiced by ancient Hawaiians and refined by surfers throughout the last century. Paddle boarding came to the Emerald Coast a few years ago, and it soon became common to see people who at first glance appeared to be standing on the water in area lakes, bayous, the bay and the Gulf. 
The popularity of the sport has spawned several paddle board race and endurance events that invite the novice and pro out on the water (sometimes in full costume) to test a whole other type of "water boarding" skill during individual and team competitions.
Ask paddle boarders about the sport and you'll get a surge of enthusiasm: "It's like walking on water." "The best cross-training exercise ever for your body core." "Since you are standing, you can enjoy and explore the beauty of nature all around you." "A sport that the whole family can do together." "A great way to fish." "Races are challenging and competitive." "You haven't seen a sunrise or sunset until you experience it from your paddle board." "Yoga on a paddle board is awesome."  
Although the experience may be different for each person, paddle boarders agree on one main point: Paddle boarding is easy. Magda Cooper, co-founder of BOTE Paddleboards in Destin, said she has done demos for 10-year-olds up to 80-year-olds.
"We've never had a single person who can't stand up on a paddle board," she said. "It doesn't require some amazing amount of balance. It's a sport anyone can do, no matter what age or gender."
The ease of paddle boarding is one reason the sport has caught on so quickly, according to Steve Hill, owner of the Destin-based GUSU Paddlesports. "No matter who does it — a pro or a guy who started paddle boarding last week — you are pretty much doing the same thing. You're just paddling and having a good time," Hill said.
"It's exciting because the onset of the stand-up paddling movement is getting people out on the water who otherwise wouldn't venture out on a board," said Jeff Archer, co-founder of Santa Rosa Beach-based YOLO Board LLC. "Beginner paddlers are often surprised at how easy it is."
To get started, it takes only a board, a paddle and a body of water, plus a Coast Guard approved PFD (personal flotation device).
A general rule is that board size should fit your height and weight. Surf-style boards that float on the water and water displacement models are available. A first-timer will be most comfortable in calm, flat waters. Getting on the board can be as simple as stepping aboard from the beach, or climbing up from wading-deep water. To get your balance, kneel just past the center of the board.
When ready to stand on the board, place first one foot and then the other where your knees were. Feet should be parallel, about hip-distance apart, toes pointing forward, knees slightly bent and back straight. Balance with your hips, not your head.
According to Cooper, your paddle should be about 8 to 10 inches taller than you are.  Strokes should be close to the board and fairly short until you get the hang of it. Paddle boarding is like riding a bicycle: The more forward momentum you have, the more stability.
Area paddle board shops offer demos as well as lessons to teach the finer points of paddling. Lessons are typically an hour to an hour-and-a-half and cost around $40. Rentals are widely available.
---
Perhaps the most difficult part of paddle boarding is navigating all the acronyms. Paddle boarding is also known as SUP (Stand Up Boarding). Popular board brand name YOLO stands for You Only Live Once. Destin's GUSU (Get Up Stand Up) is a retailer of their board designs as well as boards made by other companies. BOTE is not an acronym, but based on the German word for "boat." The Destin-based designer/manufacturer sells its own brand both wholesale and retail. Stand-up paddle boards are also available in sporting goods and marine stores.