Get What You Want at Alice's Restaurant
Eatery in Panama City's St. Andrews neighborhood offers seafood, music and more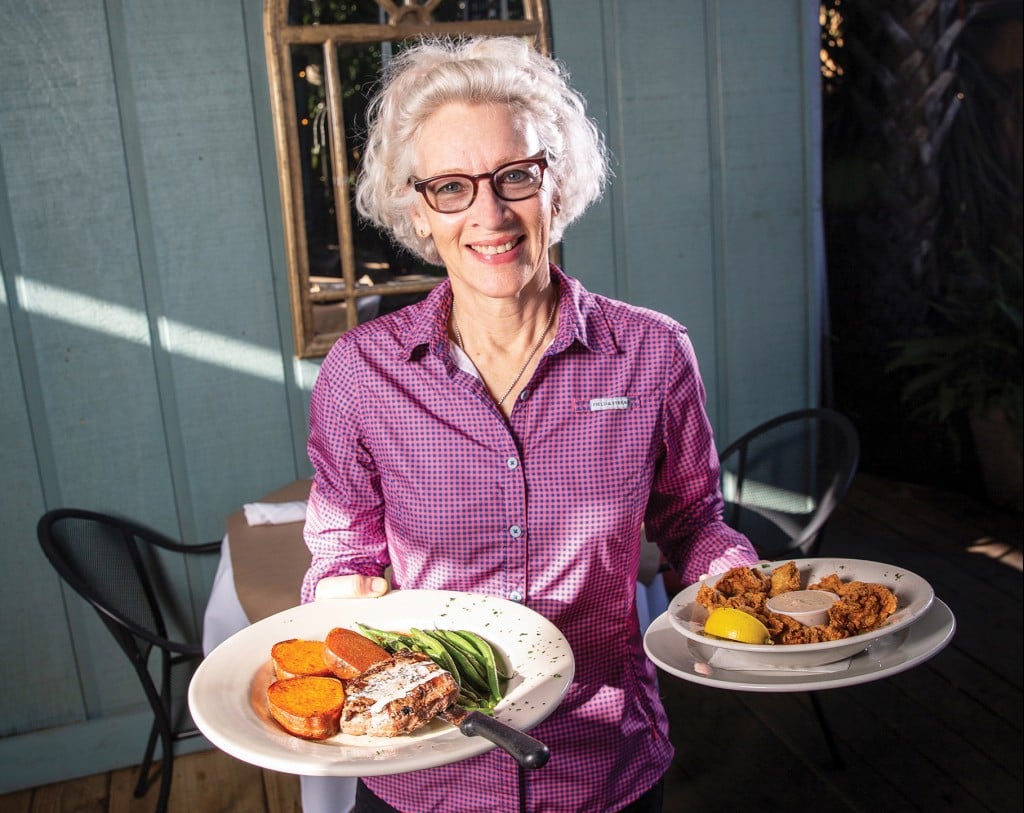 Everything changed once I learned she was from Wisconsin, the state where I started my decades-long newspapering career.
I was trying to place her accent and guessed that she might be from Eastern Europe. Ashley's manner was pleasant but efficient, meaning that I had but limited speech to assess.
Alice's on Bayview, located across from the St. Andrews Marina in Panama City, was busy this drizzly Friday night, leaving the two waitresses on duty with little time for small talk. The hostess led our party of four past an overdressed dude at the corner of the bar to a table within a few feet of bass player Jimmy Ward and guitarist Lowell Hopper, who were combining to provide chill music with a George Benson vibe.
We had stopped by, in part, to enjoy the music but not to ingest it. We opted for a table on the porch. Separated from the players by a window, the music was perfectly diluted.
Ashley greeted us promptly, introduced herself and asked us for our names. We would learn that she has been waitressing for 12 years and has long made taking names part of her way to establish rapport with customers, you know, as time permits. She mentioned that she has a boy named Maverick. Lot to live up to.
The vino drinkers in our group were slow to pore over Alice's impressive wine list, and Ashley, with other tables to tend, said she would be back with waters to give them some time. We're deliberate. We're senior.
Alice's attracts lots of long-established Panama City residents who are likely to know one another. Many are old enough to recall well the Harbor House restaurant where Alice's owner Alice Masker and several of her siblings once worked. While it adjoined a Ramada Inn, that restaurant, too, catered to locals. It hosted service clubs, company luncheons and Chamber events. The bar on the property, the C-Shell Lounge, was notorious for its lingerie fashion shows. Long time ago.
On her next pass, Ashley succeeded in extracting from us drink and appetizer orders. A cabernet, a sauvignon blanc, a whiskey. A wedge salad, she-crab soup and a dozen raw oysters. All would prove excellent. Never had I heard my wife praise a salad like she did her wedge. When the romaine was gone, she took after the remaining blue cheese dressing with a spoon.
Between courses, Ashley stopped by, looking to freshen our drinks and to take our entrée orders. It was then that I popped the question: Where did you grow up?
"Wis-cahn-sin."
A conversation developed. Ashley, a Packers fan and a Favre girl versus a Rodgers fan, lived in the southern part of the state before heading south. I lived in Ashland in northernmost Wisconsin on the south shore of Lake Superior. The fact that Ashley has never heard of it speaks to its remoteness.
"I spent many hours up there staring at a hole in the ice and waiting for a bite," I said.
Ashley and I compared notes on our favorite freshwater fish — muskies, pike, crappie, bluegill, yellow perch — as my dinner mates drifted off into their own separate conversation.
The main courses, like the apps, were marvelous. Grouper piccata; a beef tenderloin fillet; crab claws — one of us ate light; and, for me, wild-caught salmon. Who doesn't prefer anadromous to farmed, lean to fat?
The fish was like the best of cakes — moist, flavorful and scrumptious. I had polished it off when Ashley, standing behind me, tapped me on the shoulder, startling me. I had been staring at the thigh of a youngish woman with a tattoo peeking out of her red shorts. Such an invitation to speculation.
"What about tag fishin'?" Ashley asked without waiting for an answer.
She was back presently, and we ordered two slices of key lime pie to go.
"Tag fishing, is that when you catch a fish that has been tagged by the state and you turn the tag in for a reward?" I asked when we went to settle up. I had guessed right.
We wished Ashley and Maverick well. On my way out, I had a word with the dude at the corner of the bar who was unpacking a sax and preparing to join the duo. I thought I might know him, and it turned out that I knew his father.
Scanning the interior of Alice's, I spied several other familiar folks, all relaxed and enjoying fine meals. All feeling at home.
Hours of operation
Alice's on Bayview is open for lunch and dinner, Monday through Saturday, and open for brunch on Sunday. For more information, consult AlicesOnBayview.com.