After 21 Years Peter Rubardt Knows When to Let the Music Take Control
As conductor of the Pensacola Symphony Orchestra, Peter Rubardt has become attuned to audiences.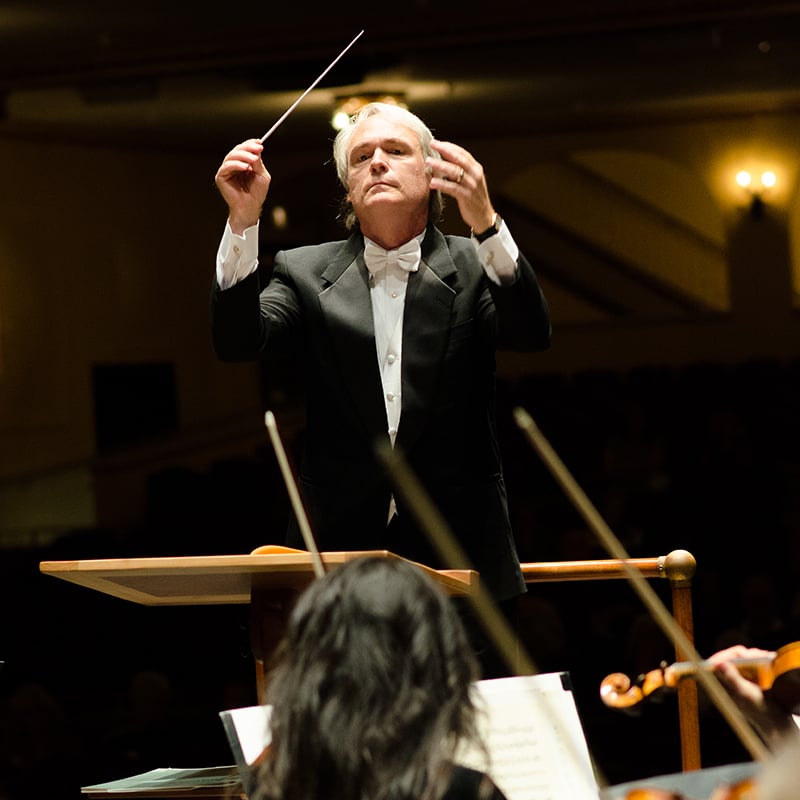 Opening night for the Pensacola Symphony Orchestra's 2018-2019 season on Oct. 13 will offer concert-goers Gershwin's "Cuban Overture," Barber's "Concerto for Violin, Op. 14" and Mussorgsky's "Pictures at an Exhibition."
For some listeners, "Pictures at an Exhibition" sounds familiar. For others, the name Gershwin strikes a tone. For the rest, it's the notion of "opening night" that invites their attention.
Peter Rubardt understands that there is nothing homogenous about his audiences.
About to begin his 22nd season with the PSO, the seasoned conductor has a few tricks up his sleeve when it comes to blending classical music and contemporary listeners.
Rubardt often resorts to words while on stage. Prior to each selection, Rubardt trades his baton for a microphone and describes for the audience the music they are about to hear.
Speaking metaphorically, he may talk about foxhounds baying in the distance or the snap of a guillotine and an unfortunate's head rolling down the scaffold's steps.
Or, speaking conversationally, he may begin, "I was driving home after rehearsal this week when I thought of …"
Rubardt's "trick" is to lead an audience to love the music as much as he does if even they don't have his appreciation for inverted chords and minor keys.
"I make sure I have the path in to the audience from the very beginning," he said.
The maestro plans his programs about 14 months in advance, and it's at that time he figures out how to command a listener's attention.
"I will usually pick the anchors — those big pieces on the program — first. And then I will try to think about how they all relate," he said.
"The goal is to have all the pieces on the program add up to something bigger than the sum of its parts."
Rubardt has musical capital to spend when flavoring a given season's repertoire.
The closing piece of the season ahead, in April 2019, will be "one of the seminal masterpieces of the 20th century." It's a Bartok concerto, which the symphony has not played in almost two decades.
"For Bartok, it's a very audience-friendly piece," Rubardt said. "I'm not sure the audience was ready for it 15 years ago, but they totally can take this now. It's really just such a central piece to the core literature that we haven't played in a long time."
Contemporary composer Gabriela Lena Frank will be a guest for that final performance, and the symphony will play her piece, "Apu: Tone Poem for Orchestra."
While Bartok was influenced by Hungarian folk music, Frank gains inspiration from Peruvian music, as Rubardt is sure to point out.
"She even holds Bartok up as a model. So I look forward to having her here, talking about Bartok and playing a piece of hers that is similarly drawn.
Different cultures — Peru and Hungary — but similar concepts. It totally makes a lot of sense and works very well," Rubardt said.
The core piece for the night will be Grieg's "Concerto for Piano in A Minor, Op. 16," which is an audience favorite.
"I did need something on that program that would be the draw for people who just wanted the core symphony experience," Rubardt said.
In November, Rubardt will pair composers Mozart and Brahms in an evening certain to entertain the more traditional of symphony loyalists.
"Brahms's younger pieces are just folksier in character than his more austere, later pieces. And the Mozart piano concerto has a populist streak in it. So if you're going to pick any two pieces by Mozart and Brahms, I think those two pieces go well together because they both tilt toward the composers' more friendly, casual side," Rubardt said.
In March, concertgoers will be treated to the Mahler "Symphony No. 6 in A Minor." The maestro is confident that "Mahler Six stands by itself."
Musical commentary
Tony Chiarito plays the French horn and is a 43-year veteran of the Pensacola Symphony Orchestra.
He is also a fan of the Mahler symphony.
"The goal of the Pensacola Symphony Orchestra is to provide the highest quality musical experience for the audience," Chiarito said.
"It's astonishing how much high-quality music there is in a town this size."
In his decades with the symphony, Chiarito has noticed audiences grow in size. Performances now sell out almost every concert.
"The quality of the orchestra has gotten better. The reputation has certainly grown," Chiarito said.
Chiarito is also a co-founder and conductor of local Pensacola Bay Concert Band, which began in 2014 and has grown from nine to 90 members.
He said he benefits from watching Rubardt's style of conducting and applying techniques to his own style.
"That's the best benefit of doing both (the symphony and the band): I get to learn from a seasoned, professional, true conductor how to get music out of musicians."
Meanwhile, Rubardt, who is well-versed in the technicalities of many of the instruments in the symphony, must be careful not to "overplay" his hand.
"It's good to know as much as a conductor can about technique, and it's also risky to get into that too much. The chances are, the player knows much more," Rubardt said.
It is often best, he said, to "push it over the edge and just follow them. You learn to let the musicians lead. There's a lot of things they don't teach you at Juilliard."
Pensacola Symphony Upcoming Events
Opening Night!
October 13, 2018 | 7:30 p.m. | Saenger Theatre 118 S. Palafox Place
Mozart & Brahms
November 3, 2018 | 7:30 p.m. | Saenger Theatre, 118 S. Palafox Place
See the Music, Hear the Dance
November 8, 2018 | 7:30 PM | Pensacola Cultural Center 400 S. Jefferson St.
Celebrate the New Year!
December 31, 2018 | 7:00 p.m. | Saenger Theatre 118 S. Palafox Place