Add Joy to Your Door
With wreaths, lights and more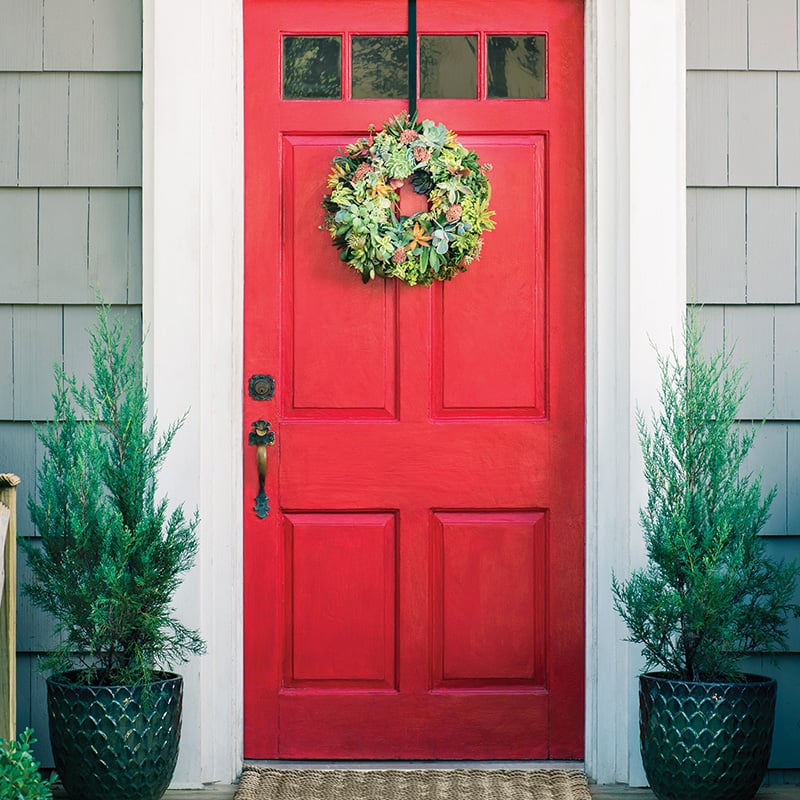 During the holidays, a well-decorated front door is like a Christmas card to the world, spreading joy to guests and passers-by. You can go all out — garlands, swags, lights, door-side planters, decorative objects — or focus your efforts on a great wreath that reflects your personal style. To help make your front door extra-special this year, we've collected ideas from decorating magazines, Pinterest, wreath designer Kelly Dewall of Tallahassee Nurseries and local floral magician Missy Gunnels, owner of Missy Gunnels Flowers.
---
GRAB A GRAPEVINE The classic grapevine wreath from a big-box retailer, craft store or nursery offers a wonderful blank canvas even for those with the most basic crafting skills. Grapevine can be spray-painted in a color that contrasts well with your door — silver, gold, red, gloss white — or left its beautiful natural brown. For minimalist style, wrap a distinctive ribbon in wide loops around a natural or white-painted wreath and make a bow. Want to do more? Break out the floral wire or a glue gun to attach ornaments, real or artificial berries and greenery, pine cones, lotus seedpods, pheasant feathers, seashells, whatever strikes your fancy. Door-size wreaths are very affordable, generally $20 and under. Standard doors take an 18-inch round, while oversize portals can take a 24-incher or multiples.
LIKE A RED CARPET Give any door a pop of drama with a wide ribbon running from door-top to wreath. The wreath doesn't have to hang from the ribbon — it can just be for looks. Attach the ribbon with mounting squares or carefully deployed tape.
THE POWER OF THREE Get an elegant, almost architectural display with three plain evergreen wreaths hung in a vertical row from a drop of red velvet ribbon. Still on the theme of three, add whimsy with a vertical row of giant gift bows. For a door sheltered from the weather, JAM Paper Company's 13-inch "mega" bows could work. They're available on Amazon for about $12 each.
OUT OF ROUND Break the traditional wreath mold with an unconventional square or with distinctive teardrop swags of greenery, ornaments and/or ribbons shaped into bows or loose loops. Hang swags from a porch ceiling or door-side lanterns, or on the door itself. 
ON TREND For a very fresh look, try a succulent wreath. You can buy one from a retailer such as Williams-Sonoma, williams-sonoma.com, make your own, or special order from a local nursery or florist. Michaels, michaels.com, offers online instructions for the "Succulent Boxwood Greenery Wreath Base."
LIGHT IT UP Widely available from retailers, strings of battery-operated, cool-burning LED lights are a godsend for the door decorator. Home Depot sells an indoor/outdoor set of two 15-light strands of "LED Warm White Little Lights" for about $13. Each strand needs three AA batteries and has a built-in timer set for six hours on and 18 hours off, perfect for a Christmas display.
---
Go Live Love the traditional look and scent of live evergreen wreaths, garlands and swags? You can have that, even in Florida. Live cut evergreens can be kept alive outside during Tallahassee's cool season for two weeks or more with proper care:
Always hang cut evergreen decorations in the shade. Any amount of direct sun can turn them brown, no matter how chilly the weather.
Spritz live wreaths with water at least every few days, daily if the weather is warm.

If an evergreen piece looks very dry, lay it stem-side down in a couple of inches of water for a few hours.
Succulent Wreath Supplies
Oasis foam wreath base: soak until saturated
Greening pins and wired wood floral picks, 4 and 6 inch
Terrarium-sized succulents, 2 inch, plus larger for accents
Floral tape: add around picks to secure succulent
Sheet moss for filler
---
Live evergreen decorations are available seasonally from local florists and plant nurseries including Tallahassee Nurseries.